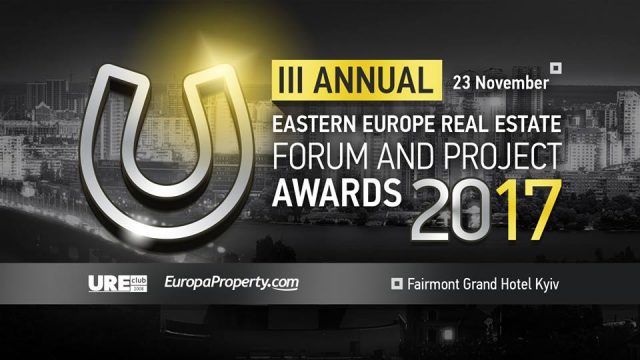 EEA Real Estate Forum & Project Awards 2017 – the forum and the prize for projects in real estate in Eastern European countries – will take place on November 23rd in Kyiv, Ukraine. The joint event with over 250 local regional and international guests is hosted by URE Club and EuropaProperty.com.
The EEA Real Estate Forum & Project Award is considered one of the most important market recommendations for real estate development in Eastern Europe and Asia. The forum brings together many leading developers, investors, bankers, architects and opinion leaders from around the world, in particular from Kazakhstan, Azerbaijan, Georgia, Belarus, Moldova and Ukraine.
This year, the main topics of the forum will be investment opportunities and the potential of the countries participating in the event, legal aspects and connection with government agencies when working with investors, urbanization and urban development.
The guest registration for the EEA Real Estate Forum & Project Awards 2017 is already open.
On the same day the winners of the best real estate projects will be announced. The gala is a great opportunity to showcase companies and best projects, as well as communicate with colleagues and industry experts.
The prizes are awarded in 21 categories – from future project to personality of the year.
The shortlist will be announced two weeks before the start of the event, after the qualifying round. All projects listed in the selection list receive an invitation card for the ceremony.
For more information, visit http://www.eeaawards.com/.