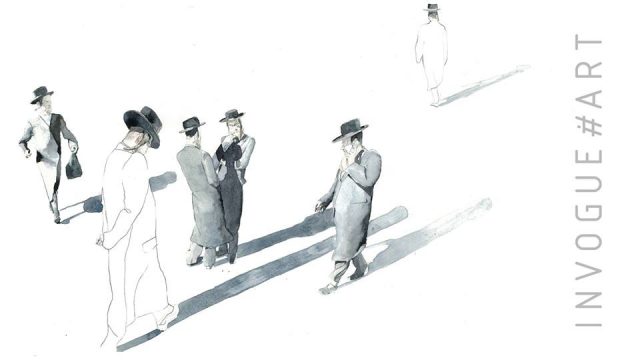 On December 21, the Invogue gallery will present Katerina Filimonova's personal exhibition "Wanderers / נוודים". The artist was inspired by the theme of the journey of the Jews around the world and their ability to thrive in any environment without losing their identity and charisma.
The inspiration for the project came after the artist's visit to Israel. "I wanted to draw almost every person. I began to notice how often Jews can be found in other cities around the world. The way they stand out, and what they are textured and colorful, "- says Filimonova.
Before starting work on the series, Filimonova studied the history, customs and traditions of the Jewish people. A process through which she gained a deep appreciation and respect for Jewish culture. Filimonova tries to convey this in every character. The absence of  backgrounds in the works is intended to emphasize that this could be any place in any city, most important is the people depicted in the works.
In her watercolors  Filimonova captures the our everyday surroundings. Her work shows that even in the mundane, one can find originality and beauty.

The exhibition is on display from 21st December to 30th January.
Visiting hours are everyday from 11am to 8pm.
Address: Galerie Invogue#Art, Ekaterininskaya 25.