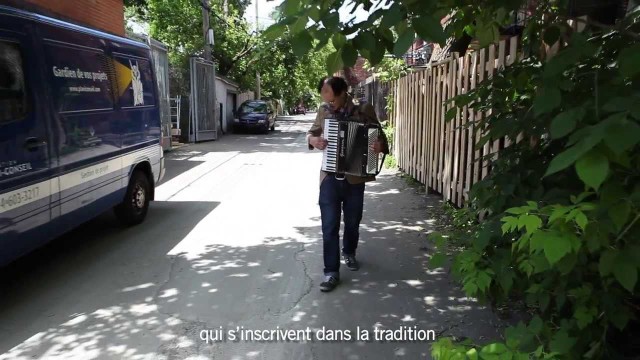 Hip Hop innovator 'Socalled' reflects on adapting Babel's Odessa Tales for Canadian audiences – in Yiddish!
I had first discovered Babel's writing by accident rummaging through the stacks of the fabled Strand bookshop in New York City. I happened upon his diary and the Red Cavalry stories. I had studied Russian Literature in university and managed to miss Babel, but well, when I caught it later, those stories just blew me away. Babel's language, his life story, his humor, his pain, his perspective: what I found in the tales of Benya Krik was really the synthesis of all my interests and obsessions. Consciously, I made it a long-term artistic goal to find a way to work his classic material into the stories that I wanted to tell.
My grandfather Joe was from Dnipropetrovsk, or Khortytsia, or Zaporozhia – it's not entirely clear where exactly. In a scratchy interview on an audio cassette that my uncle taped before he died, he talks about going down to the Dnipro River during the Shabbat for picnics with his family. Apparently he had played the mandolin before he married my grandmother. They left for Canada from Odessa and arrived in Winnipeg in August of 1914. He died when I was 10, but neither he nor my parents ever spoke Russian, Ukrainian or Yiddish to me. So I never heard those languages in childhood, and never had much of a connection to them until I got into Yiddish music and culture in my 20's while looking for samples on old records to make Hip Hop. Through my interest in those old vinyl and 78 records, I began the journey of self-discovery that led me to discover the language and culture of my Ashkenazi Jewish Ukrainian ancestors. Particularly that of their music: the music of the Yiddish Theatre, the celebratory instrumental music now known as Klezmer, as well as art song, folk song, Hassidic niggunim (wordless melody) and cantorial music (the refined music of prayer and the synagogue).
Approached to create a new work for the Montreal Yiddish Theatre, my first proposal, without a second's hesitation, was a Yiddish musical staging of Isaac Babel's Odessa Stories. Babel and his Odessa Stories are beloved in Russia and Europe, but not as widely known in North America as they should be. I wanted to create something for a Yiddish theater that told a story that could and should only be told in Yiddish. Babel offered me the vehicle for a story that would be the negation of the hyper saccharine and off putting sentimentality of 'Fiddler on the Roof'. One might wonder at the effort needed to take Babel's Russian text, putting it into an English version, translating that into Yiddish – a language very few actually speak – and then subtitling the product with English and French subtitles for a Canadian audience? Babel wrote in Russian, but wouldn't it be fun, I thought, to see those stories performed in the language in which they took place?
I had some time off between shows in Moscow and Europe, so I stopped off in southern Ukraine for a week of research and aimless hanging around. It was my third trip to Odessa. I had no friends in town, did not know anyone at all. I had not set up any meetings or sought out any historians or archivists. I just procured a cozy room over a restaurant and walked around. I wanted to breathe that air. To feel those cobblestones under my feet, and to find some of the addresses from the stories, which I read continuously in the cafes and on park benches. I explored the alleys and courtyards of Moldavanka. I took some photographs and I got laid. There was Babel's crappy apartment and the newly erected Babel monument. My search for the vestiges of Jewish life there did not yield much. I walked from Moldavanka to a Jewish cemetery, and got hopelessly lost until a girl from a Vietnamese restaurant, who only spoke Vietnamese, pointed the way. The graveyard only had headstones from the 1950's onward. What I found was that the whole Yiddish-speaking world painted by Babel had disappeared. Destroyed by pogroms and genocide, the Holocaust and emigration. Still, I soaked Odessa into my brain, hoping to cram those echoes and references into a musical adaptation. I wrote a melody that ultimately became the theme for the town in the show, but I wrote most of the music weeks later at my parent's piano.
Returning to Montreal, I began working on the script with a well-known Montreal-based Russian director and writer. I wanted to keep everything that I adored about those stories: the turns of phrase, textures, characters and twists of plot that I wanted to tell the story of the rise of a Jewish gangster king. So I came up with a flow and filled out that flow with musical numbers for certain moments. The lovely writer/director Derek Goldman, an expert in transforming literature into theater, cobbled together the first draft. I based the lyrics on the (translated) Babel text I had been working with. Some of the songs were literally Babel's own words set to music, such as the speech that Benya makes at the graveside of Savka Butsis, which was based on a Kaddish prayer melody from the Odessa region of the late 19th century. All this was painstakingly translated into Yiddish by Miriam Hoffman.
Clea Minaker, a puppet designer of genius, developed shadow puppets that 'performed' along with the human actors. Michael Winograd, one of the finest of the new generation of Yiddish musicians, came up from New York to be the musical director. He played clarinet with a band made up of a Moldovan gypsy accordionist, a Romanian cimbalom player, a Bulgarian flutist, two Jewish classical string players and a drummer. They were all Canadians but this was a simulacra of an Odessan Yiddish orchestra. The company's young director, Audrey Finkelstein, took the directorial reins. The set was based on photographs I'd taken during my trip to Odessa, the costume design based on photographs from an ethnographic expedition the writer and folklorist Ansky (best known for his play the Dybbuk) made while collecting stories in 1908.
The show looked and sounded historically authentic, but it was also absolutely original. It ran for three weeks: a Broadway-style show, Yiddish gangster musical, in Montreal, based on the stories of Isaac Babel! I went to see it every night that it played. There was smoke and gunshots. Sex and violence and crime during a wedding, as well as a funeral. That is to say everything. It had everything a good musical should have. People from outside the normal Yiddish theater world came to see it, and it got great reviews in the French Canadian press. I was over the moon. It was my greatest achievement to date: staging a collaboration between music, story, dance, theater and literature. I recorded the score with the original cast and I'll probably put that record out someday.
It's been hard finding another home for it since. I hope the next time I put it on will be in Odessa.
Or maybe we'll shoot the movie on the mean streets of Moldovanka?
Continue reading our Babel portfolio:
Babel's 'Odessa' in a new translation by Val Vinkour.
The Art and Science of Translating Babel by Val Vinokour.