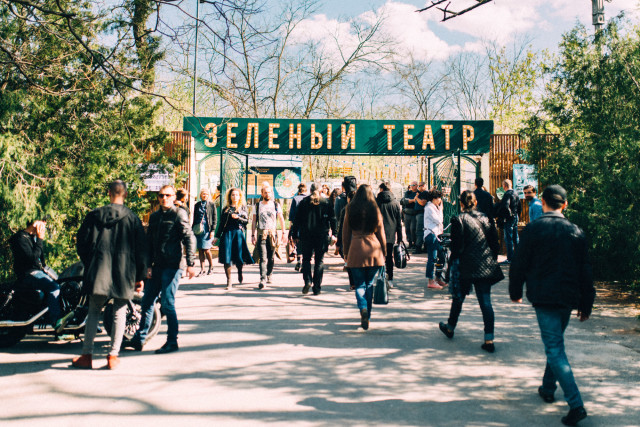 It has never been a problem to find a screening of the latest "Spiderman" or "James Bond" summer blockbuster in Odessa. There are plenty of modern multiplex cinemas in each neighborhood of the city. But if one is interested in something more unusual, or even art-house films  — suddenly an outing to the movies becomes much more of a challenge.
For the most part, large cinema chains aren't interested in screening non-commercial independent films, and most Sundance masterpieces, for example, are near impossible to find in the local movie theater. The situation is certainly difficult, but it is far from desperate. The Odessa Review has compiled a handy list of all the places in Odessa where cinema lovers can watch art-house, festival, classical and rare films.
Cinema Halls
Green Theater
Where: Shevchenko Park
Website: http://www.greentheat.re/
Ticket price: 50-100 UAH, free entrance on Mondays
Repertoire: festival cinema, first releases, works by young Ukrainian directors, documentaries, world classics, lectures and creative evenings featuring prominent filmmakers
Nestled in the greenery of Shevchenko Park, the Green Theater, re-opened in 2016 with the efforts of local social entrepreneurs and the support of Odessa residents, can be rightfully called one of the premiere open-air venues in the city. Come in, take off your shoes to feel the warm wooden floor, choose a recliner in your favorite color — or a cushion, if you wish — grab a glass of cocoa and get ready to enjoy the movie. That's what it's like to watch movies in the Green Theater.
The 2016 season at the theater was marked by a number of memorable cinema events, including a 3-D screening of the Nick Cave documentary "One More Time With Feeling." The curators have even bolder plans for the 2017 season. We highly recommend staying up to date on their announcements!
Hub Living Room
Where: 1A Hretska Street
Website: https://impacthub.odessa.ua/lounge/
Ticket price: 50-80 UAH
Repertoire: art-house, festival cinema, documentaries
One of the first anti-cafes in Odessa, Hub Living Room provides a wide range of activities – seeing the latest European releases and movies from the biggest festivals is just one of them. Of special interest are the Art House Club events hosted by Art House Traffic, which often include not only the film itself, but also a discussion and the occasional meeting with the film creators.
Hub Living Room also features Cine-Nights — 80 UAH for 3 movies that you can watch consecutively late into the night. Make sure you grab a cushion: not many cinephiles can make it through the entire program from 11pm to 5am without falling asleep. Check the listings for the next showing.
Agora HippoCampus
Where: 60 Pastera Street
Website: http://hippocampus.od.ua/
Ticket price: 25-45 UAH
Repertoire: art-house first releases, modern European movies, 1940's – 1970's retrospectives, short films and festival cinema
Established in 2014, Agora HippoCampus is first and foremost a book shop, situated within a 5-minute walk from Deribasovska Street and Soborna Square. But if you knowingly make your way to the back of the bookshelves, you're going to find a cozy room with 15 comfortable armchairs, a projector and a coffee machine.
Usually, there are two showings every evening, starting at 6 – 7pm and 7.30 – 8.30 pm. Retrospectives run a bit earlier, around 4 – 4.30pm. Occasionally, dance classes or poetry readings may take the place of film screenings, so check for updates before going. Since its foundation, HippoCampus has shown more than 150 films, with their release dates ranging from 1927 until today.
Movie Clubs: when you feel like discovering a rarity
We have talked about the places to go for art-house premieres and novelties. But watching old movies can be great fun, too – especially on a big screen in a theater atmosphere. Good company matters. Is there any way to find it?
Movie clubs are gradually becoming an upstart solution for this demand. Instead of modern movies purchased from film distributors, they offer favorite oldies to be seen in a very special setting, sometimes with additional perks like an expert's commentary or a psychologist's analysis of the plot. The clubs usually gather once or twice a week; some give members the option of voting to select a film for the next showing. Let's check out a couple.
A Clockwork Orange Movie Club
Where: Underpub, 15/17 Primorskaya Street
Website: https://www.facebook.com/1888286028053214/
Entry: free
Repertoire: retrospective, world classics
Beginning in March 2017 with Bunuel's "Belle de Jour, " A Clockwork Orange movie club meets (almost) every Thursday evening to enjoy the best of world cinema. Club meetings are held in Underpub, a mixed-space venue containing a restaurant, a theater, a gallery and a hostel, situated beneath the famous Potemkin Stairs.
Members of the club can nominate and deliberate which movie will be seen the next time. Each show is followed by discussion where everyone has a chance to express their opinion. A great opportunity to meet people! Some of the club's events have a special theme — for example, an Esperanto evening to celebrate the language's 100-year anniversary with a film about Ludwik Zamenhof.
Olga Lytvynenko Film Therapy Group
Where: 10 Frantzuskiy Boulevard
Website: https://www.facebook.com/100005012778037/
Entry: 150 UAH
Repertoire: various
Any art can be a cure – that's a fact. But how far can you go, watching a great movie in a group headed by a qualified psychologist, with a detailed analysis after the screening? That is what the Olga Lytvynenko film therapy group offers. The group members watch a selected film together, discussing the emotions and associations brought up by the story afterwards. Some films can be analyzed from the point of view of Jungian archetypes.
One needs to keep in mind that this is not like a regular movie evening with friends. A certain preparedness for sharing sudden and deep emotional responses is a requirement for taking part. In the end, though, you could feel much better and some of your personal questions might finally get an answer. Limited number of seats and prior registration required.
Aurum Art Gallery Movie Nights
Where: 2 Torgovaya street (entrance from Zhvanetskiy Boulevard)
Website: https://www.instagram.com/aurumartschool/
Entry: free
Repertoire: world classics
Known as a contemporary art center and art school, Aurum has recently also began holding events for cinephiles. Just like A Clockwork Orange, this club meets every Thursday after some preliminary voting on which films to screen.
The extra bonus of the Aurum movie club is that you get to watch classic movies while being surrounded by beautiful paintings. Also, there's an opportunity to visit an art class before the film (check out the schedule of events and prices for your chosen date). Because there never be too much art!