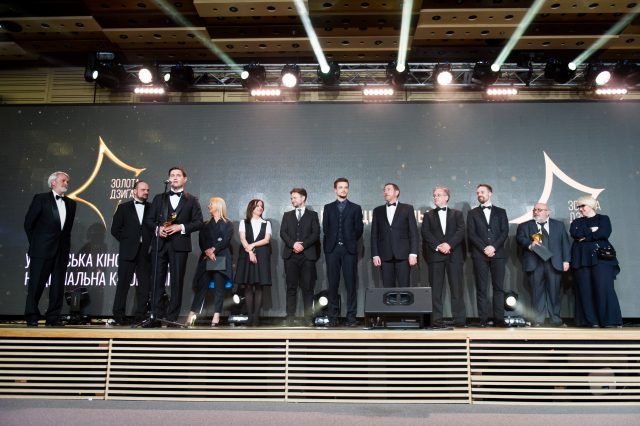 The number of quality films that Ukraine puts out has grown every year for the past half decade. This positive trend should rightfully make Ukrainian filmgoers ecstatic. The winners of the 2018 Ukrainian academy Golden Dziga awards should send a strong message that contemporary Ukrainian cinematography should foster aesthetic culture and expand the cultural and spiritual education of audiences. The Dziga awards should reward Ukraine's best contemporary film work instead of catering to the more prosaic need for facile entertainment. This year, the Audience Choice Award of the Golden Dziga was awarded to the comedy "DZIDZIO Contrabass" which was directed by Oleg Borschevsky. It was it should be said, truly a very disappointing selection. The result of giving awards to such films can only strengthen the tendency for directors to shoot feature films in the style of TV movie with the star in the center of the picture.
Another important trend was the choice for the nomination of the Best Picture —Ahtem Seitablayev's "Cyborgs". The patriotic war film followed the audience expectations and announced the crowd pleaser production to be the best Ukrainian picture of the 2017. The jury awarded the feature for patriotic spirit, despite certain gaps in professionalism with the technical issues related to the picture. The jury did so without realizing what responsibility lay on them. Recognition would be more readily forthcoming if members of Golden Dziga limited themselves to Best Screenwriter for Nataliya Vorozhbit. In this case, the wolves would be sated and the sheep would likewise remain intact. Especially when the feature about the war for the freedom brought the Nation into a debate concerning to what extent patriotism should be controlled and financed by the state. The awarding of the Best Picture to "Cyborgs" risks helping our society continue to be dragged down a slippery slope toward illiberalism and returning to certain jingoistic ideals of the Soviet past. This is a very bad direction for Ukrainian cinema to take.
The rest of the winners were more or less expected with some even offering hope for optimism. Best Director for Sergei Loznitsa ("A Gentle Creature"); Best Documentary — "Slovo"(directed by Taras Tomenko); Cinematography for Valentyn Vasyanovych (for her feature "Black Level"); Lead Actress for Daria Plahtiy, Best Sound Director — Sergiy Stepansky, Best Composer — Nikita Moiseev (the feature "Falling" directed by Marina Stepanska); Supporting Actress for Nina Naboka (Arkadii Nepytaliuk's feature "The Strayed"). Dmitriy Khomyak's colorful characters of the feature "The Strayed" had every chance to bring home the award for Lead Actor, but the prize went instead to Vyacheslav Dovzhenko together with the Best Supporting Actor for Victor Zhdanov (in Seitablayev's "Cyborgs").