This is the third in a series of dispatches by Maria Romanenko from Kiev Fashion Days. Each day, she will publish an account of the previous evening's events. It is also the first dispatch on Ukrainian Fashion Week, which began on February 3. Stay tuned as Romanenko keeps you updated on the season's premier fashion events in the Ukrainian capital.
Kiev Fashion Days — Day 3
The third day of Kiev Fashion Days saw seven designer brands present their latest pieces: Yulia Fedetskaya, Who is it?, Aina Gasse, THEO, Billie Jacobina, Longshaw Ward and Anna K. All the shows took place at Kyiv's TSUM department store.
Here are some of the highlights from the third unforgettable day.
THEO
Ukrainian designer Theo Decan presented a collection primarily in black, blue and green. Many of the pieces would be a perfect fit for the office: from ankle-length, conservative dresses to suits with quirky hood details for more casual workplaces.  
THEO's fall-winter 2018-2019 collection also featured latex: black latex collars around models' necks and even full-on latex suits and dresses.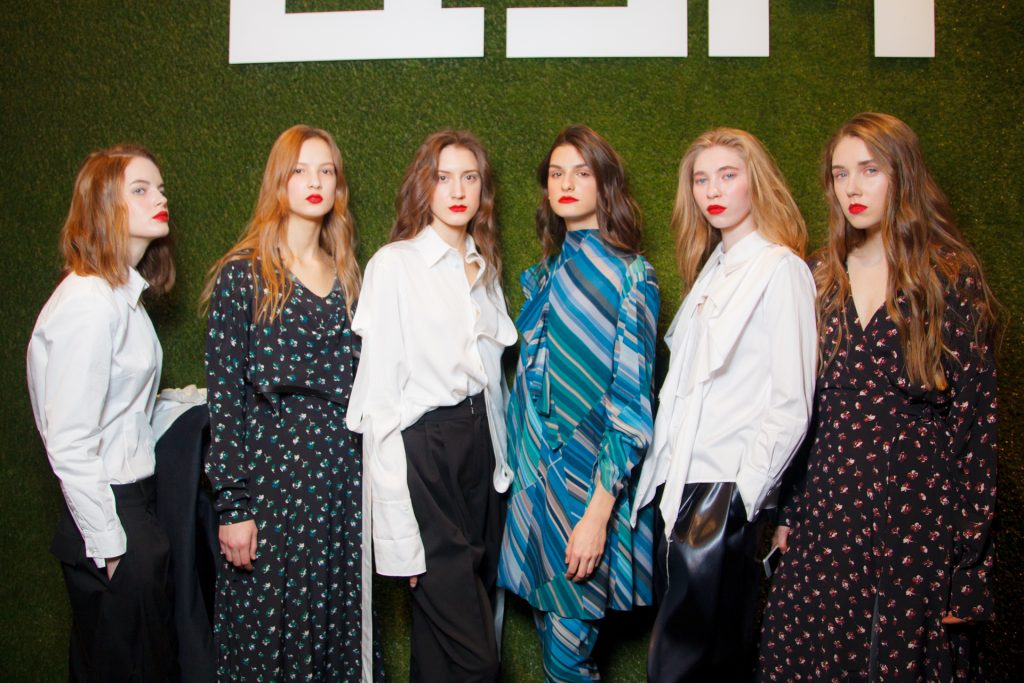 Billie Jacobina
If the color pink were a designer, it would be Billie Jacobina presenting her fall-winter 2018-2019 collection. This year, Jacobina's designs featured dresses, skirts and tops dominated by the color pink with glitter details.  
In interviews, the British designer has often said that she wants to have fun on the runway. And that's precisely what she and her models — whom she calls the the "Sass Squad" — have done. Wearing bright makeup and carrying balloons, the models danced around the runway and jubilantly posed for pictures.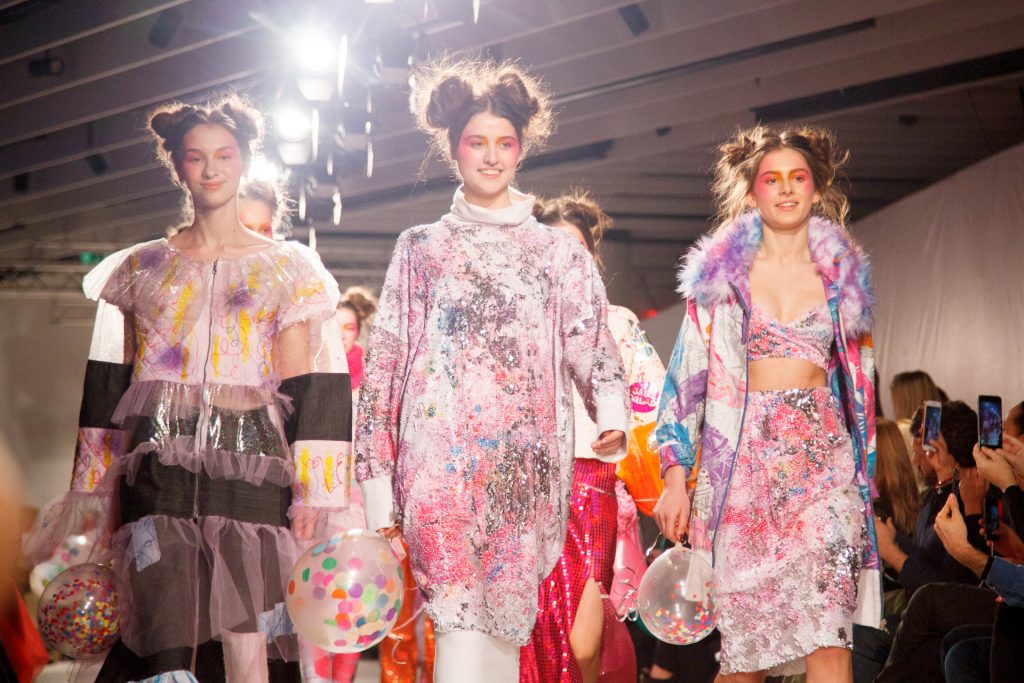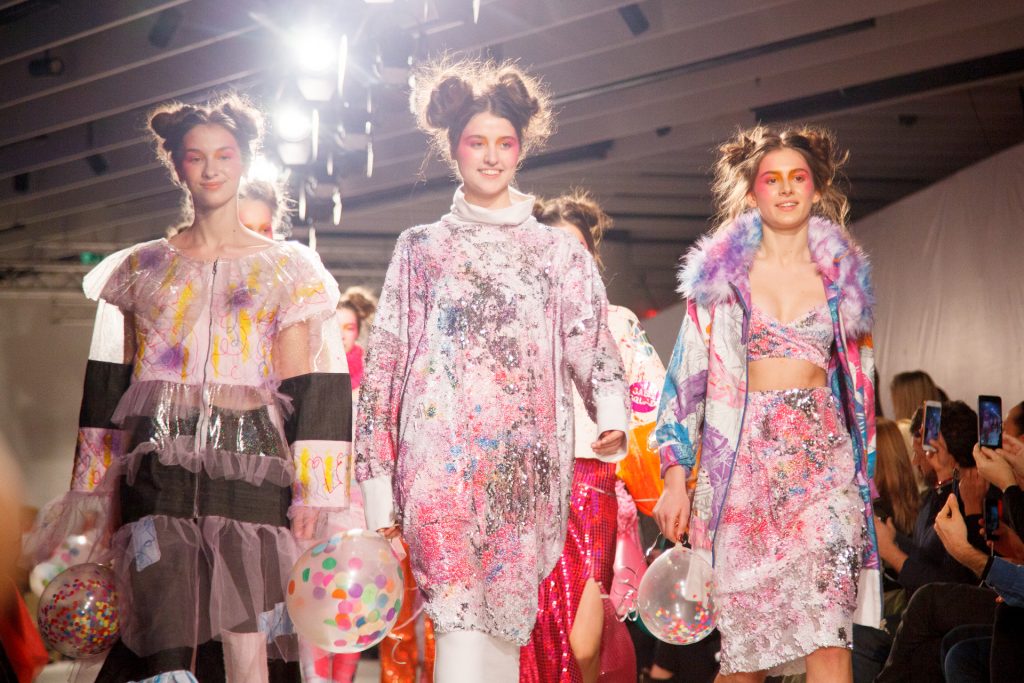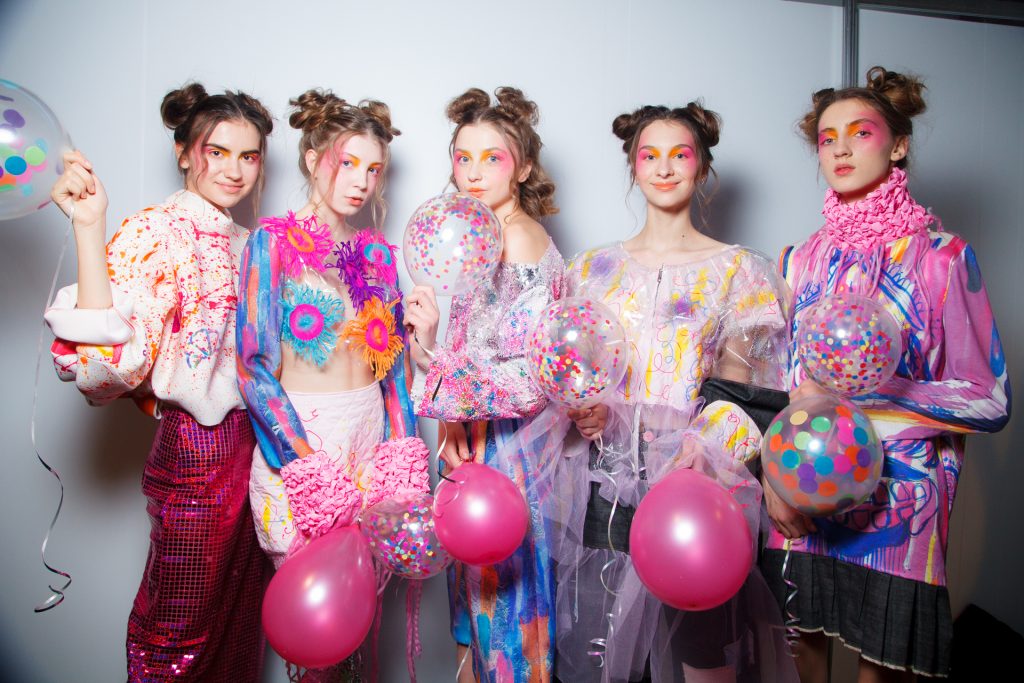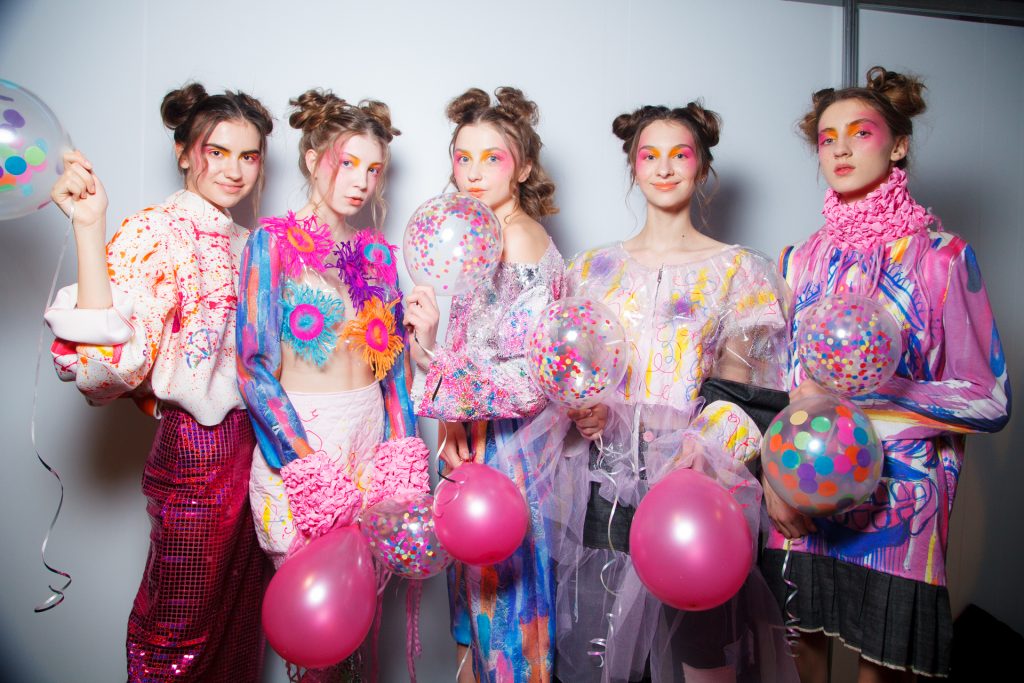 Anna K
For the second season in a row, Anna Karenina — the designer behind Anna K — dedicated her entire collection to cryptocurrency and blockchain technology. That makes sense, since she just launched her own cryptocurrency: Fashion Coin. It will be entirely used for purchasing high fashion.
At only 22 years old, Karenina has already managed to become one of the most popular Ukrainian designers in the world. Additionally, in 2017 she was featured on Forbes's 30 Under 30 list celebrating "young entrepreneurs, innovators and game changers."
This season, Karenina created an exceedingly futuristic collection. The show featured sheer and denim fabrics, grey and silver colors and outfits emblazoned with slogans like "decentralized girl" and "never read white paper". In the finale, the models wore ribbons which read "Fashion Coin", "Love is Crypto", "Mining Farm", among other slogans.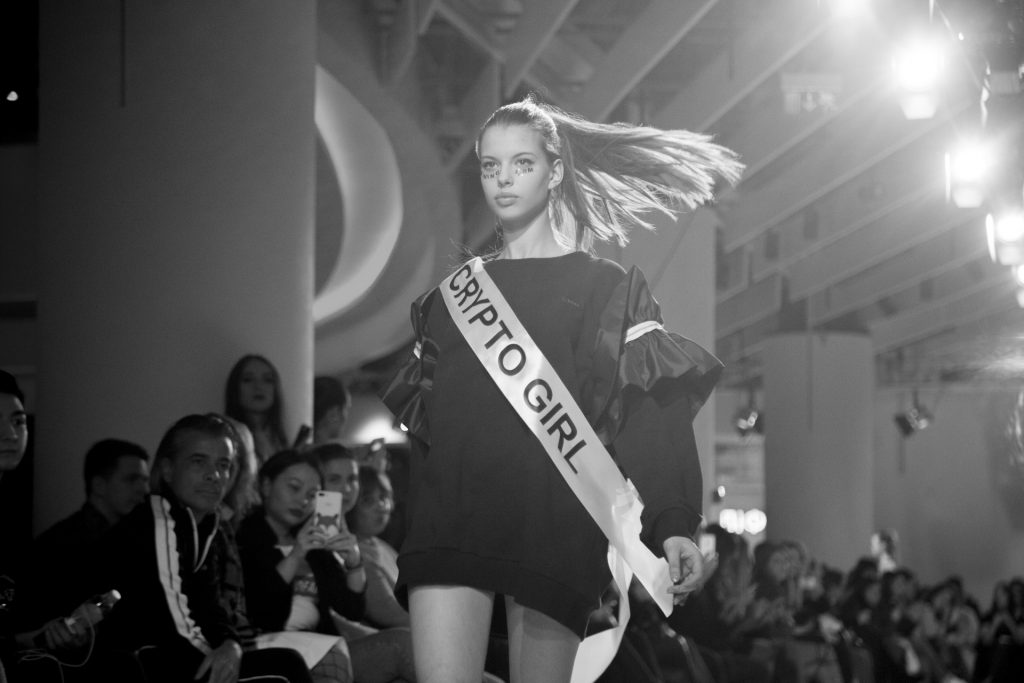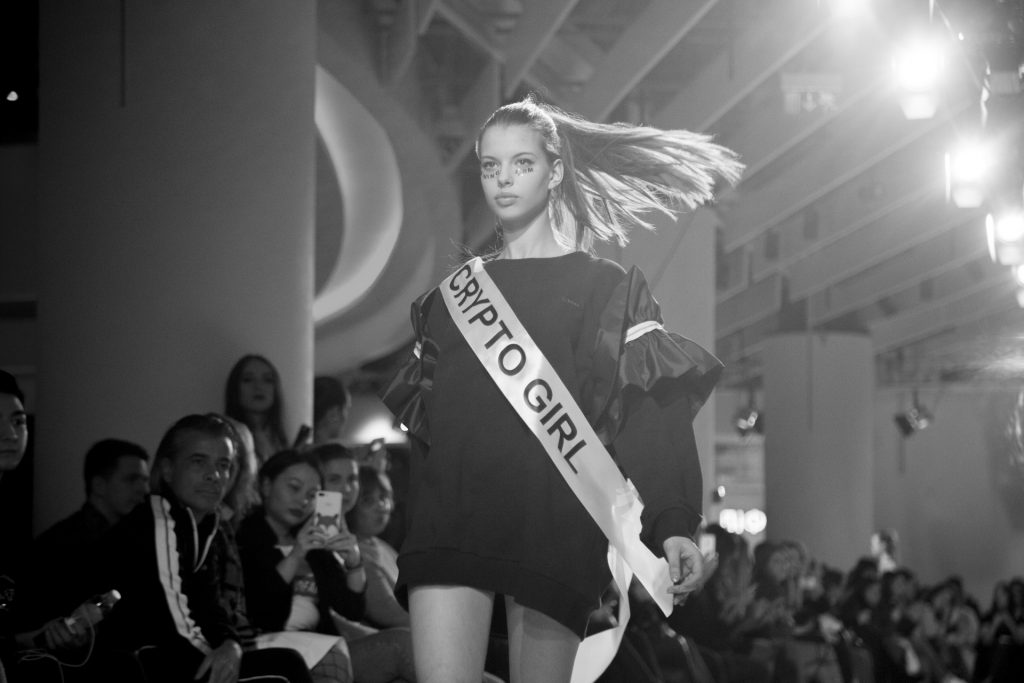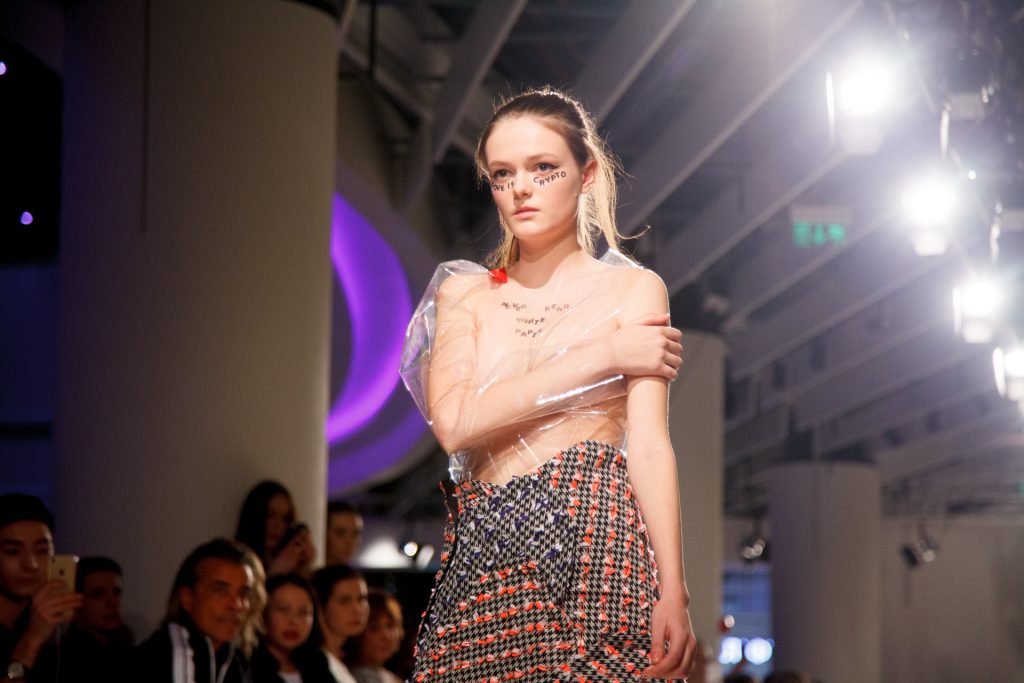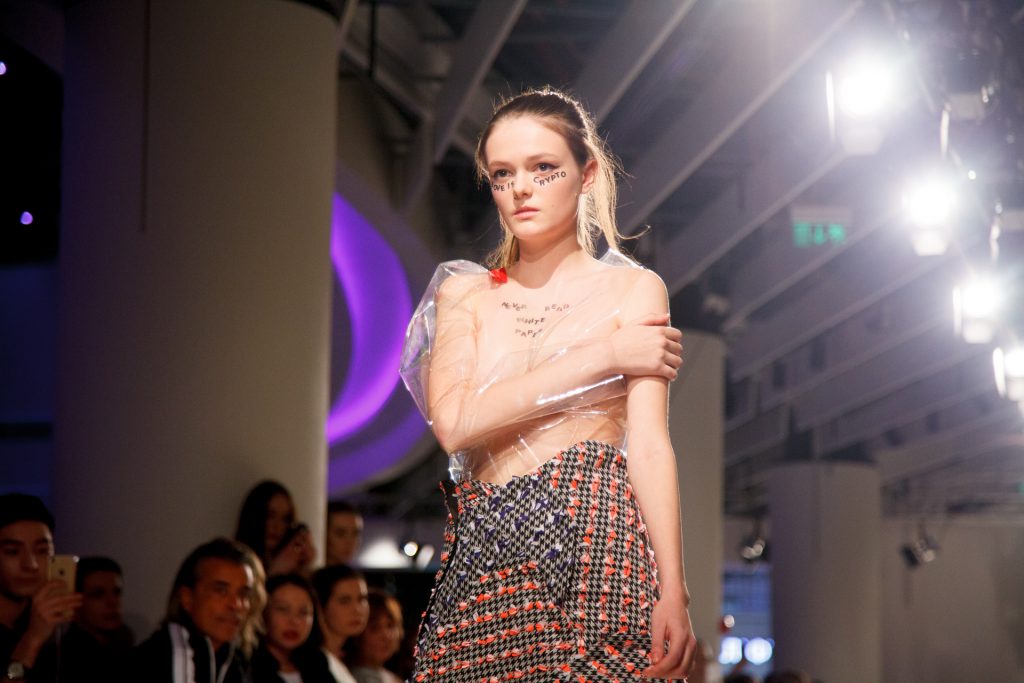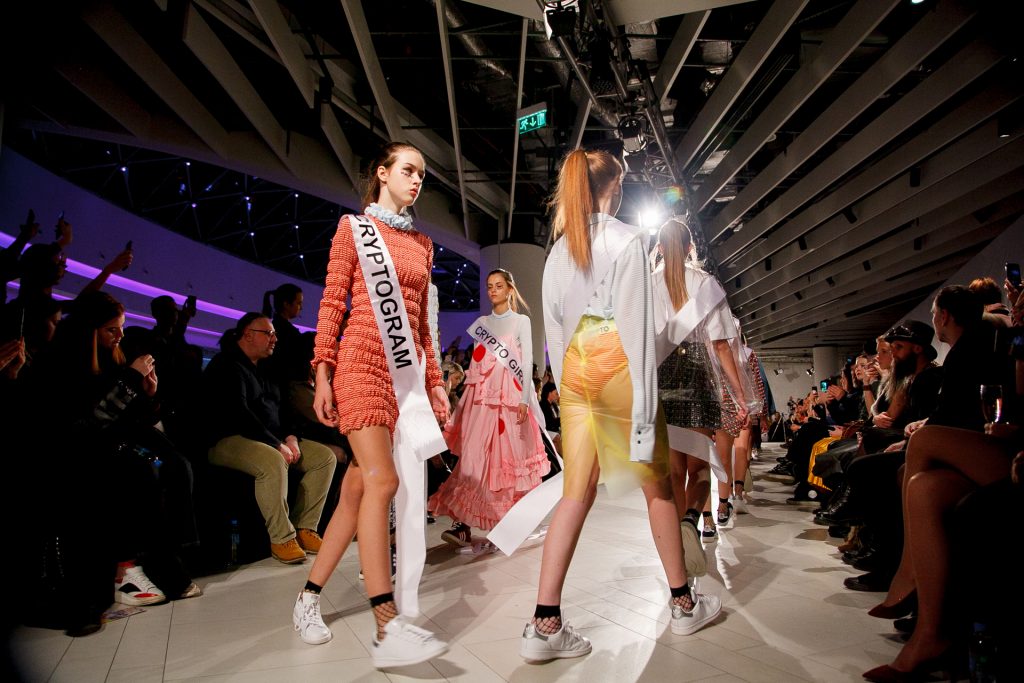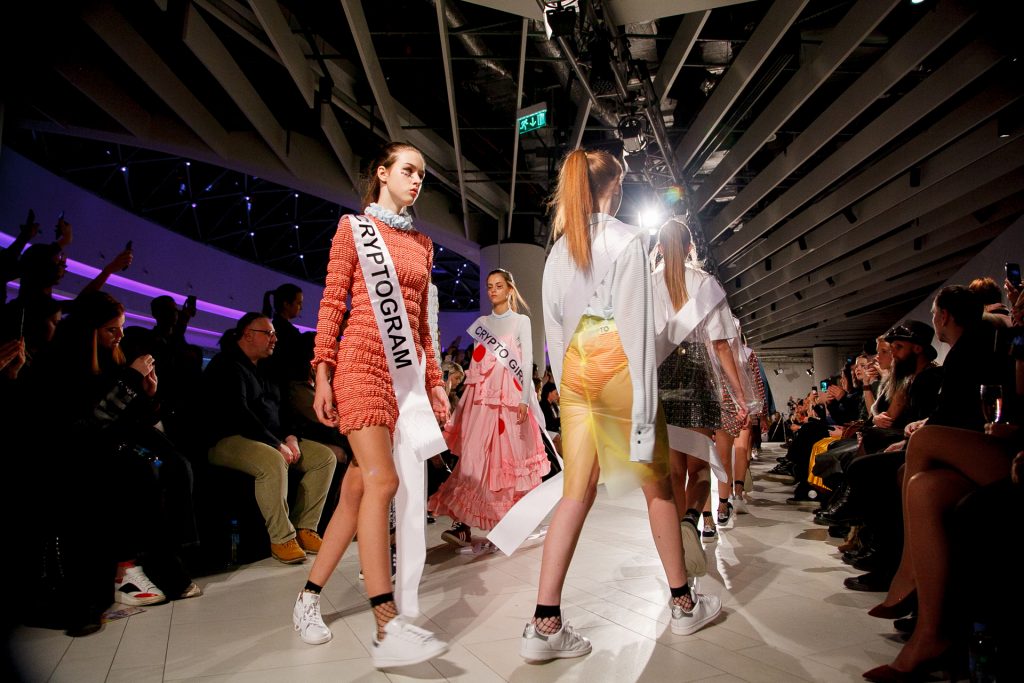 Ukrainian Fashion Week — Day 1: Lights and Sparkles
In case one major fashion event wasn't enough, Ukrainian Fashion Week has kicked off at Kyiv's Mystetsky Arsenal. A whopping nine designer brands presented their fall-winter 2018-2019 collections on February 3: Poustovit, Elena Burenina, GOLETS, Dastish Fantastish, GASANOVA, The Coat by Katya Silchenko, Nadya Dzyak, DOMANOF and FROLOV.  
Keeping with Ukrainian Fashion Week tradition, Ukrainian veteran designer Lilia Poustovit opened the event with her latest collection.
Here are the highlights of the vibrant first day.
Poustovit
Lilia Poustovit dubbed her collection "bio luminous," which describes a living organism's ability to produce light. And the models wearing Poustovit's garments managed to do just that. Not only did the runway lighting imitate a disco ball, but the models themselves wore plenty of glitter, which helped turn Mystetsky Arsenal — an old Kyiv factory building — into one big dance floor.
"This is how they imagined the future in the 1980's and we're living it today," Poustovit said, describing the collection. "We're not waiting for the light from new galaxies, we're producing it ourselves."
The colors blue, purple, green and black dominated the collection. A few models even wore headscarves.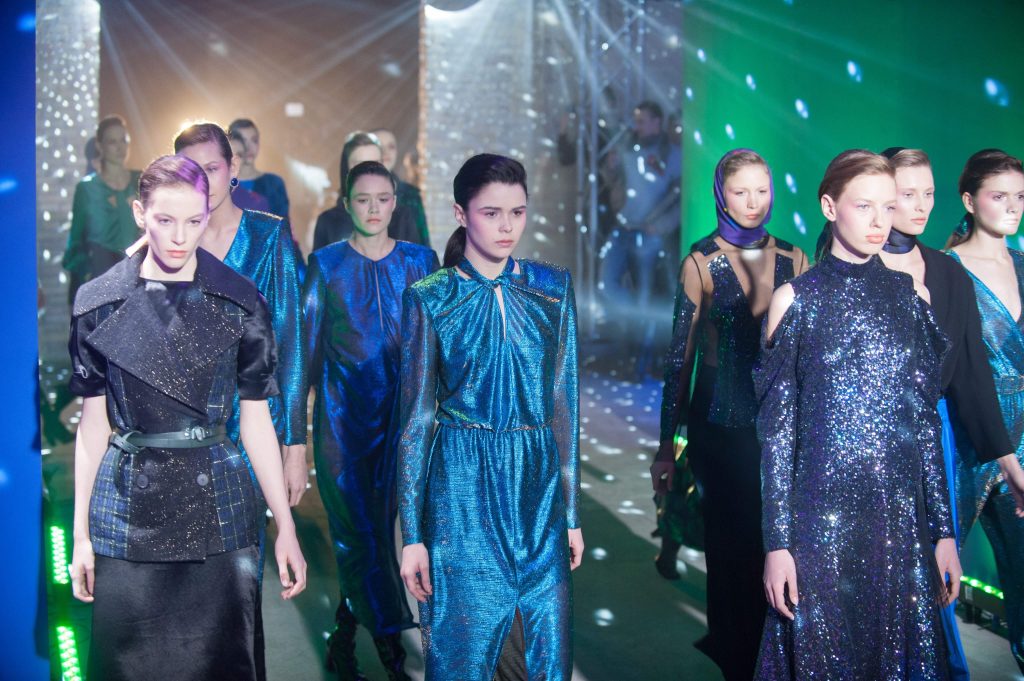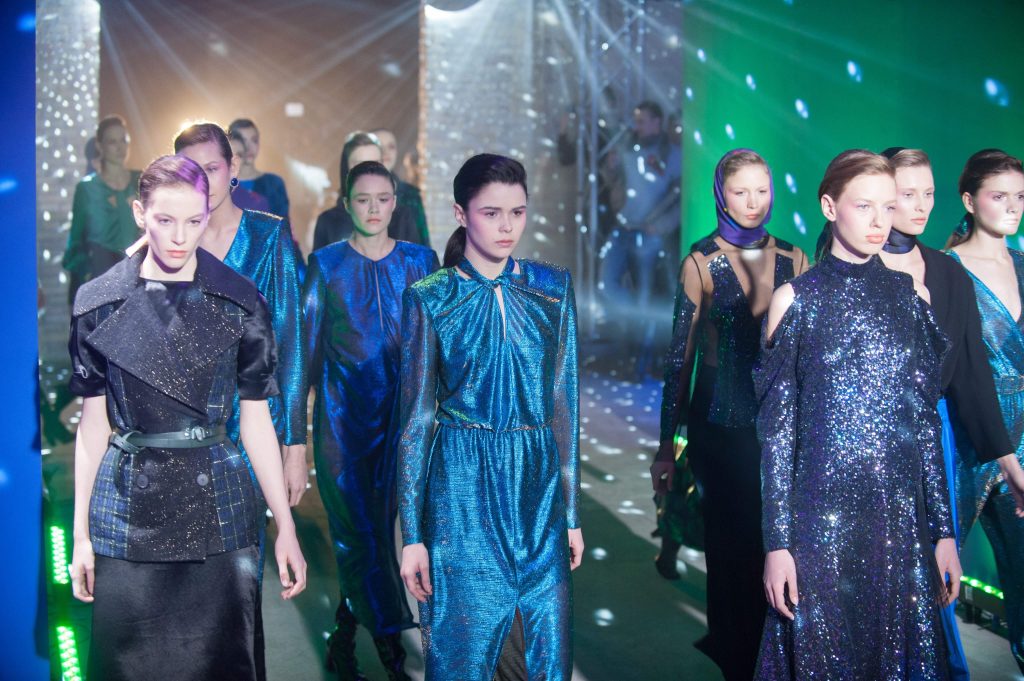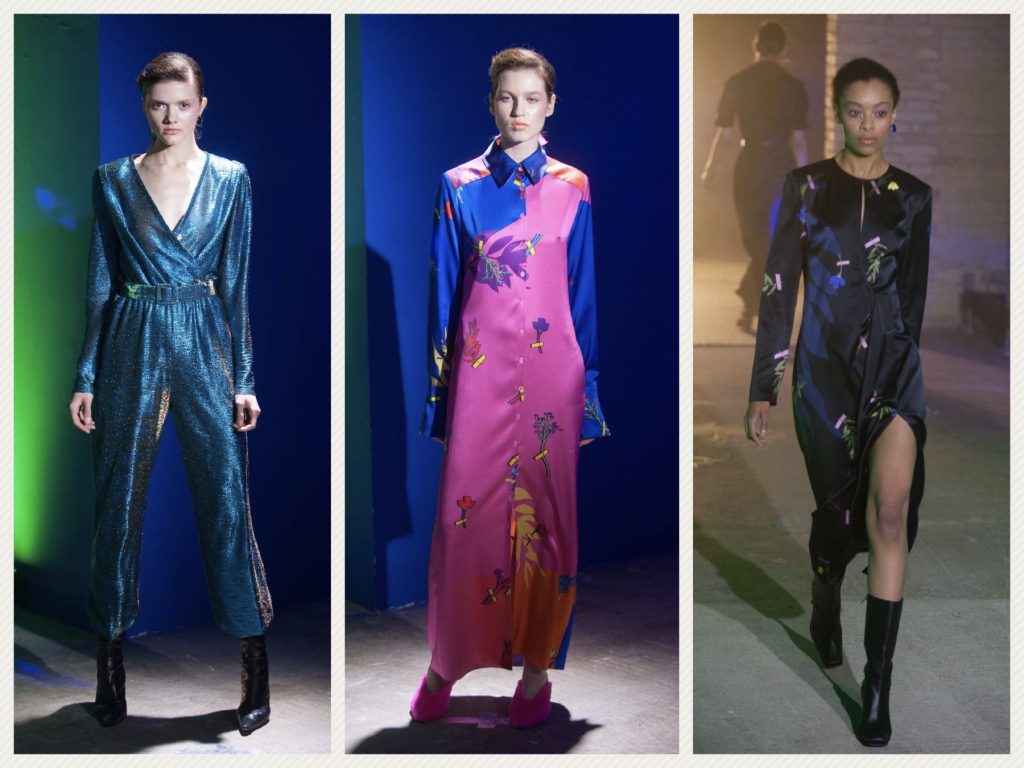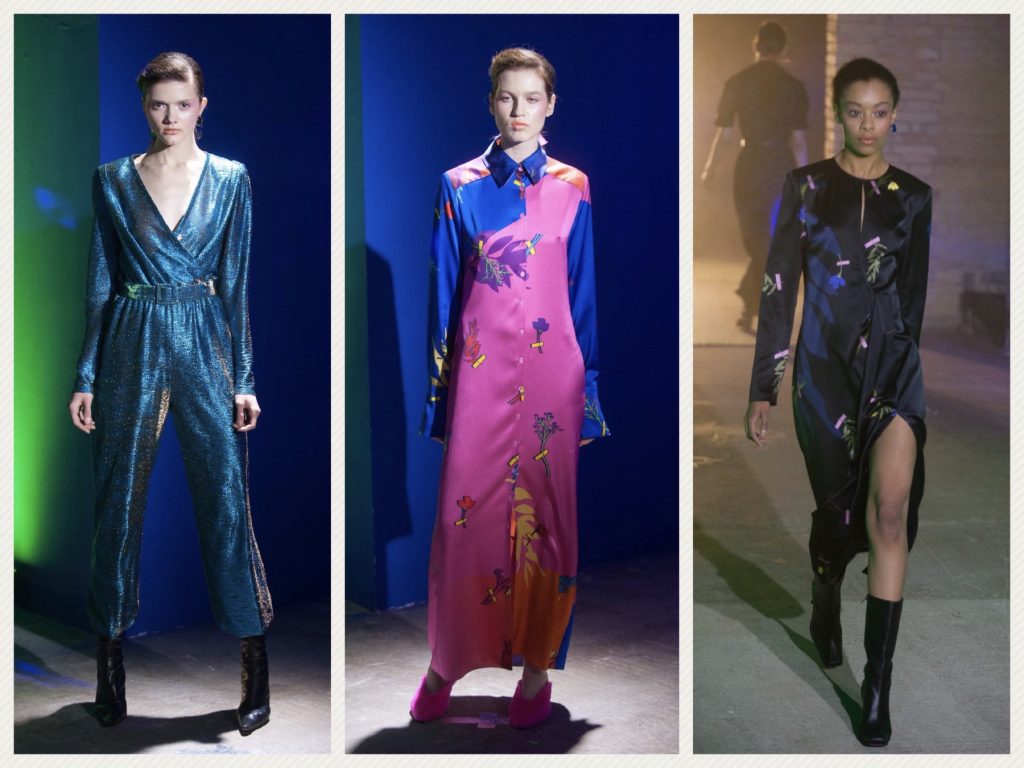 GASANOVA
Donetsk-born Elvira Gasanova probably never thought she would become a fashion designer when she was training to become a dentist. Good thing she changed her mind after volunteering at Donetsk Fashion Days in early 2013. That experience led her to produce her own collection in just a few months and launched her career.
Gasanova's fall-winter 2018-2019 collection has two major themes: sparkles and the color black, which Gasanova has long called her favorite in interviews. She presented styles for men, women and children on the runway, with some male models wearing masks. Besides black, white and gold predominated in the collection.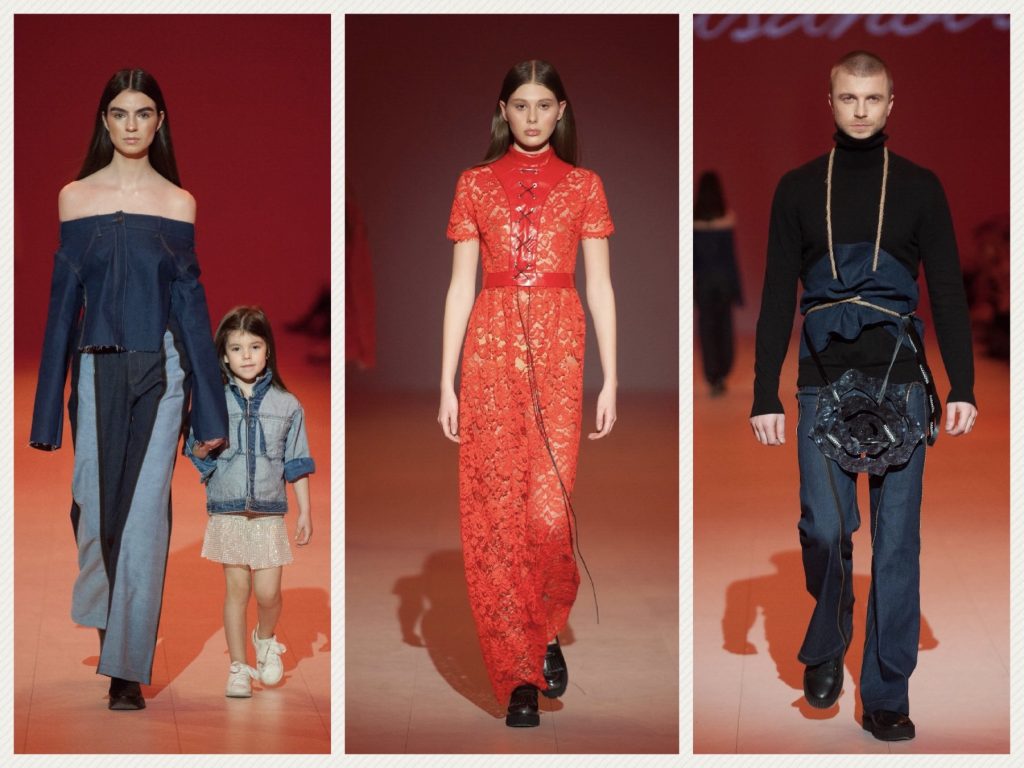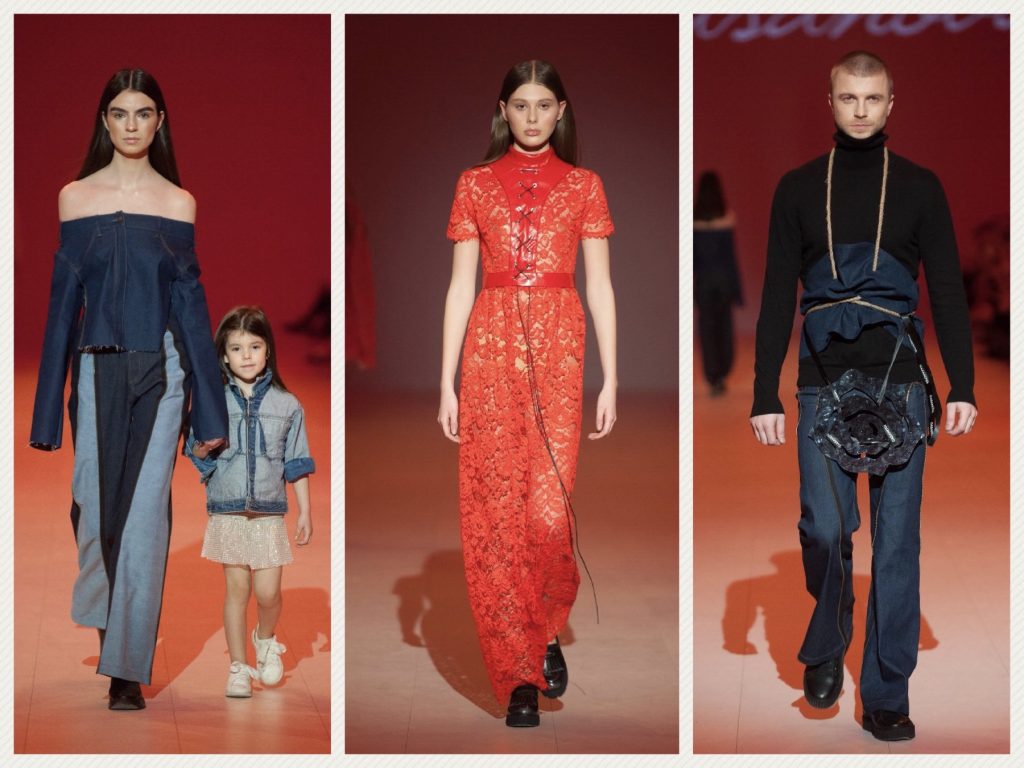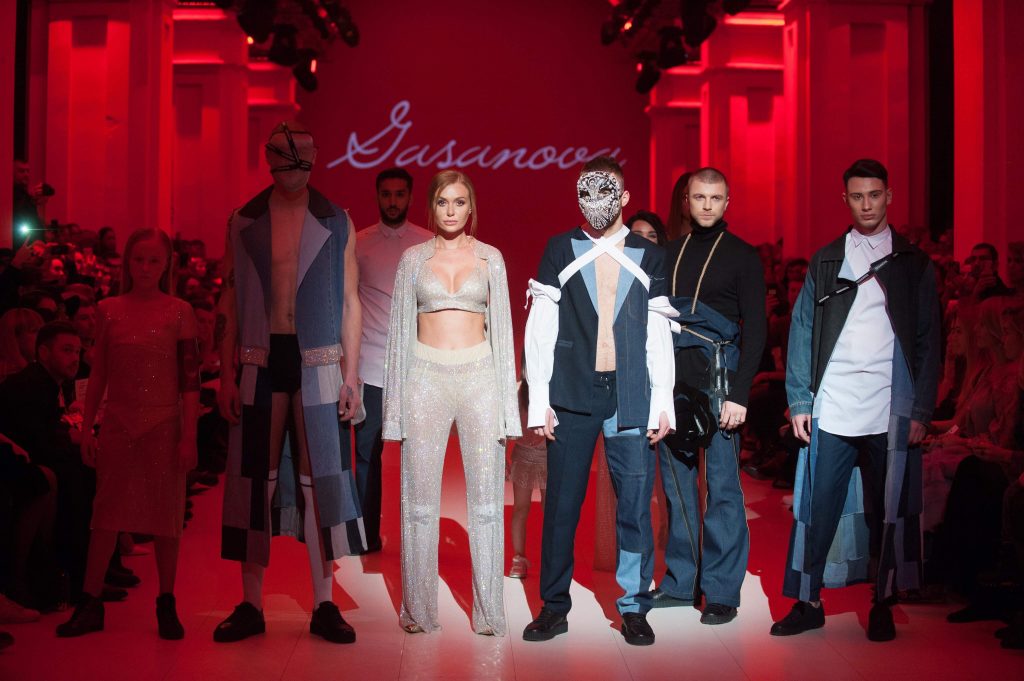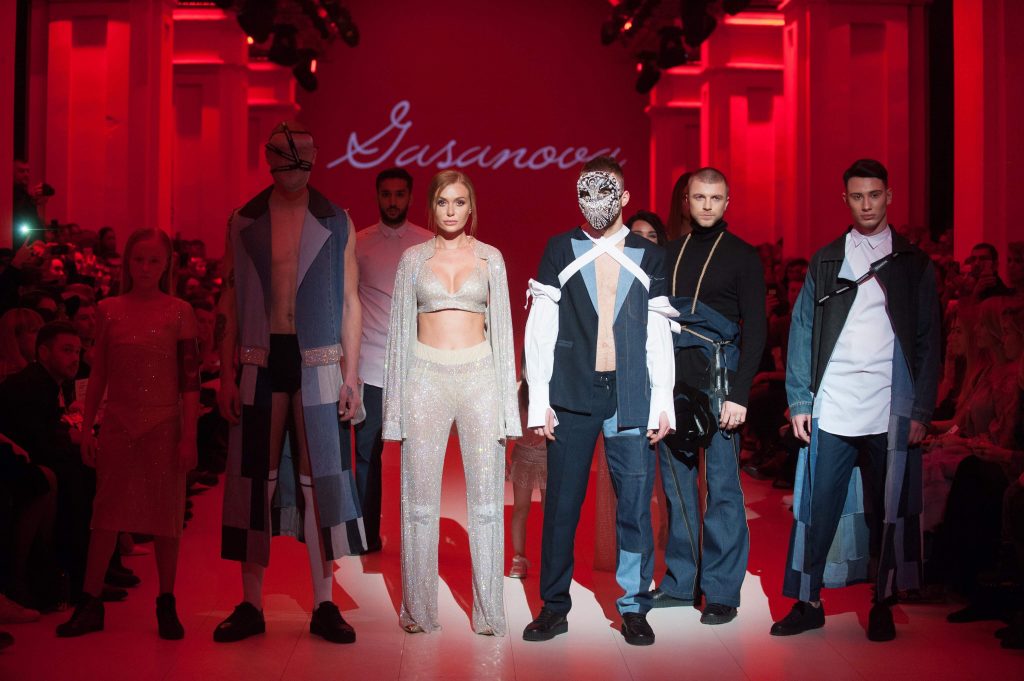 Nadya Dzyak
Nadya Dzyak founded her brand in 2008. By Ukrainian fashion standards, that makes it quite an established label. But it also helps that Dzyak's pieces — which she characterizes as "effortless chic" — have long been selling outside Ukraine in countries like France, Austria and Cyprus.
Dzyak presented a fall-winter 2018-2019 collection with significantly dimmed colors: black, dark green, dirty pink and beige. Retro designs, monochrome color schemes and a lot of sheer fabrics played a prominent role in Dzyak's designs — with the addition of subtle feminine details like floral prints, ribbons and polka dot patterns.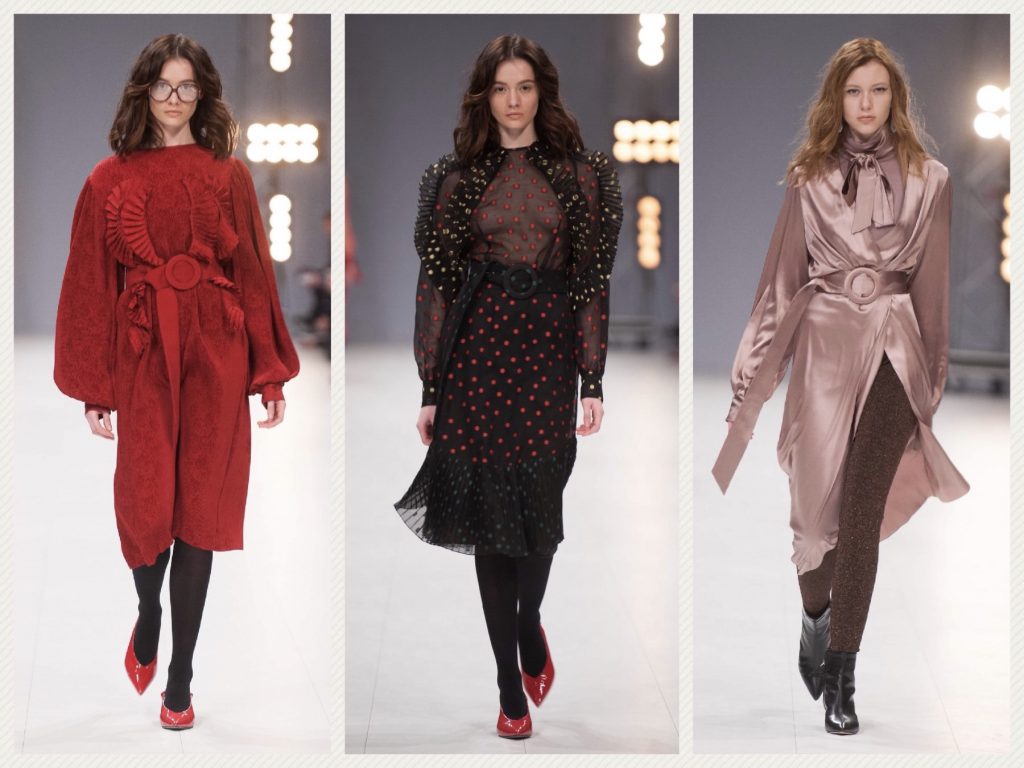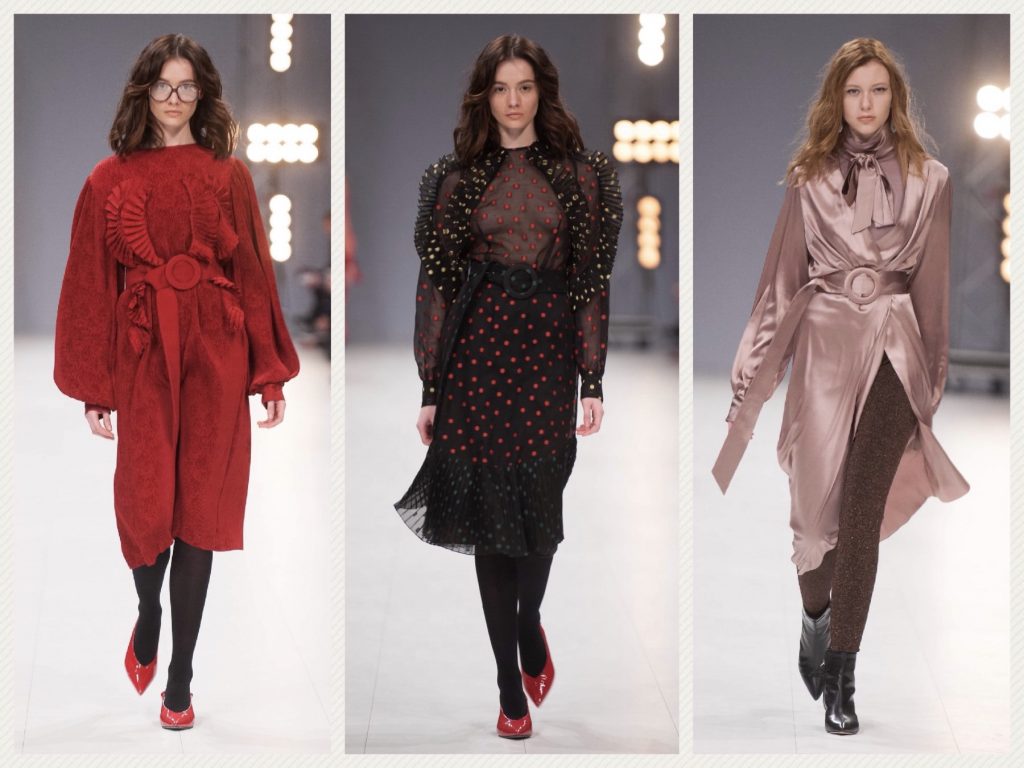 Stay tuned for day two of Ukrainian Fashion Week, which will see even more designers show off their fascinating work.