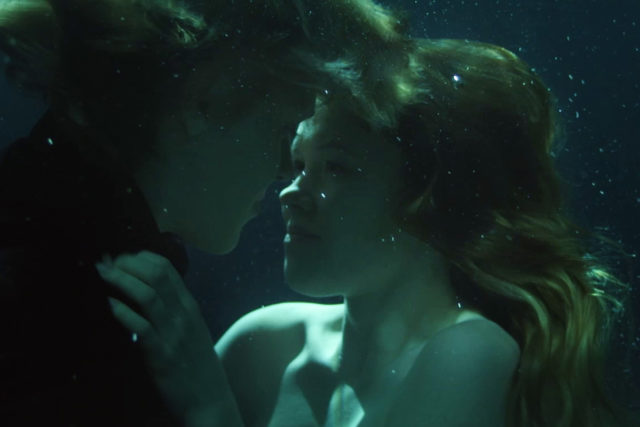 Polish films have been pretty popular in the history of the Odessa International Film Festival. At the first festival, the film "Lullaby" won best director for Juliusz Machulski's work. Over the years, there have been a decent amount of Polish films entering competition, some successful, some not. Hopefully, the Polish competitor this year, "The Lure" by director Agnieszka Smoczyńska, will have some success for its unique plot line and bubbly 80s nightlife aesthetics.
Now the plot line is truly something: two mermaid sisters, Silver (Marta Mazurek) and Golden (Michalina Olszańska) emerge from the abyss when they hear a band playing music on a beach. The band, which is composed of nightclub singer Krysia (Kinga Preis), the no-name drummer (Andrzej Konopka), and bassist Mietek (James Gierszal), cannot believe their eyes and bring the girls to sing and strip at their nightclub. Their performances begin somewhat normally with some hardcore dancing along with their siren songs. Then the girls slither into one of those jumbo burlesque martini glasses filled with water, making their oversized tails appear. The club gets fantastic business because of them and they become the talk of the town.
Silver begins to fall in love with Mietek, but he isn't fully comfortable with her. He tells Silver that "I'll always think of you as some sort of animal, a fish, no matter how I feel." Silver begins to consider getting her tail chopped off and getting a leg transplant all for love. Golden is dealing with quite different problems, she still feels separated from humans and this fuels her insatiability. She begins with one victim, but she becomes increasingly violent towards people – this might be because of how people have influenced her sister, Silver. The rest of the movie is pretty inexplicable, fun and should be seen.
Did I mention that this was a musical? The songs, mainly the sisters' siren songs, are constantly sung throughout the film. Sometimes the song fits in perfectly with the scenario, other times it felt a little out of place and gimmicky. The 1980s dance, pop and punk music still proved to be immensely entertaining, especially with the beautifully choreographed dance numbers and slow camera pans of the scene. Overall, this movie was very unexpected and hopefully gets good returns from this year's OIFF.