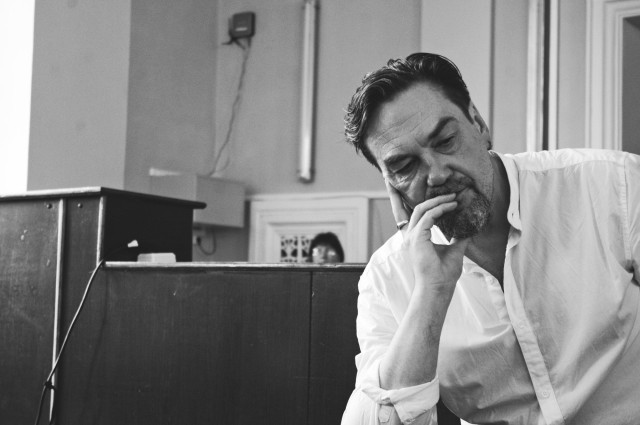 Yurii Andrukhovych is perhaps the most renowned prose writer, poet, essayist, and translator in contemporary Ukrainian literature. He was born in the city of Ivano-Frankivsk and first came to prominence after he co-founded the Bu-Ba-Bu poetic group in 1985. He is a fierce defender of Ukraine's democratic path. An early adaptor of post-Modern literary techniques to Ukrainian literature, he has published five novels, four poetry collections, short stories, various volumes of essays, as well as literary translations from English, German, Polish, and Russian. He met with Vladislav Davidzon, the Chief Editor of The Odessa Review in Odessa's 2K Dva Karla Bessarabian Bodega for a long lunch and many glasses of Bessarabian wine.
The Odessa Review (Vladislav Davidzon): You are a well known as a literary translator   Let's speak about your translations from the German language. I especially adore the work of Walser and I know that you are a fan as well.
Yurii Andrukhovych: Well, to say I am a fan may be an exaggeration, but Robert Walser is someone who truly changed European prose in the 20th century. He is in the same class as Kafka or Musil. In terms of the German-speaking world, Walser has not received the recognition that he deserves, and there are many reasons for this, his fate being among them. But I know all of this thanks to the fact that in his homeland of Bern that there is a certain "Walser Center," which displayed not only some of the manuscripts but also publications of his work, translations into many languages. Whenever something related to Walser appears, the Center obtains it, and this center initiated a project — because they found few of his works translated into Slavic languages — which is connected with a key work, his short novel (or long story), "The Walk." There are several versions of it, a few editions from different years, but there is one that is considered fundamental, canonical, and the center conceived of a project wherein the texts would be translated into Slavic languages across Eastern Europe, not by translators as such, but rather by well-known writers from from these countries who would be able to become translators and agree to take part in the project. For instance, the Russian translation was undertaken by Mikhail Shishkin, the famous writer, who now lives in Switzerland. He was at the first festival here in Odessa. In any case, I worked within the coordinates of a certain commission, taken up from Switzerland and elsewhere, and I was very happy to be invited to be involved in the translation, because I discovered an outstanding writer as I began to work on the translation.
OR: And how was the Walser translation received in Ukrainian literary circles? More precisely — do we need Walser in Ukrainian prose today, and did he have some kind of visible impact on Ukrainian prose in the past?
YA: Effect? Well, there was no sensation or bombshell. I can speak about an unanticipated effect upon myself, related to another of my translations and another author — Bruno Schulz, the Polish author. The Walser translation was my next work after Schulz, and, well, there wasn't the kind of impact that there had been with Schulz. Schulz was at the time a widely-read author, and his book sold fairly well, and continues to sell. But Walser, he worked in such narrow literary circles, you might say that he is a delicacy for "gourmets," connoisseurs. So I was very happy to somehow participate in this. He can already be said to have been part of this community in our country as well.
OR: It is interesting that we in Ukraine are entering a kind of, one might say, renaissance of early modernism, and that Ukraine, as a literary culture is absorbing all of those forgotten or obscure authors.
YA: Yes, there was such a phase, but it was either incomplete or resulted in catastrophe, in the 1920's, when all of this happened synchronously…
OR: Along with the West. With Vienna, with Prague.
YA: Precisely. And maybe also Paris, and in this way somehow symbolically in Odessa, through the Odessa film studio, which was called "Hollywood on the Black Sea." The young and creative flocked here, even from the capital, which was then Kharkiv, and from Kyiv, in order to be closer to our own "Hollywood." At the time, filmmaking seemed more interesting than anything in the world; to be engaged in cinematography, to write screenplays was considered more interesting than writing novels.
OR: And more profitable as well. 
YA: Yes, yes. And at that time, this was true as well. And this was happening alongside similar processes in Western Europe, but it all ended, as we know, with the Stalinist repressions. That which you are asking about, it now has a hint of anachronism to it — that is to say, we must succeed in mastering what we did not achieve at that moment, what failed to become part of the cultural discourse at the time, but we also need to break new ground.
OR: Of course.
YA: Not simply to switch over to translating Bruno Schulz, Joseph Roth, Walser et cetera, et cetera and nothing more — now we need to advance forward, as well.  
OR: Well, this problem is not unique to Ukraine. In the West too, there is a process of remembering the forgotten modernists. 
YA: I think that many of these authors came back into fashion, but at first during the Belle Epoch, I mean between the First and Second World Wars. At that time, many interesting things occurred, not just Hitler and Mussolini, but many other things in the Western world, and it seems to me that even… 
OR: Writers such as Vita Sackville-West or Wilfred Owen who were mostly forgotten 30 years ago. People in the West are beginning to read them again also. 
YA: Yes, I found this to be true when, fairly recently, I taught for one semester in Berlin, at Humboldt University. My task was to deliver a kind of original seminar, a kind of special course, and I focused on a theme that could be described as "contrived poets." That is to say, my students had to invent a poet, complete with the era in which he or she wrote, his or her language, culture, and in the end, ideally, they were to write poetry on behalf of their fictional poet. In my view, the most successful of these projects was created by a German poet, who invented a certain Christian Lodal, who supposedly created German surrealism in the 1920's, being half German and half French. And as for where the student got this idea, it is because in German poetry, surrealism is a niche that has yet to be filled. They had expressionism, yet it was widely believed that surrealism was not possible in the German language, i.e. that it is a purely French phenomenon, maybe Spanish, but that the German language simply does not allow for it. My student set out to invent a poet who established German surrealism because he himself had translated Breton, and was his friend. So he thought of a fictional biography and I must say, that he wrote about forty poems on behalf of "Lodal." And if you were to read them, comparing them with the work of their supposed "era,", I have a feeling that if such a poet had actually existed, these poems would be in any anthology of 20th century German poetry. 
OR: A very talented student, then.
YA: Yes, very talented. He wrote not only on behalf of fictional poets. But my point is this, that at the beginning of the 21st century, there appeared a tendency to return to that which had  been confusing or unintelligible to us formerly.
OR: At what stage would you say is the craft of the translator of Western literature in Ukraine, and what kind of specific problems do you see? 
YA: Fundamentally, the problem remains that there are many classics and works of modernism which have yet to be translated, because if we were to translate a relatively large number of works, the translations would appear thanks to the fact that cultural institutions financed in these countries — the Goethe Institute, the Austrian Cultural Forum, the Polish Institute, British Councils — they accentuate, and I think that this is true, accentuate topical literature, contemporary authors. Yet we should ask why is this so? Because these authors will come back. You can invite them to appear, they can deliver a presentation in a way that can sell books; it's publicity, it is media appearances on television, et cetera. Ezra Pound won't be making any appearances or doing any readings.
OR: He is in Venice now, where he's been for a long time. He isn't interested in leaving.
YA: One must be a fan, an expert, everything in the world. Well, I don't know if you know about my project, it is somewhat of a different time, a different kind of poetry, but thanks to the fact that I received a Fulbright grant in 2000, I was able to work on my own anthology of American Poetry, of Beat poetry. But it covered not only the Beat poets, but also others in the '50's and '60's, encompassing nine different authors.
OR: Which poets, exactly?
YA: Gregory Corso, Allen Ginsberg, Gary Snyder, as well as several from the New York School, including Frank O'Hara and some poets from the Black Mountain School. The anthology was released in 2006. It was named after a line in a Frank O'Hara poem — he has a poem about the death of Billie Holliday, "The Day Lady Died," for which I have the interpretation "The Day of Mrs. Day's Death" And this anthology garnered a cult readership, but again, if I did not conduct this research through the Fulbright Program— to study the writing of American poets of those decades— I would not have accomplished this. I needed a year in American in order to get access to all of those publications.
OR: And where did you live?
YA: I was in Pennsylvania, at Penn State. Of course, it would have been preferable to be in New York City or San Francisco. By the way, Lawrence Ferlinghetti is also in my anthology.
OR: And he's still alive, you know; he must be nearly one hundred years old. 
YA: Yes, he and I were in contact. I had wanted to meet him for a long time, and went to San Francisco just to meet him while I was in California.
OR: At the City Lights Book Shop.
YA:  Yes, and I started speaking with one of the employees, probably a bookseller, and I said that I am translating the works of Mr. Ferlinghetti, I am working on an anthology and I'd like to speak with him. I sent him emails for several months.
OR: And he didn't answer, naturally.
YA: Not once. And this guy told me, "well, yes. I understand you perfectly, but you know that he is (at that time) 84 or 85 and he doesn't have the time to answer every email." But that was almost 20 years ago, and he is nevertheless still around. And then I left, but I did actually catch sight of him there. We were simply crossing the street at the same time, passing each other at a red light.
OR: Like a scene from a movie.
YA: Yes, exactly. That is how I encountered Ferlinghetti, though I didn't detain him there on Broadway, when we only had a few moments.
OR: And you didn't introduce yourself?
YA: I decided that it had already happened in the most interesting possible way, exactly as it needed to have happened.
OR: Then you are a true poet. If you were a literary critic, you would have run after him.
YA: And I remember the last poet — [surname at 19:03]. I am not a professional translator. At one point I will be translating Sheksaip, and then American poets from the second half of the 20th century, and then Schulz or Walser. In this sense, I am a selective translator. I was in the U.S. in what turned out to be the last few months of Gregory Corso's life. I loved him very much. When I was still in the States with my grant, I read in the news that he had died the night before. I became friends with an American, a friend of mine there whom I often consulted about slang…
OR: And who was this?
YA: A local poet from Penn State. I think his name was Jim Brassfield. So, I visit Jim and I tell him, look, "once again I was unlucky — Corso is no longer alive." He told me, "But you wouldn't have been able to learn anything from him anyway, as he had been in a vegetative state for many years."
OR: He was a heavy drug-user.
YA: Yes. Ah well, such stories. The point being that it was an ambitious project for me in the sense that — this might be interesting to you — I wanted it to be a sort of sabotage in Ukrainian poetry. I wanted to show Ukrainians how dark things can be.
OR: Its fairly conservative, Ukrainian poetry.
YA: Yes, yes. I wanted to present a kind of non-conformist poetic volume in which there is pornography, drugs, hooliganism. And this is the poetry that changed America, meaning it has the power to change a country.
OR: Your anthology is also your subversive statement, your protest. 
YA: I don't presume to judge, but it seems to me that many poets of the next generations have started to write in a very relaxed fashion. It's the sense that, "hey, we can do that too. We are the beatniks of our time." That's something.
I would not explain this by saying that my anthology was released and suddenly everyone's eyes were opened. Simply that it was released at the right moment, when the time was ripe for such a thing.
OR:  You were telling me about the 175th anniversary of the great poet Ivan Kotliarevsky before we turned on the tape recorder.
YA: Yes, he was a landowner from Poltava. He became an author, which even he had not expected, the first author in the world, in history, to write a literary work which was released in the contemporary Ukrainian language rather than Church Slavonic. We can even consider him to be a modern author. Although he was writing at the end of the 18th, beginning of the 19th century, you can practically read his work without a dictionary, its all intelligible. He wrote a great parody, a parody of the Latin epic of Virgil. He rewrote the story of the six parts of the Aeneid. The first three parts were published in St. Petersburg — by plagiarists — without his knowledge, but it was released in 1798, the same year that Pushkin was born.
OR: He was of the older generation.
YA: Yes, yes. So in the middle of the 18th century the "Onegin Verse" was written, this verse can actually be said to be "Kotlyarevsky Verse," but I'll speak about it at some point. In general, it is this very funny work, comical, parodying the world of ancient heroes, and transferring them to the soil of late 18th-century Ukraine. The Trojan War becomes the battle of the Zaporizhye Cossakcs with the Turks, featuring many realities and artifacts of that times – it becomes, one could say, an encyclopedia of life in that era. It is filled with the names of different dishes, there are dozens of kinds of alcohol: vodka, mead. In general, it is a very bright thing, which would later become baroque, but was already in classical verse. In his life, the author was never a loser in the sense that he didn't succeed in publishing own work. Plagiarists published his work in St. Petersburg, the first three parts of his work, and he died while writing the last three. Only four years after his death was the first edition published, and this year, 175 years later, the complete edition will be published for the first time. So along with our friends, we are making a multimedia collage — I have some essays about him, I have my own poems that are inspired by his work, and there are pieces of the original poem from which we will create a collage with, complete with a video installation, electronics, there will be a double bass, perhaps a guitar. We will unveil our project at the opening of the Arsenal in Kyiv on May 17th.