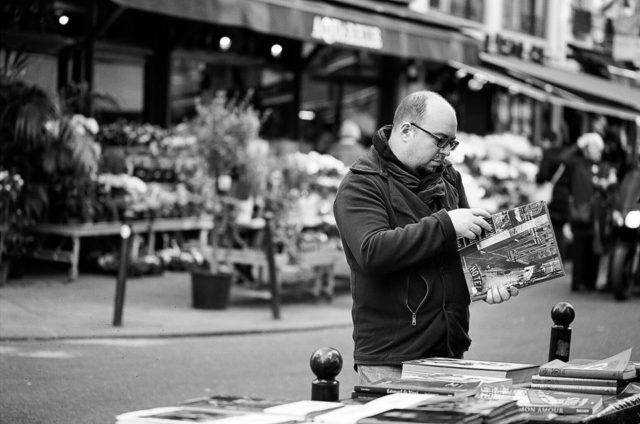 Longtime promoter, radio personality, curator, program director of Odessa's most original radio station — FM1 Radio and Art director of the M1 Club-Hotel.  An intimate interview with Odessa's many faceted musical Renaissance man.
People remember my life in much more detail than I do. I am even surprised sometimes when I hear stories about myself.
Youth in the 90s was strange. I went to Moscow to follow a tiny group that ran a rock and roll store in Odessa. We traveled with three bags of money in a couchette train car. I was 19-year-old moron. Would I do it again? Most likely not. Also, that was the time when I finished classes for piano and accordion. Fortunately, I understood that I will not manage to play as I like to and quickly calmed down with the prospects of becoming a musician.
My favorite place in my youth was an arch.  It's a passageway from Sofiyevskaya Street to Zhvanetsky Boulevard. It's like a portal to another world.
At university, I played guitar and did vocals for a hard trash metal group called "Trash Machine". It was a popular Odessan and Ukrainian group in the 90s. Concerts, festivals – the whole deal. We recorded our first album in Moscow at Stas Namin's Studio SNC Records.
A proud moment in my youth was when Korrozia Metalla liked our performance. They were surprised that we were from Odessa. Also, I just found out yesterday that a new band, "Shock Workers" recorded a cover song "Radioactive Contamination." I love that people are still inspired with what I did 25 years ago. I always imagined that many moments of my life were not with me at all, instead they were from some parallel reality.
Authentic musicians always act as if each concert is their last. Otherwise, none of this showmanship matters, why be remembered for a sub-par performance?
My favorite place to perform is a small hall that fits 300 people. It's a much more intimate atmosphere than the large stadiums. Some musicians like Peter Gabriel or Lenny Kravitz are able to turn huge stages into intimate little venues. Wherever they perform, it feels as if they're singing directly to you.
The first concert I ever organized was an accident. By some circumstance, some people were asking me for favors. There was the world famous pianist Andrey Kondakov asking about a venue. Then at the same time, the managing director of a new jazz café called "Old Fashion" asked about having some acts. As a result, I combined the two and organized a successful concert in this small venue. That created a snowball effect where I was able to organize concerts and make them successful in Odessa or even in Ukraine. 6 years ago, I organized something for the now successful band Pur:Pur. Cabaret Band "Silver Wedding" became an Odessan favorite after the first concert.
The three most important things in Odessa are hookahs, sushi and karaoke. Ha! Well if we're being serious, the restoration of the open-air Green Theater is very important. I want to believe that this is heroic work being done on behalf of Odessans. I will be able to help more artists with opening this venue. Silver Wedding will have a concert there in August.
The CD Club where I worked from 1995 to 2004 was the brightest period of my life. I was inseparable from that place. It was rather an exclusive club in the city center —3 Aleksandrovsky Avenue. So many CDs, such a beautiful time. My friend owned around 5,000 CDs and we both understood that this treasure was too special to not share with people. We organized those CDs by genres on many shelves and somehow it began. The place was always full of a variety of music lovers. From grindcore fans to the adherents of Brian Eno's keyboard. We got more attention than the nightclub next door. Even at night, unusual music would be creeping out of our door. People constantly peeked in, not always sober, but happy and sociable people. Once the director of CD-club drove into the room on a horse to explore if she's interested in music, but when she began to part the hoofs — the experiment ended. It was a non-standard place for insiders only and the Odessans loved that. Over those 9 years, we collected 25,000 records. There was no internet, so when somebody came to ask for a specific album, we would have to tear apart the store.
In 2005, Anatoly Balinov, the director of TV channel "Art", suggested that I create a radio station. One that wouldn't be similar to anything. I didn't have any experience, but I was given the opportunity to make it according to my taste. And so FM1 became a reality.
Alexey Gorbunov is a friend and a truly powerful person. Few people will find forces like him that totally refuse work in Moscow based only on political convictions. He is an ardent patriot of Ukraine.
Music is the force which gives me strength. Its value in forming destinies in this world is underestimated. Everybody needs music, from scientists to pilots. Exotic dancers need it so they can do their best dance. Psychotherapists need it to adjust their patient's mood. Custom officials need it because their everyday life is so difficult and disturbing that they need to relax in order to feel airplane passengers.
Many movies would not become cult favorites if there was no soundtrack. The simplest example is Quentin Tarantino's films. What would Pulp Fiction be if he did not so competently place in that opening number. Of course, there's his aesthetic and his mind database of cinematic history — but that track is killer.
Furthermore, I always wait for the credits of a movie to see who wrote the music. I'm sometimes surprised to see familiar names up there. The same musician can encompass so many genres. For example, an instrumental by Sting for his album is recognizable. But, his music for films is of a different universe.
The older you become, the less often you are surprised by things. Therefore, I try to create things which, I hope, will surprise me, will inspire and will please me. I'm happy that I have always been able to do my dream job — work with music.
I want Odessa to live musical life. Living in this wonderful city, I still try to make it a little better.