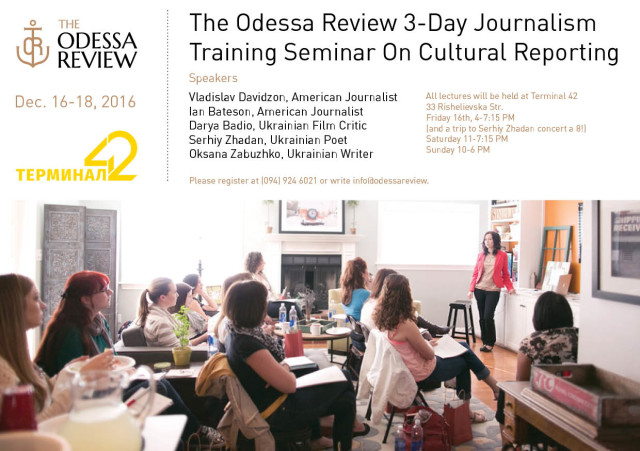 This weekend, December 16-18, The Odessa Review presents a seminar and workshops on cultural reporting in Ukraine post-Maidan. This is a wonderful opportunity for young journalists to learn about Western journalism best practices from American journalists, and hear Ukrainian speakers who have extensive experience in writing about contemporary Ukrainian culture.
Participants will be able to try their hand at writing articles in English within a workshop framework with The Odessa Review's Editor in Chief Vladislav Davidzon. The best articles will be published in the next issue of the magazine.
Organized with the support of MYMEDIA: a four-year program aimed at development of independent media and professional capacity building for journalists. The program is implemented by a joint venture between NIRAS, a leading international consultancy company, and BBC Media Action, working with partners in seven countries – Ukraine, Belarus, Turkey, Azerbaijan, Armenia, Georgia and Moldova. The program is financially supported by Danida.

Workshop Program
Speakers:
Vladislav Davidzon, American journalist, The Odessa Review Editor in Chief
Ian Bateson, American journalist Foreign Policy
Darya Badior, Ukrainian film critic
Serhiy Zhadan, Ukrainian poet
Oksana Zabuzhko, Ukrainian writer and critic
Where: Terminal 42, 33 Rishelievska Street
When: Friday December 16th 4-7pm, Saturday December 17th 11am-6pm, Sunday December 18th 10am-5pm
Register: (094) 924 6021; [email protected]
Participation in the workshop is FREE of charge.