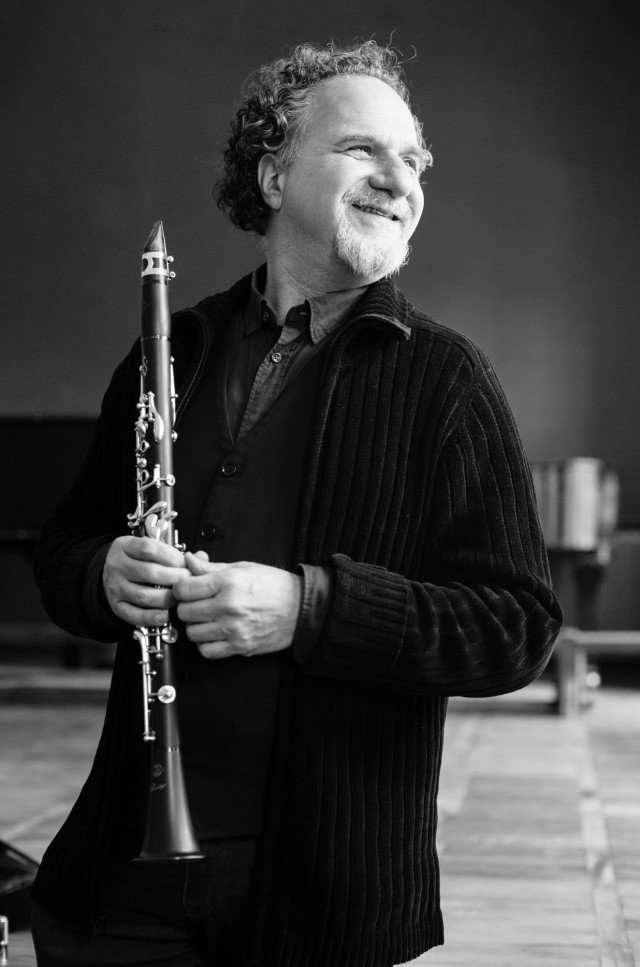 David Krakauer is one of those musicians whom you can't imagine ever meeting. An American clarinetist who lives in New York, he has performed on numerous stages around the world, collaborated with musicians such as the Kronos Quartet (Requiem for a Dream) and Fred Wesley (an American jazz-funk trombonist, known for his work with James Brown in the 60's and 70's). Of course, I was sure that David would tell me many stories about the exciting journey of his life! That's exactly how it turned out, but first, the day before my scheduled meeting with the musician, I headed to the Odessa Philharmonic to attend his concert, organized to mark the 25th anniversary of the establishment of diplomatic relations between the US and Ukraine.
The Odessan Andrei Pokaz trio also took part in the concert, along with special guests — the Pushkin Klezmer Band from Kyiv. They were the ones to open the first half of Krakauer's hour-and-a-half performance. After the Kyiv musicians from won the hearts of the Odessan audience and warmed up the crowd, they were joined on stage by Mr. Krakauer. Their joint performance was a perfect symbiosis, brought into existence for just one evening and based around klezmer music (the traditional music of Eastern European Jews and its unique performance style). In the second part of the performance, the American guest was joined by the Pokaz Trio. Alongside the Odessan band, David performed a number of compositions from different periods of his career. Of special note was a melody written to express his love for the city of Lviv and his ancestors who lived there. The lyrical work, dedicated to his heritage and featuring a classical Viennese waltz motif, deeply affected every member of the audience.
The concert was coming to a close, but the audience applauded enthusiastically and tried to get closer to the stage, while I was realizing that the hour of the interview was getting near. Finally, the next day, after his masterclass David headed to the cozy "Bodega Dva Karla" in the very center of Odessa — I met him there. An energetic man greeted me with a kind smile, we shook hands, sat down and began our captivating conversation!
The first time David visited Odessa was in 1991, when he played a fusion of contemporary Ukrainian and classical American music. "Comparing Ukraine then, and the country I see now — I can say with confidence that 25 years of independence have been an enormous success," David says. "I remember the Kharkiv of those years, and I can say that at that time, people were struggling to find or even discover their own ethnic identity, which may have been suppressed under the Soviet system. But returning to modern Ukraine, one can proudly say that there are visible changes for the better. It is wonderful to meet musicians like the Pushkin Klezmer Band and see that being interested in one's roots is relevant today." David has visited many cities in Ukraine; this is his fourth visit to the country, and his third to Odessa.
David's grandfather was born in this part of the world, in Lviv exactly. He emigrated to the United States at the age of five, but it was because of his roots that his grandson has a particular interest in Ukraine. "In the 1970's, television shows in America began touching upon the unfavorable treatment of some ethnic groups in the past, and many people developed an interest in their own origins. Jews, for example, were surprised to learn that some members of their family spoke fluent Yiddish," David recalls. "My principal mission is to share my interest in my roots through the music I perform. Perhaps this could encourage someone to discover an interest in their own cultural uniqueness. In the end, its diversity that makes life fascinating."
On his albums, David Krakauer collaborates with many musicians from entirely distinct musical backgrounds. For example, at the time of recording his last two albums, "The Big Picture" and "Checkpoint," he worked with musicians from his native city of New York. Right now, he is taking part in a number of projects, and interestingly, in several of them he revives old melodies, such as a piece he wrote in 1997.  Remembering the melody again in 2010, he had the idea to create a theater adaptation to accompany his work. And only recently did he begin sketching out the project with New York-based theater director Michael McQuilken. David is hoping that the project will be produced in the near future; he certainly considers it to be an interesting fusion of a avant-garde theater and music.
Of course, I was eager to learn how the career of the award-winning clarinetist began, and David happily related several moments from his childhood. "At the age of five, I was taken to piano lessons; I won't lie, I wasn't very interested back then (smiles), but somewhere around the age of ten, my parents gave me a Sidney Bechet record (American jazz clarinetist – author's note). He changed my life and I always call him the teacher I never met. That was the point when I decided my instrument was the clarinet," Krakauer reminisces warmly.
Time flew by, and I decided to ask David one final question before the end of our conversation: "What should people wish for and what should they notice more today?" He answered, "First of all, people need to have faith in other people. All of these wars, which never seem to end, can endlessly distract us from this important truth, but it is important not to forget it. I also know that people fundamentally want to coexist and live in peace! So don't be afraid! And be sure to always live with hope in your heart."
Eugene Chukhriy is a music journalist.