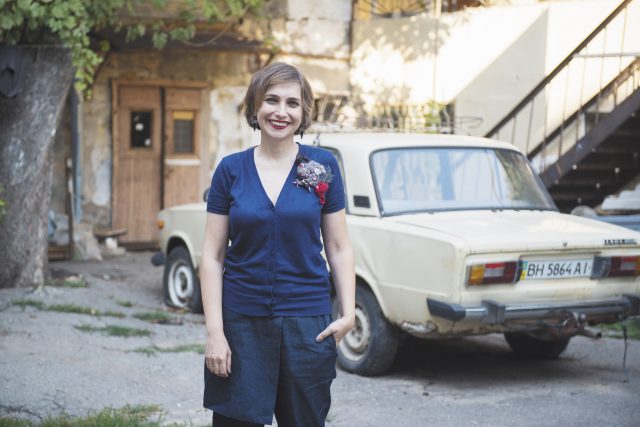 The writer Yulia Verba has just published a very funny book of short stories "Spawn of the Moldovanka" about her childhood in Odessa's Moldovanka neighborhood. She first trained as an engineer, though she did not work for a single day in that profession. But she did work on tele- vision, in advertising, as an art director at a night club and in numerous other colorful jobs. Her book about the Moldovanka focuses on a cycle of stories based in the labyrinthine streets of the crumbling houses of the working class district.
Until I was twelve years old, we lived on Moldavanka, and after that we moved to the Tairovo district of the city. I did not like it, and still I love my beloved Moldovanka, but I can not persuade my now grown up children, who have lived their whole lives in modern paneled houses to move back there to that sort of "primitive" house. I don't know how to prove to them that this horror with all of the stray cats, side elevated galleries and a gaggle of neighbors who know everything about you — that this is the best place on earth. But it would be a pleasure to return there.
The first couple of years after I left, I kept going back to the courtyard, because I still had some of my parents' friends there. Then, of course, I went back less and less and the last time that I returned to the courtyard was this winter. I started to ride my bicycle, passed by and thought: "I'll come and see it" and it turned out that I had not been there for a quarter of a century — twenty-five years!
I went in and I had such a wild feeling, I felt like Alice, who bit off a piece of the magical pie and has grew dramatically. That is, I left and in my memory the space was ten times bigger, it was huge for me, we ran endlessly along that corridor, that courtyard seemed huge, it had so many places where we played, hid, those catacombs, all those grandmothers in the courtyard. And I came in, already a grown woman, and the place is tiny. And all those floors, and all those flats and places where we went to ask the sailor for a piece of gum — it was all so small. Very small, very compact and tidy. Enclosed and small. A wonderful feeling. It was like I had walked into a doll house.
I always think that I am deceiving the public in some ways… there is a computer on the kitchen table, I can shout to my children, fry the cutlets, feed the dog and at the same time have that "eureka" moment and sit down to finish writing something. That is, I do not have such an intimate process of creativity, it is more like a permanent state of being. If I really want to, I can write at five in the morning, when everyone is asleep and no one disturbs me.