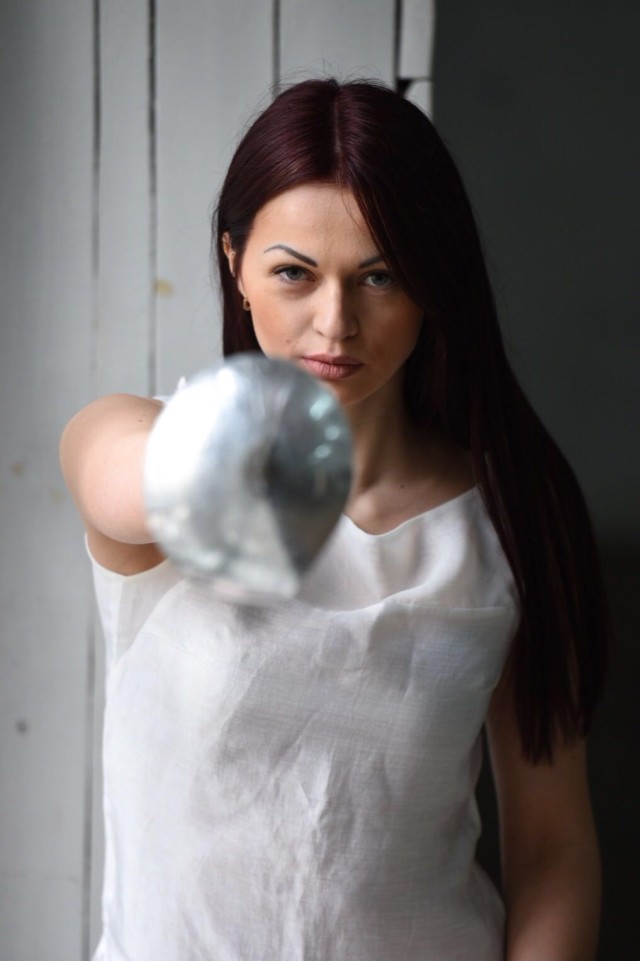 For the first time in Odessa Fencing School history, it was represented by two fencers at the Olympics, both trained by Aleksandr Vasyutin. One was Andriy Yahodka, who unfortunately sustained a serious leg injury that prevented him from competing to full potential, and the other — Olena Karavatska, who brought home a silver, one of the eleven medals won by the Ukrainian delegation in Rio de Janeiro. This Odessa Fencing School trainee truly earned the honor, and now that she has the shiny medal in her hands, the thorny path of hard work, disillusions and doubts can fade away. Currently Olena is taking a hard-earned rest, but that doesn't mean that she will rest on her laurels.
The Odessa Review (OR): Olena, what do you feel now, a few weeks after the conclusion of the Olympics?
Olena Kravatska (OK): I have already gotten over the excitement. Finally, I understand that the medal is right here and that it's not a dream! But I am enjoying my rest, and all the congratulations while it's still on everyone's mind.
OR: Did you dream about a medal before the Olympics?
OK: Of course I did, but I started dreaming 8 years ago, when our girls took the gold medal in Beijing. I realized then that the dream may come true. All of the past year we have been training hard, hoping and believing that we will get a medal. Of course, we would prefer gold. But that just means now we have to go to Tokyo and take the gold there (editor's note — the next Olympics will take place in Tokyo in 2020).
OR: What did you see in Rio except for the sports facilities?
OK: Unfortunately, we didn't go anywhere because it was dangerous. Our team, as well as the other teams, had some bad experiences during the Olympics. On the other hand, after finishing our competitions, we went to cheer on our Ukrainian teammates. After two weeks of fencing we could go to the swimming pool to see our platform diving athletes. It was very unusual, I must say… Something new for me — the pool was so beautiful, and the diving, wow!
OR: What do you think about the judging?
OK: These Olympic Games the judging was awful in relation to our country. We had been monitoring Anna Rizatdinova's (editor's note – the Olympic bronze medalist) performance at rhythmic gymnastics, and everybody thought she was undeservingly marked down. Oleg Vernyaev (editor's note – the Olympics gold and bronze medalist) told us that he made a little mistake in his last exercise, but it shouldn't have cost him a full point and a gold medal. I guess we have to be two heads and shoulders above to get medals.
OR: How old were you when you first wished to go to the Olympics?
OK: I was 16. I was a teenager, I attended my activities and had no idea how successful one can be in sport until I saw our girls winning at the Olympics in China.
OR: Do you remember your first training? How did you come to fencing?
OK: It was my father's initiative to take me to fencing classes when I was 7 years old. I was the youngest one in the gym, the other kids were 10 years and older. I didn't like it at first. My father made me attend the classes for the first two years and made sure I did not miss them. I tried to get out of it, I wanted to do dance or gymnastics. But my father insisted on fencing.
OR: But your father has seen you become a champion since then.
OK: He first made me practice gymnastics, but in three months he realized that it was not really my thing. He and his friend Sergey Boriachinsky (who became my first coach) decided that I should try myself in fencing. I was very confused at first. When I came to the gym, there were people wearing weird outfits with masks on their faces and fighting with sabers. My first thought was: "Oh my gosh! It probably hurts! Plus, this is very uncomfortable outfit and mask… I will look like a Teletubby in it." Today this outfit feels like my second skin. Back then, all I wanted is to go dancing like the rest of the girls.
OR: Why didn't you leave the sport after all?
OK: For the first three years my parents made me go. My father is the kind of man, you know, who does not allow his words to be questioned. Then I went to my first competition in Kyiv and I won my first bronze. I loved the feeling I experienced — I won, I had a medal, people congratulated me, my parents were proud of me. So, step by step I got involved in fencing, got used to it and could not imagine myself without this sport.
OR: You no longer wished to quit the sport and do something else?
OK: Oh, it still popped up several times. Three years ago I faced a choice and was thinking of quitting. I could not get into the Olympic team for quite a while. I told myself: "If I do not make into the team, I will give up the sport." It just so happened that I got a good score at the very first competition, so I became a candidate to be a team member. The past year, when we were preparing for the Olympics in Rio de Janeiro, was the most challenging out of all the 16 years that I have been practicing fencing. It was very tough. And every time I went to the gym, I was telling myself: "As soon as the Olympics are over, I will not take the saber up ever again."
OR: So, the Olympics are over, and now?
ОК: I changed my mind! After the Olympic competitions I decided to take a long break, have a good rest, and when I will start missing my saber I will get back to the gym!
OR: How are you going to spend your vacation?
OK: Our Ministry promised to send our fencing team on a trip somewhere, which is good. They used to judge us, like, "why are Ukrainian athletes always complaining if they have such huge bonuses (editor's note — Ukrainian athletes get 125,000 USD as a premium for a Gold medal), while in the USA it is just 25,000 USD?" But, wait a moment, American athletes are likely to get number of commercial contracts after they win the Gold, and what do we have? Some glory for a while, and then we're filed away as history. One year before the next Olympics they might pay us some interest. So, I hope that after Brazil something will change not only in our country, but that our city administration will change their attitude to our sport.
OR: And what kind of attitude is it now? What is wrong?
OK: I have the feeling that they are not interested in us. We had a lot of good results from the World and European Championships, but the fencing school struggles financially. We are hardly able to pay the gym rental up until 2017. No way to tell what will happen with us and the gym in a couple of months. I myself asked our Mayor to give us an opportunity to train in the gym before the Tokyo Olympic Games. I hope that this problem will be solved. Last year the city administration gave us no financial aid. This is not about me, now I have financing for my trips and training camp. I am talking about the rising generation in our sport school, which is coming up to take our place. But no one is concerned about them. In order to win a medal, our financial problems should be solved and we should continually take part in competitions. Many parents just can't afford these numerous trips, especially abroad. The city administration must grant some funds for this purpose, at least for the Ukrainian championships.