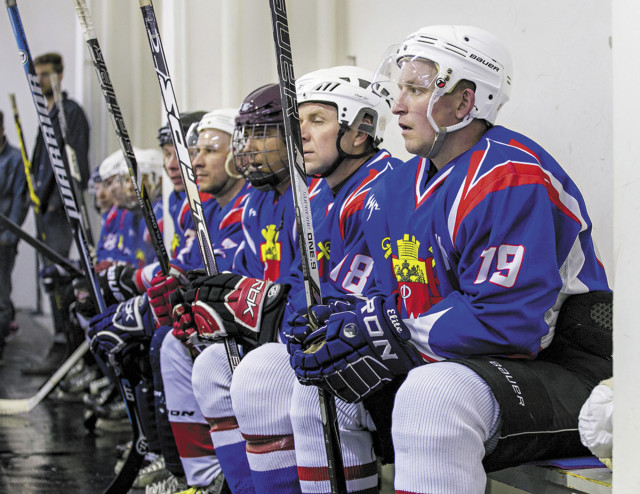 Can one imagine the sunny city of Odessa in the midst of playing hockey? Yes, one absolutely can! In fact, the city is home to as many as four hockey teams that take part in a City Championship. They are far from being professional, but recently some promising opportunities for the development of the sport have come into view. Viktor Derkach — the long-time leader of the "Odessa" Hockey Club and the President of the Association of Hockey in Odessa — speaks about Odessa's hockey history and plans for the future. 
The Odessa Review (Volodymyr Gutsol): Good afternoon, Viktor! Let us begin with the history of the sport of hockey in Odessa.
Viktor Derkach (VD): I used to hear that at one point there was a team called "Chernomorets" in Odessa, but I could find no information about it on the internet. The modern history of hockey in Odessa likely begins in the 1990's. In those days, I went to the "Ldinka" ice rink to join a small team of hockey fans. We didn't have goalies or a hockey kit at the time. Eventually some professionals who used to play in other cities joined us and we found the necessary equipment. The first team was called "Avrora," which was taken from the name of our goalie's company — he was a member of the Duma!
In 2003 we competed in the All Ukrainian Spartakiade (editor's note: a sport competition) for the first time, where we came in third place and gained the upper hand over the strong Kyivan team, thus capturing the attention of an investor. The team was renamed "Solnechnaya Dolina (The Sunny Valley)." Since that time, we have established a good tradition of hosting an international friendly competition on Odessa Liberation Day every April. We still attract new professionals every year.
OR: Did you take part in any official competitions?
VD: In 2008, the Black Sea Cup was founded. It constituted a mini championship among the southern regions of Ukraine. Our first time wasn't successful, so we realized that we needed to strengthen the Odessa team — that is how HC "Odessa" came to be. In 2009, we won the Cup, but the opponents were better trained to play in large arenas. It was our first and last major accomplishment. That is for now…
OR: How many people are still left in the Club since that time?
VD: A few of the early pioneers remain. We were not going to become a professional team at that time. We just loved to shoot the puck around and we could play even at night. We were self-made. Now we are trying to provide conditions for children to play.
When the Black Sea Cup broke up in 2014, that actually provided an impetus to our development. The events in the country had a strong influence: the Crimean teams stopped participating, other cities experienced a lot of problems, so we decided to hold our own city championship. The first championship was a great success and Odessa started hosting games every weekend. Before that we had to play only in other cities.
OR: You recently opened the third season of the City Championship. What's the news? 
VD: We are still amateurs and still have to pay for the ice, pucks and even for the coach. We have four participating teams, including one from Chisinau in Moldova. But now we have the most important thing: a real hockey arena in the Palace of Sports! As far as I remember, we only had the "Ldinka" ice rink for hockey before, which isn't typical in size and was meant for 8 players at a time max. Members of our club helped to build the new arena in the Palace of Sports, working nights to make it go faster — that is how much they were inspired!
OR: What are your chances of becoming a professional team? 
VD: To create a professional club we need investors. Step by step, everything is heading in that direction, it's just a matter of time. But the more important priority now is to raise the next generation of players. We have the arena and the coach, so we are bringing together kids who will win future championships. Today we are using every opportunity that we can see so that we can expect stronger and stronger performance in a couple of years.
OR: Do you have any government support for children's hockey?
VD: Sadly, for now we make do ourselves. We are not going to live at the expense of those kids' parents. We have been talking about creating an athletic center for youth. We are also looking into options for philanthropic aid, but we have to show results first. There is a children's team "Morskie Volki (The Sea Wolves)" in Odessa. Right now we are mostly focusing on kids under the age of ten and so we have to refuse many older children. But of course we want to have a lot of kids who wish to play hockey and to train a lot of them to create a competitive playing field.
OR: What are you going to do in the summer?
VD: As far as the kids are concerned, we can't let them just relax. Last summer we had a training camp with physical and theoretical training, as well as skating twice a day. The adults take a break during the summer or turn to roller hockey, which is also popular here. In fact, Odessites took third place after the Kyivans in this kind of hockey, so you can see that hockey is not dead in the summer in Odessa.
OR: Are you concerned that the Palace of Sports may be demolished together with the new arena? There are people who have plans for that property.
VD: In Odessa, there are far more people who want to support hockey, than those who want destroy the arena. I think that it is criminal to demolish the Palace of Sports today. The building definitely requires repair, but it would be disastrous to destroy what we have now. I can't imagine who may have the guts to do so. Our project is long-term. We already do not have enough time for everyone — what can we expect after two years, when our children's team will need more time to train? There is a high demand for ice rinks, so there is a plan to build another arena in Odessa in the near future, and I am confident that the number of those who want to play hockey will continue to increase!