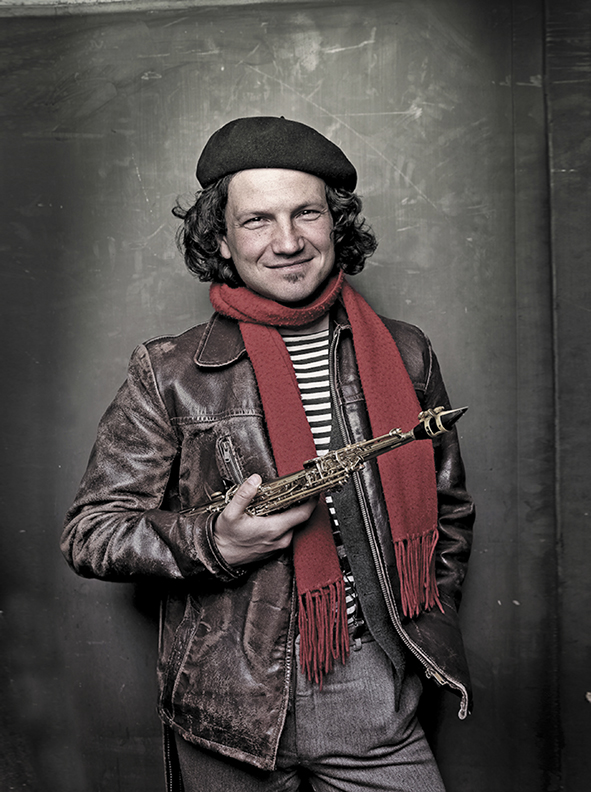 Andrej Prozorov has long been a popular saxophonist in Europe. He was born in Odessa, and in the year 2000 entered the Vienna Conservatory.  In the historic musical capital of Europe he studied under the famous Austrian saxophonist Wolfgang Puschnig, who played with the great Carla Bay, among others. Since the mid-2000's, Andrej has been very active on the world jazz scene, working with Joe Zawinul, Bobby McFerrin, Fatima Spar and the Freedom Fries. He also created his own projects. His last ensemble, the "Andrej Prozorov Trio," was formed in 2013, soon thereafter releasing their album "Porto Franco" which was dedicated to Odessa. Last year, Andrej's trio enjoyed a successful turn at the Alfa Jazz festival in Lviv, and this spring will finally bring the musician to Odessa, his native city.
Prozorov began studying the saxophone at the age of 14, and soon he was playing with the Odessan Cuban-born jazz musician Pedro Svirsky in his band "Catharsis." What they played was a kind of 70's style jazz fusion, in the spirit of Weather Report and Chick Corea. It was while playing in this group that Prozorov was first heard by Anatoliy Vapirov, the brilliant Bulgarian saxophonist. Vapirov spoke about the talented young musician to the pianist Yuri Kuznetsov, who was patriarch of Odessan jazz. Prozorov met with Kuznetsov, and soon they were performing together. Their collaboration lasted for many years, they became friends and spent a great deal of time together. For Andrej, Kuznetsov became a valuable teacher. "Not just an instructor, but a Teacher in every sense," says Prozorov about that time in his life.
Beginning in the mid-90's Andrej would spend a decade regularly working as a musician on board cruise liners. But it was not for the performing experience or the money. For him, above all it was about the journey and the opportunity to see the world. He worked on the former Soviet flagship "Maxim Gorky," leaving for only three months at a time, but getting to visit incredibly exotic places. For example, there were several trips down the Amazon. Being young and able to travel is always  a great luxury.
In 1998, Andrew caught a very rare form of Staph infection in the Senegal sea. The treatment was an incredibly long and painful process that lasted more than a year. The disease threatened both his brain and his life. He was cured, but his hearing was irrevocably damaged: Andrej became practically deaf in his right ear. This experience had no practical effect on the musician's determination however. Two years later Prozorov entered the Vienna Conservatory and in 2001 moved to Vienna, all the while continuing to work on the cruises.
Andrej has formed his own impression of school and music instruction. He went through many teachers and mentors that ranged from big name musicians such as Kuznetsov, Vapirov, Boeva and Wolfgang Pushnig, to the ordinary teaching staff at the Odessa Music School and at the Vienna Conservatory.
"In Vienna, one my teachers gave me a simple piece of advice. I couldn't master a certain technical skill on the saxophone — I only got to a certain level, and couldn't get past it no matter what I did. And nobody could tell me anything useful, not Vapirov nor anyone else. But the Viennese teacher suddenly suggested something useful. He told me that when you play on an intake of breath, don't raise your shoulders. That was it. I just didn't raise my shoulders. And then I got it. That instructor didn't really teach me anything else. He appeared in my life just to give one of the most useful and simple advices — not to raise the shoulders."
Andrej is a surprisingly modest and charming man. For example, he doesn't brag about playing with Joseph Zawinul: "Forgive me, but a bunch of musicians have played with Zawinul. There's nothing to be proud of, I'm just one of many."
In this, he is being slightly disingenuous. There is indeed something to be proud of. Especially when one considers the context. After Weather Report and long-term collaboration with the brilliant Wayne Shorter, Zawinul's next project, The Zawinul Syndicate, never featured a saxophonist. Never.
This was done to not sound like Weather Report, and to avoid all the unnecessary comparisons. And after all, who could replace the great Shorter nowadays? No one. But Zawinul could not help noticing Prozorov. And here is the story of how it happened.
Zawinul had been giving a masterclass at the Vienna Conservatory, an event which was attended not only by all students, but by all the faculty and the dean's office. There were a lot of bands, a lot of musicians. Everyone wanted to play for the legendary Zawinul. Performers ascended the stage one by one, playing well, consistently, professionally. Zawinul was listening, bored. Finally, he turned to the students and inquired: "And who can play a solo for me? Just one on one with your instrument?"
Andrej Prozorov was the first to rise, and was immediately invited on to the stage. Another student followed Andrej, a pianist who offered to play some jazz standards together. Andrej realized that another jazz standard was not what he wanted to show Zawinul. He had to be tough. He had to defend his territory. Especially since  this could be that chance that you only get once in a lifetime. So, Andrej firmly rejected the duet: "No, I will play by myself. Just me and my saxophone." He may have made an enemy of his classmate that day, but it was certainly worth it.
Prozorov had a number of compositions for solo saxophone. These were experimental pieces, not really jazz, but with a strong inclination toward the classics. They were completely irregular and nonstandard. He played them for Zawinul, who was standing a foot away and listened to the very end. After this came the offer that he couldn't refuse: a chance to play in Zawinul's new band.
Prozorov is a true Odessite and in no way does he consider himself to be an emigrant.
"I haven't gone anywhere. What matters to me is being where I want to be. Unfortunately, I'm rarely in Odessa, but rarely in Vienna as well: it's a professional hazard, musicians move around a  lot."
He is an exceedingly engaging companion, conversing easily and enthusiastically about Brodsky, Kharms, Bismarck, Handel and Luchino Visconti. His performances are always offer something unexpected and unconventional. The range of Andrej's hobbies is huge: from traditional bebop to free jazz, from Balkan culture to Baroque music. Any ensemble in which he takes part will be truly interesting, vivid and emotional. Remember that name and never miss one of his concerts.
Alexandr Topilov is a musician, critic, and author of the book 'That's All There Is'.