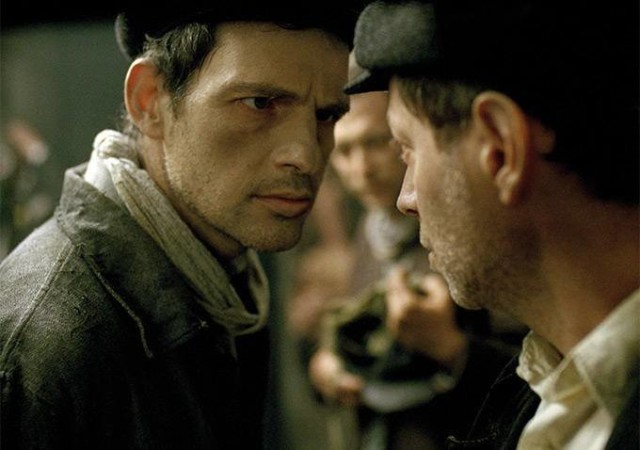 The searing and remarkable Hungarian holocaust film 'Son of Saul' won the Oscar for 'best foreign film' last night. The Odessa Review's chief editor Vladislav Davidzon interviewed the film's enigmatic main actor Géza Röhrig during the film's premiere at the 2015 Cannes film festival.
"Before I read the script, I thought: this is inaccessible," Géza Röhrig pronounced in his melodious and reedy Hungarian-accented English. The enigmatic and austere star of Hungarian director Laszlo Nemes' luminous Saul Fia (Son of Saul) was an implausible celebrité at this year's Cannes Film Festival. It was several days before the critically acclaimed—and divisive film—would be garlanded with the Grand Prix as well as the International Federation of Film Critic's Fipresci prize. Röhrig was pressed up against a small glass coffee table along with several journalists in the glitziest hotel of Canne's Promenade de la Croisette, a bizarre place to conduct an earnest conversation about the experience of portraying an obsessive Sonderkommando inmate in Auschwitz-Birkenau. Set against the backdrop of the Allied march on the camp in the autumn of 1944, the film unfolds over 36 hours as the doomed prisoners plot a rebellion before their own imminent liquidation by the Nazi guards. The eponymous Saul Auslander is also on a manic quest to locate a rabbi to pronounce Kaddish over the body of a boy who may or may not be his son.
That this role fell to a former kindergarten teacher is a fact no less remarkable than anything else about the movie. Röhrig explained that he and Nemes knew each other from Hungarian film circles, and other actors offered the part wanted more money. The man whose performance carried one of greatest films of the year at Cannes is a semi-amateur, whose last acting experience in a Polish film was several decades ago, when he was in his early twenties.
A Hungarian-born poet orphaned at the age of four, Röhrig was adopted several years later from an orphanage in Budapest by Jewish family friends in Hungary; and in 2000 he came to America. He has written poetry dealing with the Holocaust, and he insisted that he had been preparing to play the part of Saul his entire life—and would have ceded his place if he knew someone could have done it better. He also played in a punk band in high school during the waning days of Communism and studied Polish literature in Krakow before living in Jerusalem, and moving to New York's Upper West side to study at the Jewish Theological Seminary.
Röhrig is slender and possesses the malleable face a man of indeterminate age somewhere between his late twenties and early fifties. His striking profile threads a balance between handsomeness and monkish emaciation. The disheveled black and silvery hair sticks out in tufts from under his old-fashioned workers cap. His bushy, medium length rabbinical beard and the cap make him look in real life like the Hungarian watchmaker he plays in the film—perhaps crossed also with a 1930s Budapest Marxist intellectual. To call him eccentric or even odd would immediately mark one out as a philistine.
Even his small talk is laden with biblical allusion. Inquiring the name of the Greek journalist sitting next to me and receiving the reply of "Krisos," Röhrig observed affably, "Ah, you are the anointed one." But earlier that week, one could have observed Röhrig cause a small stir at the film's sparsely attended press conference. A Belgian journalist referred to the Sonderkommando as "half-victim, half-hangman." Röhrig riposted loudly: "There has to be a clarification they are 100 percent victims. They have not spilled blood or been involved in any sort of killing. They were inducted on arrival under the threat of death. They had no control of their destinies. They were as victimized as any other prisoners in Auschwitz."
The responses to the searing intensity of the film have likewise taken the form of an understandably intense outpouring of opinion. Waiting in line for the screenings of other festival films this year, one could continuously listen in to superlative expressions of reverence as well as heated arguments over its cinematic merits. A French film critic friend who I saw after leaving the evening screening asked me if I needed to be hugged. I accepted. A prominent Israeli film critic with whom I stood on line argued with me passionately for half an hour that the film was cavalier in its deployment of the Christian allegory of redemption and obsession with death rather than operating within a life-oriented taxonomy of Jewish resistance. That is through concern for the supreme value of life. Saul's search for a rabbi can be construed as a false form of idolatry at the expense of humanity, akin to Greek tragedy. As it is when a fellow inmate hisses at Saul that "he has betrayed the living for the dead," in the middle of a roll call.
For his part, Röhrig admitted to having been heavily indebted to the 2005 anthology of survivor's narratives collected in We Wept Without Tears. But the unremitting bleakness of the film's vision is a patrimony bequeathed by the particular mélange of darkness and conceptual rigor that is to be found at the core of Hungarian Modernism. This is a strain whose foundational ground is the Marxist criticism of György Lukács. It runs through linguistics and semiotics of figures such as Gyula Lazíczius and finds its late expression in the hyperrealist novels of Péter Nádas and Imre Kertész. The camera's brooding caresses of the jagged contours and contortions of physiognomy within the frame of the close shot descends directly from the ideas of the early-20th-century Hungarian Jewish poet and librettist Béla Balázs, a forefather of contemporary film theory who searched for latent utopian potential in the facial close up. It is no accident that another Hungarian with a ferocious vision, burnished formalist technique, and brooding obsession with the past, László Krasznahorkai would take the Man Booker prize in London several days prior to Son of Saul's triumph on the Côte d'Azur.