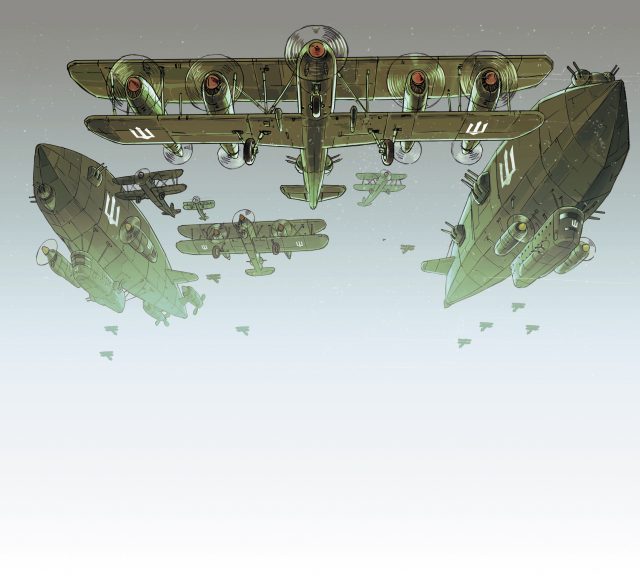 The commemoration of the centenary of the events of 1917 has been taken up in very different ways by the various post-Soviet nations. The early 20th-century independence struggle did not go very well for the Ukrainian nation, and so the widespread ambiguous feeling in response to those events is understandable. Perhaps, that is why a massively popular new comic book blockbuster seeking to bring the events of the 1917 Ukrainian Revolution to post-Maidan audiences follows a counter historical narrative. The ingenious Steampunk styled "Volya" is on track to transform the Ukrainian comic book industry. This article by The Odessa Review's Editor-at-Large first appeared in Business Ukraine magazine.
When people think of Ukraine's long struggle for independence, they tend to focus on the WWII-era insurgent army that fought both Nazis and Soviets, or the Cossack statehood bids of the seventeenth and eighteenth centuries. This is perhaps understandable: the romance of Cossack leaders Bohdan Khmelnitskiy and Ivan Mazepa has captivated generations of Ukrainians, while the polarizing figure of WWII insurgency leader Stepan Bandera has cast a shadow over the national identity debate ever since the 1940s. However, prior to 1991, the closest Ukraine actually came to establishing a recognizable modern state was during the epic independence struggle that began in 1917. As Ukraine marks the centenary of those momentous events, a group of comic book artists is attempting to introduce today's post-Maidan generation to an era of Ukrainian history that has direct relevance to the ongoing hybrid war with Russia.
Instant Comic Book Classic
The Ukrainian steampunk comic book "Volya" ("The Will") hit bookstores in May. The comic book proved an instant hit, selling out its entire initial 3,000 print run within weeks. The book was the star turn at the Kyiv Comic Con festival and attracted the attention of President Poroshenko during Ukraine's popular annual literature fair (the Ukrainian head of state was one of a number of high-profile politicians to buy a copy). This populari- ty reflects the current fashion for all things Ukrainian among a population gripped by a national awakening that began with the 2014 Revolution of Dignity and gained ground in response to the subsequent Russian invasion of Crimea and eastern Ukraine. "The Ukrainian public is eager for patriotic themes," explains the book's author and primary investor Vyacheslav Buhayov. "The idea first came to me just over a year ago as the centenary approached. It has been one hundred years since the events we are addressing took place, and yet the historical narrative they are part of is still continuing today."
Although the Ukrainian comic book industry is currently miniscule, Mr. Buhayov had no difficulty in recruiting a team of high-quality artists for the project. He was able to find plenty of talent working as outsource artists for Western publishing houses, and drew on his own experience in the gaming industry. The result is a glossy and engaging hardback comic novel with slick production values and striking artwork.
Creative History
"Volya" is not a direct narrative telling of Ukraine's failed 1917 statehood bid. Instead, the book is actually three separate fantasy tales set in the period and featuring a mishmash of genuine events and historical figures alongside surreal elements and outlandish inventions. This may have been a wise choice. Not only was Ukraine's 1917 revolution doomed to eventual failure — it is also one of the most complex and confusing historical narratives imaginable. Ukraine witnessed two separate attempts at state building during the period, with fledgling Ukrainian states established in both Kyiv and Lviv. Numerous different regimes came to power only to fall with indecent haste, while White Russian forces and Bolsheviks vied with Poles, Germans, Austro-Hungarians and Anarchists for dominion over Ukraine. Amid the chaos, Kyiv changed hands an estimated 18 times, while other Ukrainian cities fell to one or other of the conflict's participants on dozens of occasions. This makes the period something of a minefield for historians and largely impenetrable to wider audiences. "Volya" has side-stepped this difficulty by presenting fictional drama based loosely on real events without claiming to be offering a definitive historical version of the period in its entirety.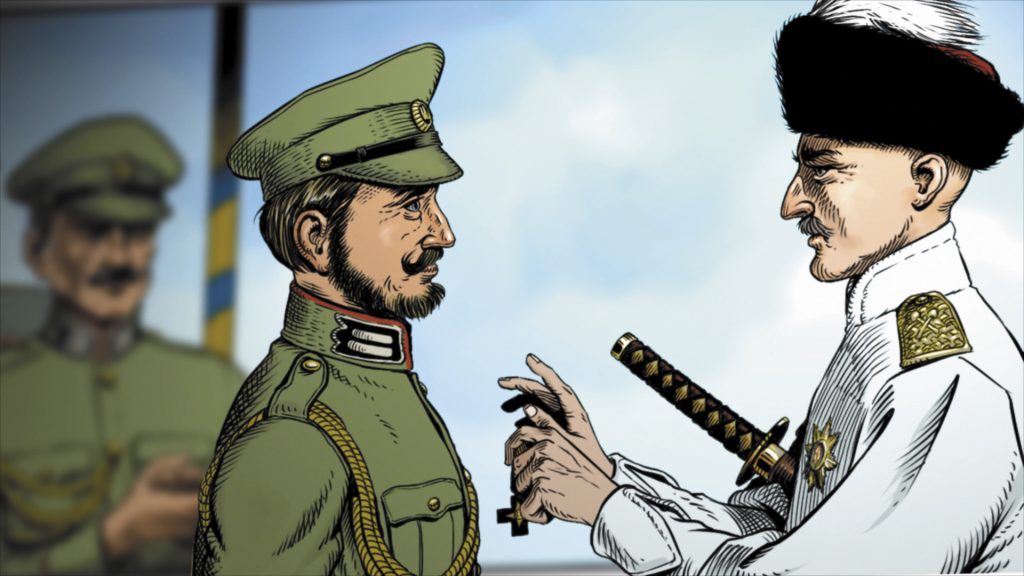 Nevertheless, there are plenty of  familiar faces. The leading lights of Ukraine's independence struggle such as Hetman Pavlo Skoropadsky and Mikhailo Hrushevskiy feature prominently alongside the likes of legendary Ukrainian anarchist Nestor Mahkno and a supporting cast including an array of dashing military characters, nubile Polish spies, and Bolshevik zombie soldiers. Russian Tsar Nicholas II appears as a phan- tom apparition in one episode, while Bolshevik leader Vladimir Lenin pops up as a cyborg terminator. Meanwhile, topless chorus girls brandishing bottles of champagne or lounging in smoke-filled war rooms provide the obligatory teenage titillation.
Low Budget Hollywood Blockbuster
The steampunk genre takes its inspiration from late twentieth century science fiction portrayals of the Victorian era, and this enthusiasm for H.G. Wells-style futuristic engineering is evepresent throughout "Volya." The creators of the comic clearly have a passion for WWI technology and the pages of the book are crammed with weird and wonderful prototype contraptions alongside authentic warships, airships, planes, guns and uniforms from the period. Many of the characters possess superpowers, but the settings come with an eye for historical accuracy right down to the wartime posters and Kyiv city panoramas that feature as occasional backdrops to the action. It is all highly unorthodox and slightly bonkers, but it is undeniably fast-paced and extremely engaging. The overall effect is reminiscent of a storyboard for a Hollywood war movie set in 1918 Ukraine. This, it transpires, was exactly the idea from the very beginning.
"We wanted to create a blockbuster for the domestic market," says Mr. Buhayov. "People are eager for Hollywood-level quality and comic books are a way of achieving the Hollywood effect without big budgets." He believes that part of the book's charm lies in its unapologetically positive spin on Ukrainian history. Ukrainian characters appear  as bold and daring throughout. They enjoy the support of a mighty military equipped with the finest technologies of the period. In one episode, Crimea is conquered. In another, readers see maps of Greater Ukraine including swathes of modern-day Russia and learn of Ukraine's early twentieth century dominance in a range of agricultural and industrial sectors. It is a swashbuckling, self-confident side of Ukraine that is all-too-often missing from the country's history books. Mr. Buhayov says there is huge public demand in today's Ukraine for the kind of swagger more commonly associated with American historical epics. "The Ukrainian information sphere is full of materials bemoaning Ukraine's tragic fate and difficult history. Frankly speaking, it is depressing," he says. "I was convinced — and remain convinced — that people want something more inspirational."
He sees the book's key target audience as adult males aged 30 to 50 who are interested in military and historical themes, but says one of the comic format's greatest strengths is its crossover appeal to other demographics. "This pop culture approach allows us to reach out to much wider audiences than might have been possible with a more traditional historical product. The comic format is appealing to people who are otherwise apolitical or disinterested in patriotic and historic themes. This includes teen audiences and older readers with more traditional Soviet sympathies. We do not expect anyone to change their worldview overnight, but hope- fully it will encourage readers to investigate more about the period for themselves."
For many of those who grew up in the Soviet era, "Volya" will seem borderline blasphemous. The Bolshevik Revolution remains probably the single most propagandized event in world history, while Ukraine's parallel 1917 revolution had no place in Soviet narratives, disappearing without a trace until the collapse of the USSR in 1991. Even today, efforts to highlight Ukraine's early twentieth century independence efforts are capable of ruffling feathers among modern Russian audiences. The appearance of "Volya" provoked a chorus of disapproval from the Russian media, with some commentators calling for the comic to join the Russian Federation's list of banned publications. "We owe them for all the free PR they provided," quips Mr. Buhayov. "The funny thing is that there was huge criticism from Russia but also great interest in reading the book."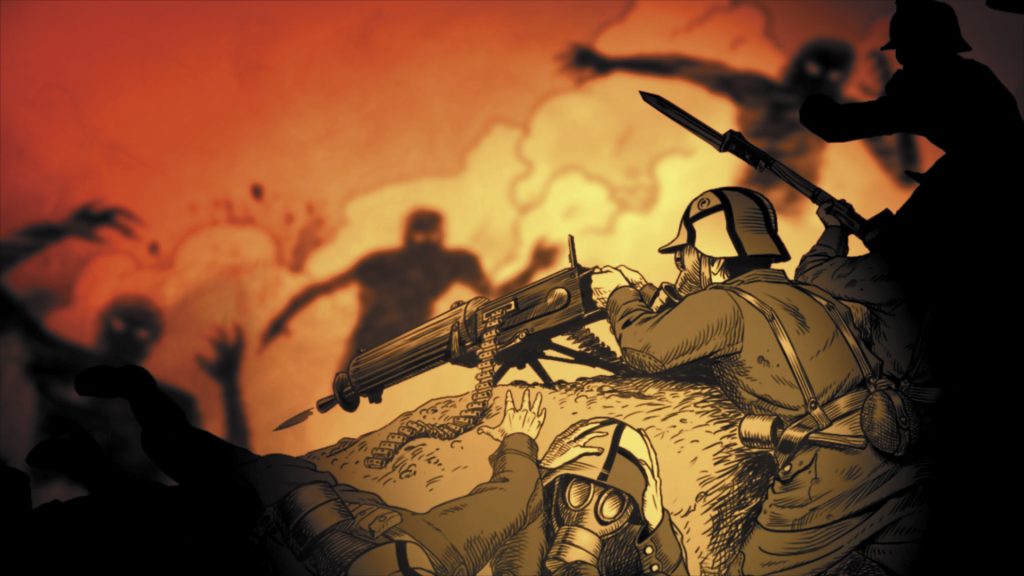 Franchise Plans
Despite its popularity, "Volya" has not yet made anyone rich. Sales of the small initial print run covered the project's production costs but generated little profit. The team behind the book are now expanding their sales network to include bookstore chains across the country. However, the sums involved remain tiny and reflect a comic book publishing industry still in its infancy. Mr. Bohayov believes the success of "Volya" could help to change this, serving as a catalyst for the further development of the sector by highlighting the potential of the domestic market and inspiring others to enter the fray. His own recruitment efforts have convinced him there are more than enough artists and writers to support a vibrant comic culture, while the ongoing expansion of the Ukrainian-language publishing industry will act as a further engine for the genre's development. There are already plans underway for a follow-up edition to "Volya" that will focus on a single feature-length story set in the same era and based along the same steampunk fantasy lines as the three separate episodes in Part I. Beyond that, Mr. Bohayov has dreams of expanding the franchise beyond comic books. There have been discussions with potential partners over an animation movie version and initial trials have begun. He also sees huge potential for merchandising and talks of creating a Marvel-style universe of characters rooted in Ukraine's early twentieth century history. Nestor Makhno action figures and Hetman Skoropadsky coffee mugs may currently seem a little far-fetched, but nothing can be totally ruled out given the current Ukrainian enthusiasm for formerly forbidden chapters in the country's history.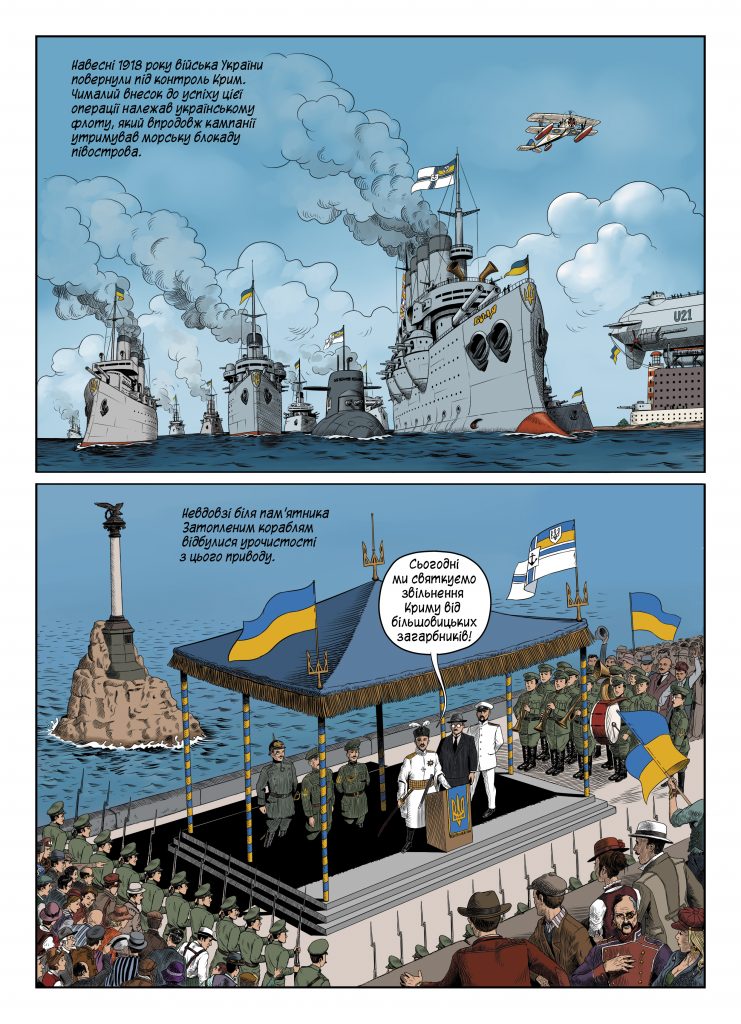 Peter Dickinson is publisher of Business Ukraine magazine and Editor-At-Large at The Odessa Review.