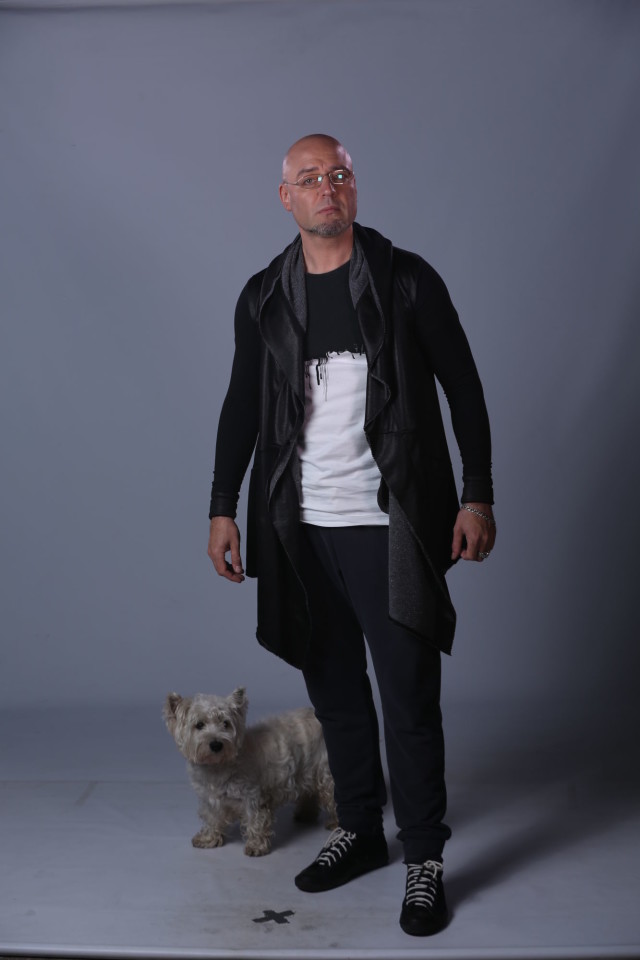 If there is a figure representing modern dance in Ukraine at its best, it has to be Radu Poklitaru. Born in Moldova, the eminent dancer and choreographer has been claimed as "theirs" by nearly every country where he has worked — Russia, Moldova, Belarus, Ukraine… Indeed, he has been a dancer in the National Academic Bolshoi Theater in Belorussia, the head choreographer of the National Opera in Moldova, a judge on the Ukrainian TV show "Everybody dance!" and the choreographer for the opening and closing ceremonies of the Olympic Games in Sochi. But for the past 10 years, he has found a home in Ukraine's capital with his own theater, Kyiv Modern Ballet, and a special tour destination in Odessa where his festival of modern dance will take place for the third year running in July of 2017. The Odessa Review spoke to the artist about the nature of modern dance, the state of Ukraine's cultural institutions and the summer festival program.
The Odessa Review (Katya Michaels): Radu, before we go into detail about this summer's festival, could you tell us why it takes place in Odessa? What is your connection with the city?
Radu Poklitaru: Let's start with the fact that the Odessa Opera and Ballet Theater is absolutely a cult venue for performing and a stunningly beautiful building. I have been to so many world theaters in my lifetime, and this theater is not the biggest, but the most beautiful I've seen. It's very harmonious, with remarkable acoustics and a tremendous atmosphere, a legacy of the great singers and dancers who performed here. For me and for the company, every performance on this stage is a special celebration.
This is the third year of the festival — anything that takes place more than twice can be considered a tradition. Odessa is the best place to reach the widest audience in the summer, both the Odessites who regularly come to see our productions, and the immense number of international and Ukrainian tourists. They can't spend all their time eating and sunbathing, they will seek entertainment, so this is an opportunity to present our art to the greatest number of people.
OR: How does the Odessa public greet you, not just in the summer season but year-round, in comparison to other cities?
RP: I never compare audiences in different cities. Artists are workers of the service industry. We don't have the right to pick and choose which audience we like best. It's the same as if you came to a grocery store and asked for a pound of roast beef, and they tell you "No, don't like you, won't give it to you." So we just do our job to the best of our ability. If the production is good, if the sound is set up well, if the dancers are dedicated — the audience will be happy.
OR: You have lived, studied and worked over a wide geography — Moldova, Belarus, Russia, Ukraine — but you ended up basing your ballet in Kyiv because of your benefactor's location. Are you happy with this fate? What are your thoughts and emotions on settling in this city?
RP: Well, Kyiv Modern Ballet is my baby that I have cherished and grown for 10 years, it is my creative home, my creative family. I never think about alternative history, "what would have happened if." There is no point. I am Kyivan now, although I'm not a Ukrainian citizen, and Kyiv is home to my ballet.
OR: Does the ballet's placement in Ukraine, or Kyiv specifically, affect the creative direction somehow?
RP: Probably not. Location would matter if we lived in an enclosed space. Fortunately, now we can be fully aware of world events. If you don't have the opportunity to fly and see a production or an exhibition for yourself, there's always Youtube. No matter where you are, you can educate yourself about the most current and relevant contemporary art.
OR: Before the creation of Kyiv Modern Ballet, in the beginning of the 2000s, for a few years you worked in various theaters and projects without being tied to one organization. How do you see this time? Did it help you discover yourself as an artist?
RP: After the end of my expeditious year-long tenure as the chief choreographer of the Moldovan National Opera, I found myself in the position of a free artist — now fashionably known as a "freelancer." I directed a lot of productions — some in Latvia, two plays at the Bolshoi Theater, the Perm Theater. I worked everywhere I was invited and was perfectly happy. Then came the proposal of our benefactor Vladimir Filippov to create a theater in Kyiv. By happy coincidence at that very moment I stopped getting requests that would be too good to turn down and could devote myself fully to the Kyiv Modern Ballet.
OR: Before you became a choreographer, you were a dancer. How does that experience inform your directorial work?
RP: I try to move as far away as possible from my dance training, because it was completely orthodox. I had no other learning in my body except for classical dance which I studied at different schools: I graduated from the Perm Ballet School, but also spent six months studying on Tiraspolskaya Street in Odessa.
OR: In what ways is modern dance different from classical dance?
RP: So many ways, completely different — at the core. While classical dance portrays idealized humanity, modern dance tells us about human reality. We can find associations in modern dance, identify with the characters on stage. I would think very few men, coming to see Swan Lake at the end of a work day, can identify with Prince Siegfried in white tights… Classical dance, by its very existence, shows us that there is no gravity — modern dance says that gravity exists, and weighs us down, but we are constantly trying to defy it.
OR: Classical dance portrays the ideal, but I would think composers and choreographers of that school did aim to convey true human emotion as they perceived it in their time. In this dialectic of classical and modern dance — is there such a thing as "modern" emotion?
RP: Emotions have never changed in the time of humankind's existence. The way they were in ancient Greece, ancient Rome, is the way they are now. Language, form, environment, entourage changes, but emotions remain the same. Do you think that love, friendship, jealousy, hatred, envy — that they changed somehow? No, they are just living with us in this world, in this new scenery.
OR: So, would you say that modern dance and classical dance are different languages for describing the same feelings?
RP: Of course, of course. The classical language is more symbolic, more refined, but more difficult to empathize with than modern dance which doesn't mask raw emotion. It's like Impressionism in painting.
OR: You are especially well-known for re-imagining classical motifs. Why does this interest you? Because it's an opportunity to find out how it sounds in a different "language"?
RP: Yes, that's what inspires me to stage these so-called remakes — modern versions of classical works. It is very interesting when a viewer comes to the theater with a preconceived idea of how a certain piece looks in the classical interpretation, and suddenly encounters a different experience, a richer and more varied bouquet. Of course, there is also the fact that these kinds of productions are very commercially successful.
Also, I enjoy the challenge of saying something new to that brilliant music, using basic methods that came to us from our predecessors, but creating our own art. Whether it will have the same emotional impact or not, you can not tell. There are no templates, no blueprints, no recipes for success. Every time I enter the theater to work on a new production, whether a remake (which is actually only a small part of what I do) or something else, there are no rules. For each of about 40 productions I've done, at the first rehearsal I always feel worthless, mediocre, repetitive, and it's all bad. First rehearsals are always agonizing, but that feeling passes.
OR: I suppose this kind of emotional self-doubt is par for the course for an artist. You are a dancer yourself, a choreographer, but now also the director of a theater company. How do you find balance between the qualities of an artist and a manager?
RP: To be honest, the two roles interfere with each other somewhat. For now, I don't see a different solution — I have to do it, although I can't say I enjoy it or feel very accomplished in it. On the upside, in the 10 years of managing the theater, I have become an Excel virtuoso.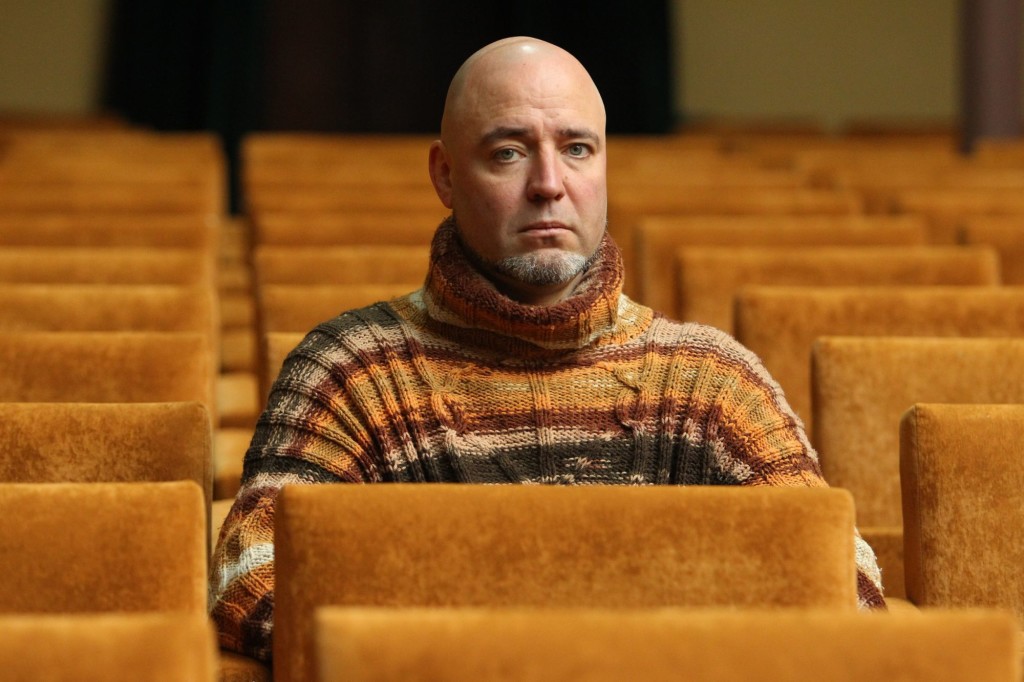 OR: Judging by the success of your theater, you are handling the administrative and financial challenges well. In your opinion, is there a demand for art in Ukraine? Does this nation need art?
RP: Well, how can it not? If there is no art in the country, there is no country. It should be a top priority. But in Ukraine right now, is there anything being done to make the Ministry of Culture one of the most important institutions? No.
OR: Do you think it should be?
RP: I won't be too original, but I recall the story about Winston Churchill: during World War II his Minister of Finance came to him and said "We're at war, we have to cut cultural expenditures." And Churchill said, "If we do that, then what is it that we are fighting for?"
OR: That's wonderful. Do you think the situation with support for art and culture is the same in Europe, or the United States? Or different?
RP: I can't say much about America — although my choreography has been there many times, ballets, miniatures, I haven't had the chance to see it for myself. In terms of Europe, of course the crisis hits everyone, but it's still incomparable to Ukraine. Take the Netherlands, a country that is slightly larger than the Odessa region in Ukraine, but has 245 independently situated theatrical buildings.
OR: What are some specific things that can be done to promote cultural awareness in this country? And how will that in turn influence the nation's development?
RP: It's very difficult to judge with such things. I think the best thing is for everyone to do their job well in their place. If the head of Ukrainian National Road Agency will be reviving Ukrainian culture, while the Minister of Culture will be in charge of laying down pavement, that won't be any good. I do my best, in my place and in this time, to be useful for Ukrainian cultural development. Myself, my theater, every artist in my theater — I can answer for that. The more general, large-scale things should be taken care of by the people who are responsible for them.
OR: Then, turning to specifics — let's talk in more detail about the festival in Odessa this summer.
RP: Yes — so, the festival is going to be from July 5th to July 10th. My mother is attending the festival! She is a former ballerina, 82 years old, but she comes to Odessa and sees every performance.
OR: How many ballets do you usually bring to the festival?
RP: There are six nights. It takes a lot of work on the part of the staff and the dancers of Kyiv Modern Ballet, but we make an effort to bring six different programs for each night. It is a big challenge, with a tremendous amount of preparation in advance. This summer will feature full-length works, "remakes" of course, some one-act ballets, some old favorites and some entirely new pieces.
OR: So every day the set, the decorations, the sound need to be adjusted for a different production? That's very complex work.
RP: Yes, but like I said before, specially trained people in their place do this work well. We have a great technical team, experts of their field — the best lighting technician, the best sound producer, the best mounting crew.
OR: You bring the entire team with you to the festival?
RP: Of course, otherwise we could not come to the theater at 1pm and bring up the curtain at 7pm.
OR: So all together, how many people come on tour with the ballet?
RP: This time about 30 people. It's not too bad. But it's not two actors in a play without staff or set pieces, either.
OR: Of course. So, are you ready to reveal the full festival program for the festival at this point?
RP: Not entirely, but I can definitely say that we are bringing our signature ballet, Karmen.TV, which was our debut production in 2006. It's been played more than 300 hundred times in the 10 years of the ballet's existence. I am hoping that the part of Jose will be performed by Dmitry Kondratyuk, our soloist, who is the only member of the original cast remaining in the ballet and still dancing. Of course we will have Swan Lake and Giselle. The one-act ballets will include Bolero and Dozhd (Rain). There are four pieces we've never brought to Odessa before. "Palata No6" (Ward No6) based on Chekhov and set to the music of Avro Pärt — this is also a "remake." The second is "Underground," an original story to the brilliant violin concerto by Pēteris Vasks. Then, "In pivo veritas" is this fun piece, dedicated to beer with Irish Renaissance music. And the last is a new work, titled "Up the river," a retelling of the F. Scott Fitzgerald story "The Curious Case of Benjamin Button" in the language of dance. So, we are bringing some classic favorites, but also new interesting material. We are looking forward to sharing them with Odessa in July.
Katya Michaels is the Senior Editor of The Odessa Review.