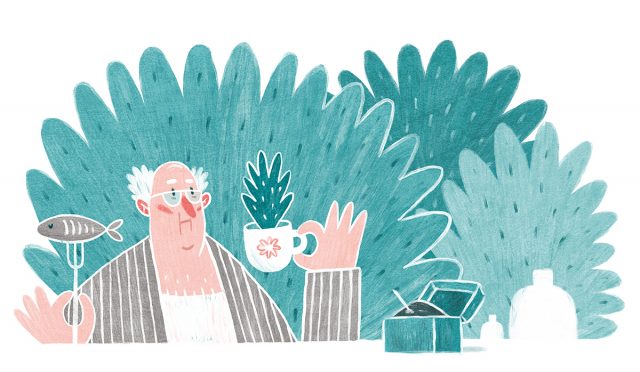 Everything new is just something old that has been well forgotten — even if we're talking about the tech revolution.
The State of Israel and the independence of Greece were not the only things created in the deep Odessan underground. The tech revolution and much of modern technology are also originally from the city's Moldavanka neighborhood. Half a life before Silicon Valley and a million years before Skolkovo, there was a science campus and at least two startups per person in each Moldavanka apartment building. Don't believe me? Let's take a closer look.
There was conscious consumption in each family. For example, Indian tea stolen from the tea factory. After being used for its primary purpose, the tea was a marinade for making rusty store-bought herring edible. After that, it became a remedy for the bags under your eyes. And finally, the tea transformed into fertilizer for houseplants.
By the way, organic gardening with an element of bioengineering was the main hobby of our great-grandmother. It all began with the palm that she grew at home from the pit of a sugared date. The palm eventually reached four meters in height. Like a true researcher, great-grandma regularly watered it with everything on hand — from great-grandpa's undrank port wine to our uneaten borscht. Periodically, the palm would try to die, but great-grandma always brought it back to life with meat drippings or rubbing alcohol. She also claimed that stolen plants grow better. To our horror, she would return from visiting friends with torn off violet leaves and pieces of cactus. Everything sprung to life and quickly began to grow. Dad advanced a theory that this had nothing to do with great-grandma's experiments with fertilizer, but instead with the fact that she smoked a pack of Belomor cigarettes a day in her ten-square-meter apartment.
Just thirty years ago, there were more engineers than there are lawyers and psychologists all together today, and the entertainment industry was more oriented on individual art. Dad charged water with AC current. Mom in five minutes would assemble a bucket, bowls and organic sealant into a device for producing samogon moonshine. If her mother-in-law happened to drop by, she would quickly disassemble the device into innocent parts. This moonshine, by the way, was the original craft beverage made according to a family recipe.
In the 1980's, "recycling" was a global trend. All our class gathered scrap metal and paper for free, stealing from our homes valuable collections of the magazines "Znamya" and "Roman-Gazeta". Grandfather's prized coat became a smart three-piece suit for first grader Igor, who lived on the first floor behind a green door. Igor was thin. But the new suit from English broadcloth easily made him appear more imposing — though it was too warm. But the cuffs on the pant legs and the extra roominess in the waist were enough for four years of intensive growth. We covered raspberry and grease stains with embroidery, turning dull mass market into real couture. Bella Markovna specialized in the Richelieu style of embroidery, so she made flirtatious white monograms on cigarette-burnt sheets or ironscorched blouses, using holes as part of the composition. But after a night of sleep, such a sheet left a beautiful red mark in the shape of a reversed letter "B" on your back.
In general, the letter "B" had a sacred meaning and energy. And not just because it signified "blyat" ("whore" in Russian), the favored street word to use in situations with fifty shades of emotion. The prototype for bitcoin was the "bon". Almost no one ever saw these checks because sailors and officials from the maritime offices were the only ones who got them. Their value fluctuated in accordance with the party line. But the "bonchiki" were always worth more than ordinary money and opened the doors to otherwise closed shops with foreign goods.
Odessans even dragged the defense industry into recycling. Aviation kerosene cured tonsillitis. A glass held up to the wall helped to download confidential information from the neighbors' personal lives. And Uncle Vanya's Moskvich car was impossible to steal because he had installed a special lock. You had to key in the right combination of 15 different clicks for the car to start. The ultra-fashionable concept of crowdfunding was also invented in Odessa. Of course, previously, it existed in two basic forms, which were called "wedding" and "funeral". In the former case, they thanked the backers at the beginning of the project, announcing each person's investment during a toast. In the latter, they limited it to spoken thanks delivered in a "direct message" and the opportunity to snag a few items of the deceased's vintage, limited-edition clothing before the start of sales.
And long before the appearance of Facebook and Twitter, the first social networks — with likes, reposts, top bloggers, Instagram selfie stars, and flame wars — were the Odessa courtyards. But that's an entirely different story.
Yulia Verba is a write 
illustration by Oleg Andreyev