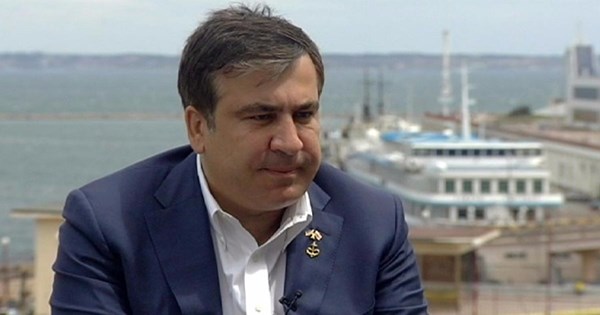 Last Monday, flamboyant former Georgian president Mikheil Saakashvili, , resigned his post as Odessa's regional governor. What legacy does he leave behind in the minds of Odessites, and what does his departure mean for the region?
It was an unseasonably warm November day in Odessa, and locals took the opportunity to enjoy the sunshine, milling around the city center, along Deribasovska Street and the city garden. Elsewhere, by the port, Saakashvili used the warm weather as an opportunity to hold his final press conference as governor outdoors. The fervor of his speech swelled as he addressed the reasons for his resignation:
"I am a soldier who walks as long as he can, as long as he must, in order to achieve full victory, to rid Ukraine from this filth, this corrupt mess which capitalizes on the blood of our soldiers [and] the victims of Maidan […]!"
Saakashvili's address was as ardent and provocative as his tenure. Not for the first time he expressed frustration and disillusionment with Kyiv, but insisted that he would continue with the cause of fighting corruption in Ukraine. Citing the recent disclosure of the wealth of Ukrainian top officials as the last straw in his decision to resign, he criticized political elites, and what he sees as a lack of genuine will to rid Ukraine of corruption. His public and fiery criticism of president Petro Poroshenko was the first time that he publicly broke with his erstwhile patron.
For several days it was unclear how Saakashvili intended to continue pursuing his project of anti-corruption. This Friday, in Kyiv, he elucidated his plans: to establish a new political party, "a platform of new forces" in an effort to challenge a tarnished political elite which he claims control the Rada and cabinet. As in Odessa, Saakashvili again seeks to surround himself with young, reform-minded politicians, explicitly stating that their party would not accept anyone with more than two to three years of government service. He has called for early parliamentary elections (a call he has made for almost a year now) and declined to communicate with Poroshenko's party.
It is a move characteristic of Saakashvili – brash and populist, with a twist of innovation. Given the audacious stated objectives of his new party, and a background that includes at least peripheral contact with U.S. president elect Donald Trump, Saakashvili's future in Kyiv will doubtlessly draw a great deal of attention.
As Saakashvili continues to pursue his political career in the capital, Odessa has lost it's most high-profile foreign reformer. As governor, he banked on a degree of celebrity, given his role in Georgia's Rose Revolution and reveled in the Kremlin's rage toward him. Saakashvili's appointment drew attention to reform efforts in Ukraine, attention that is now likely to wane without a leading, well-known figure at the helm. As the spotlight on reform efforts shifts away from Odessa, the next governor of Odessa may find themselves receiving much less attention — and assistance — from Kyiv.
That is not to say Odessites have universally enjoyed this attention, or Saakashvili himself. Odessites, like Georgians, have a complicated relationship with the former governor. To an outsider, particularly an American outsider, his background and aims seem honorable, and his passion promising. But to many in Odessa and Georgia, Saakashvilli is remembered as a disappointment as much as a progressive. In his native Georgia, the success of some of his anti-corruption campaigns are often overshadowed by allegations of his use of force to disperse protestors (an accusation he terms politically motivated) and failure to deliver on the promise of comprehensive reform and economic growth.
Here, in Ukraine, his image has fluctuated. In September of 2015, Saakashvili enjoyed a period of what could be characterized as Odessan optimism — for a moment, he was the most popular politician in the country.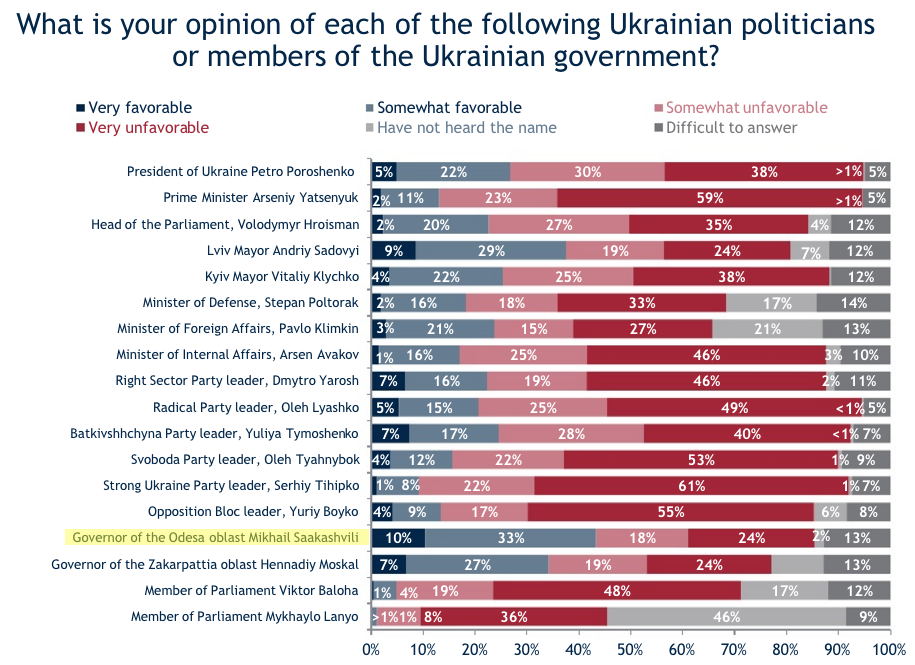 Source: International Republican Institute, Public Opinion Survey Residents of Ukraine, September 7-21, 2015
By 2016, however, the Ukrainian citizens held a different opinion of Saakashvili. Despite his high degree of public engagement, his favorability dropped dramatically.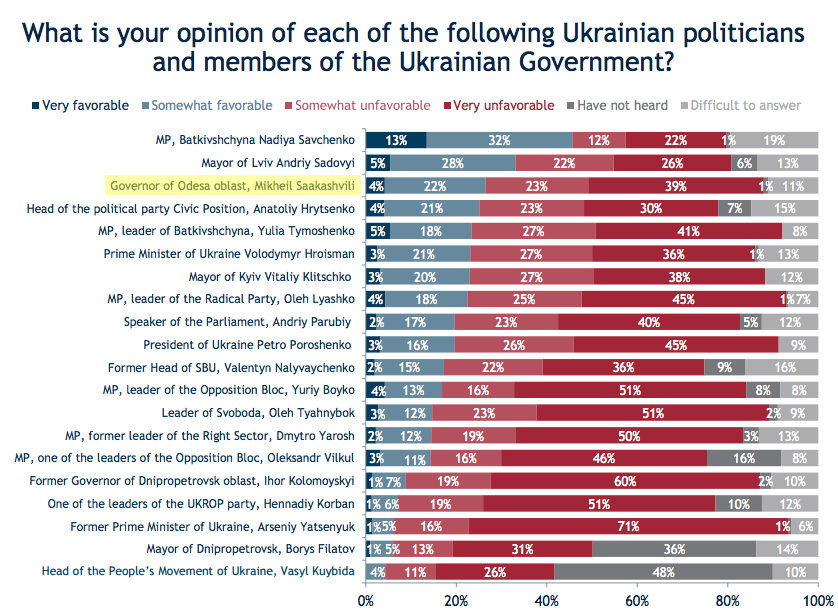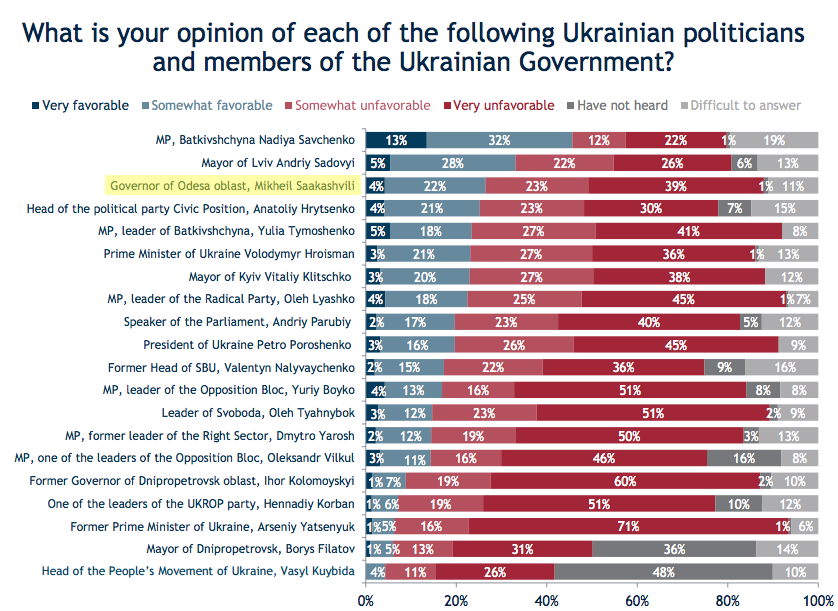 Source: International Republican Institute, Public Opinion Survey Residents of Ukraine, May 28 – June 14, 2016
Disappointment accounts for much of this downturn, made all the deeper by the expectations Saakashvili himself cultivated. He himself came to share in this sentiment, realizing the time and coordination demanded by anti-corruption efforts in Ukraine – a country roughly nine times the size of his native Georgia – and the political challenges specific to Odessa.
With Saakashvili's departure, much of his team will be leaving as well. They are staunch reformers, some young, some foreign, who previously held high hopes for change in Odessa. The last woman standing is Post Customs Head Yulia Marushevska. The port in Odessa was one of Saakashvili's primary targets for anti-corruption efforts, and Marushevska acted as his point-person in discouraging the acceptance of bribes and lax customs practices. Thus far, she appears determined to remain at her post, despite the political pressure she is likely to face. However, many political analysts predict her own  departure within a month.
The broader, long term outcome for Odessa is unclear.  For now, Saakashvili's deputy, the talented 27 year-old Solomiia Bobrovska, will act as interim governor. Bobrovska will provide some continuity, but her time is limited, and the present options for Saakashvili's eventual replacement are very distinct from the young team that the governor surrounded himself with.
Local media speculation regarding Saakashvili's successor has included a cast of politicians, both local and national, with closer ties to Poroshenko and more conventional political careers.  Saakashvili's successor may share his ambitions, his populist tendencies and his tendency to frank speech, or they may not. Even if they seek to govern the region in a fashion entirely different from Saakashvili, it will be difficult to erase the expectations that his tenure has raised for the region, the city and its people. For better and for worse, Saakashvili's character is written into the contemporary history of Odessa, where at least he was never alone in his eccentricity.