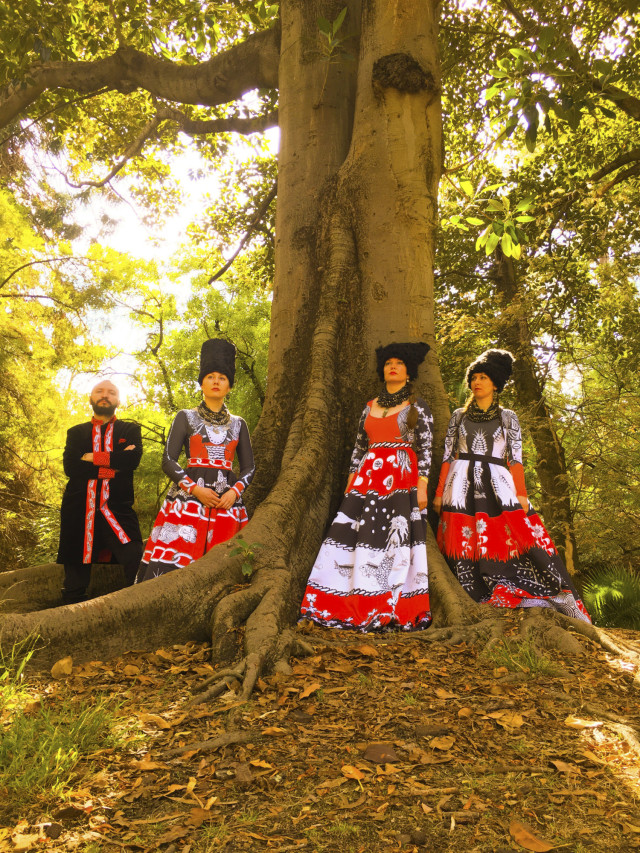 The cult favorite Ukrainian ethno-folk group "DakhaBrakha" is definitely on the rise: in December 2016 they released their newest album "Shlyakh" ("Path"). During the first half of 2017 they were busy touring to promote it around the world, and one of their songs was included in the soundtrack to the popular FX series "Fargo." Just this spring, the band completed a big tour of the United States. The Odessa Review spoke with the vocalist of the band Marko Halanevych about the new record, blues and folk music, cultural codes among the different regions of Ukraine, and the challenges and rewards of touring.
The Odessa Review (Alexandr Topilov): Your new album decidedly falls into the blues category. How easy or difficult was it to imbed American blues into Ukrainian folk?
Marko Halanevych: I would say rather, Ukrainian folk into American blues. But we didn't think about that when we were working on the material. We wanted to make music that you could listen to on the road, but I'm not sure it turned out that way. Some of the compositions retain our signature dramatic intensity, or as some critics say, psychedelic intensity. We planned for the album to be more even-toned, but you can't escape yourself.
OR: And how is music "for the road" different from any other?
MH: Road music should be infinite in a way, like a creaking wheel, if you allow the metaphor. But the road of our wagon seems to pass through different villages, through weddings and funerals — that's how we explain such varied moods in the album.
OR: Your musical style is often defined as psychedelic folk. Do you agree with that? What place does psychedelia hold in Ukrainian folklore?
MH: If you define psychedelia as a state of altering consciousness, then our music fits that description. At least that's what our listeners often say, that they experience emotions that they've never experienced before. But this perception is very individual, I wouldn't talk about it as something universal. Ukrainian folklore, with its strong imagery and emotions, can be very effective in this genre. At the same time, I believe that all these feelings and sensations can be attained without the use of psychotropic substances. We certainly don't need them to make this kind of music.
OR: Are imagery and emotionality the main priorities in your music?
MH: Absolutely.
OR: The album "Path" is presented as a record based on the folklore of different regions in Ukraine: Vinnytsia, Zhytomyr, Luhansk, Kyiv, Rivne, Poltava and Crimea.  Was there a chance for Odessa to be in that list? 
MH: Many regions didn't make it into our album. We are missing Western Ukraine completely, which we regret, and Odessa as well. It just worked out that way — we had a set of compositions, and at some point we realized that some were much more ready than others. Songs of the Western regions were very raw, but it was time to put the record out. We'll make up for the missing regions in the next album.
OR: To what extent does Odessa have its own folk music, in your opinion? Could the songs of "blatnaya" or criminal Odessa culture, which came out of klezmer, be considered folk?
MH: When we first visited the United States, I was surprised to find what they called folk. Country music is barely 300 years old, but these artists perform at country festivals. It's a completely different folk music than what we are used to. The same goes for the Odessa "blatnaya" (ed: local criminal slang) culture. It could be folk — it's another question whether the members of that culture are prepared to be categorized as folk musicians… It seems that Marina Sadovska did a cover of something from the Odessa song genre, and that was quite interesting.
OR: Guitarist Marc Ribot recalls that Tom Waits inspired his musicians through imagery: "you have to sound like a soundtrack to a Cuban lilliputian circus." You have a similar approach, relating imagery and setting an atmosphere. Is it effective? Does anyone besides your producer Yuri Hustochka understand you?
MH: There are some instances where Yuri convinced us to change our minds. For example, we wanted the sound of the band to feel very close, like the musicians are sitting a few feet away— on a wagon. But he gave the sound a lot of room, a feeling of outer space even, and in the end we agreed with him. I guess, yes, it is something like Tom Waits' work with his musicians. For instance, Yuri always recalls a time when the girls were describing a composition: a person is walking across the field alone, here the wind dies down, and here the person falls down… It came out very emotionally when the girls were telling it. Yuri is the one who takes "what" we want to say and figures out the "how." Working with him is very comfortable for us, he is our friend, and we can explain everything to him without searching for words, more with emotions than technical terms.
OR: You just returned from a US tour. Is there a difference between American and European audiences?
MH:  Definitely, yes. Americans are more emotional, that's no secret. They respond to every movement, attentive to everything that happens on stage. This is mostly true for theater performances, though, rather than big concert venues. The crowds at big festivals are almost the same everywhere: in Australia, Malaysia, or France. Clubs and festivals are loud, fun, joyful and energetic. In the concert halls, where the public is more intellectual, reserved and aristocratic, sometimes we miss the energy. On the other hand, that's where our dramatic compositions are heard most attentively.
OR: It is said that Robert Fripp dissolved "King Crimson" in the mid-70's partly because of the strain of live performances, because the audience is an "energy vampire." You seem to have a different relationship with your listeners? 
MH: When you have a lot of concerts, it's very important to pull yourself together at the soundcheck, and then at the show, you feel a burst of energy as soon as you go on stage. At the sound checks it seems like it's all over, but the concerts bring you back to life. Of course, if there are no huge problems with sound, which happens sometimes.
OR: You came to music from theater. How aware should the modern audience be not only of music trends, but contemporary art in general?
MH: I think overall a modern intelligent person should be aware of the cultural context, but to enjoy our music no special context is needed. You should just listen to the music, instead of focusing on recognizing some allusion to the work of the Estonian composer Arvo Pärt.
OR: But awareness of allusions makes for a more meaningful experience? Or is that just snobbery?
MH: Our music has strong imagery and emotion, but it is at the same time primitive, like primitive painting of Maria Prymachenko or Niko Pirosmani. Of course, people can get different kinds of pleasure from music depending on their level of musical education.
OR: I don't know if you can call music with polyphony and polyrhythm — primitive…
MH: Well, in terms of polyphony and voice harmony, our ancestors sang this way without ever attending conservatories.
OR: How did you end up having your song featured in the "Fargo" series?
MH: We got an email saying that they would like to take a song. We said "ok." Our American agents settled the financial issues and that was that. Obviously, it was very unexpected and very welcome. We think they must have noticed us on the Jools Holland BBC show, because we heard a song by another band that was with us on the show in the same "Fargo" episode.
OR: Peter Gabriel collaborated with the Pokrovsky Ensemble. Who would you like to work with, hypothetically, on making a recording? 
MH: Bjork, perhaps. Not because I'm a huge fan, but because she has a very strong individual personality. I would love to see the way she works, thinks, creates her compositions.
Alexandr Topilov is a musician, critic, and author of the book "That's All There Is".