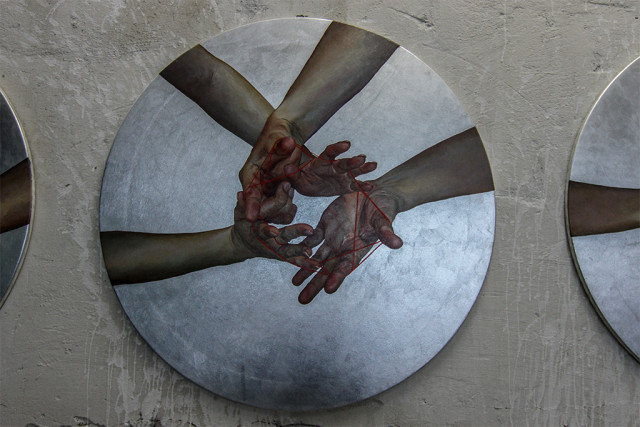 The "FreierFest" festival was just that — a true festival consisting of six exhibitions, multiple lectures (mostly by Kyiv representatives, but also notable foreign artists like Russia's notorious Oleg Kulikov), DJs and parties. The official opening took place in the courtyard of the Odessa Modern Art Museum. The festival opened with three simultaneous exhibitions, the main among them being a collection of works by Theophil Freierman, the festival's namesake.
Today Freierman's name bears legendary status as one of Odessa's "Parisians." The artist not only lived and studied (from 1903 to 1917) in Odessa, but was also a participant and jury member in the city's "Autumn Salons." He returned to Odessa in 1917, after his stay in Europe, to establish the Museum of Western and Eastern Art. In 1919, Freierman was also one of the organizers of the very Museum of Modern Art in which the festival bearing his name currently takes place. He assisted in the creation of Odessa's Art Academy as well, where he also served as a professor for three decades. Unfortunately, even after all of these contributions to the city's culture, Freierman — like many artists at the time — faced persecution from Soviet authorities. Thankfully, he was spared the tragic fate of death that befell some of the others, but the persecution did effectively end his career. He retired and continued working with select students at his home. From the 1930s and on, Freierman shared his works only with these students.
The works themselves suffered a tragic fate under the Soviet regime. After a large exhibition in Kyiv, the Ministry of Culture purchased all the exhibited works in order to sell them overseas. In 1923, most of the collection was bought by an art collector named Mr. Perelman, who took the paintings with him to Israel. In 1999, after being exhibited in Baltimore, eight of the remaining works were auctioned off at "Sothebys." This is part of the reason why today, at the Museum of Modern Art, all that reaches us from Freierman are mostly graphic works with only a few canvases, the most notable of which is the exquisitely done "Portrait of Unknown Man." Some puzzled guests ask — why are all the works on such a small scale? Did the artist not create larger works? The sad answer to this question is: he certainly did, but fate would have it so they unfortunately do not reach us today.
At the festival grounds, the viewer is presented with an exhibition space of a thousand square meters, with a ceiling height of seven meters and an almost overwhelming multitude of pieces in an array of different styles. The variety of the art calls to mind the motley nature of a group exhibit, in which wildly different authors present their wildly different works. Variation is everywhere: in the themes, the visuals, even in the mediums used. The enormous size of the exhibition space provides an opportunity to showcase some immense works, with dimensions up to 6 by 6 meters. A lot of the works are from Kyiv, but many were brought from Germany, the USA, Belgium and other countries. The curators, Roman Gromov and Dimitry Ehrlich, deserve praise for their diligent work: they truly undertook a titanic effort in organizing, transporting, and setting up the exhibits. In all honesty, after the completion of the opening ceremonies, the curators looked positively exhausted despite their youth, braving not only the logistics and technical aspects of the festival, but also the many lectures and parties punctuating it.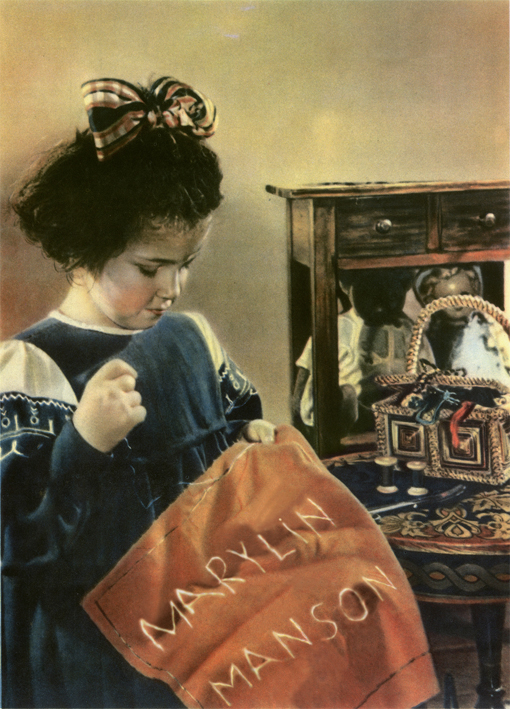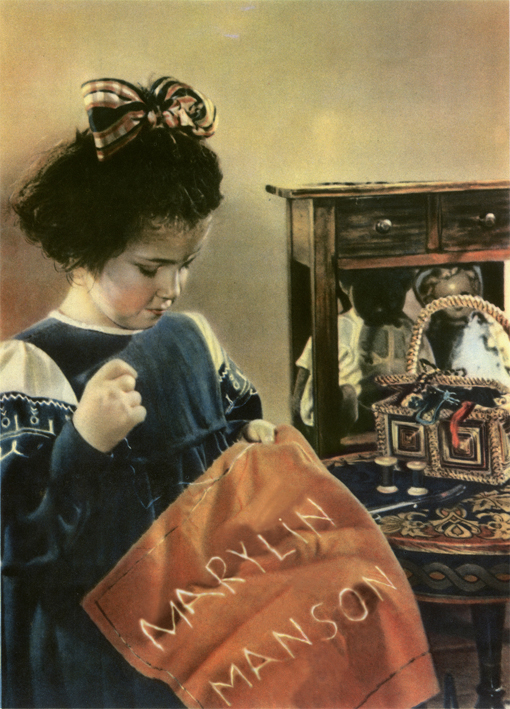 The second exhibit, taking place at the Tea Factory, was also on a grand scale with a fittingly large amount of works. The installations were some of the most interesting, such as Nikolay Karabinovich's large rusted cage in which an animatronic parrot constantly exclaimed: "Why? Why was I brought to this exhibition?" The effect was suitably annoying, much like a real parrot, but did provoke some thought — namely, "so what is this exhibition about?" Another attractive installation was located on the roof of the venue and titled "PivnykTime" ("Rooster Time"). Created by Kyiv artist Yevgeniy Krymchak, who manufactures the colorful rubber hand-sized birds himself, the installation consists of a large number of roosters standing in an orderly formation on the roof and then falling in a cascade, filling up the roof's surface. It's as aesthetically pleasing as its meaning is mysterious: what did the artist intend to say with this gesture?
Dutch artist Hageman Elleke's short format video installation, which featured kaleidoscopic, splitting and doubling images of snarling, vicious dogs was another compelling piece with its powerful connotations of hate, anger and menace. It seems to imply how much easier, more visceral it is to hate and threaten than to understand and empathize. Another work which merits mention was an actionist photo triptych by Arnold Zheleznov and Vasilina Verdi. The work, titled "Man in Shell," shows the author hiding his body inside a curled palm branch and subsequently burying himself in sand, water, and withdrawing into complete hiding. "Where else can I hide from this world?" Some artists featured among the multitude of works are prolific enough to bolster the exhibition with their mere presence: Ukrainians Olexa Mann, Aleksandr Roytburd, Larisa Zvezdochetova and notable guests from Berlin, Rotterdam, Paris and Barcelona.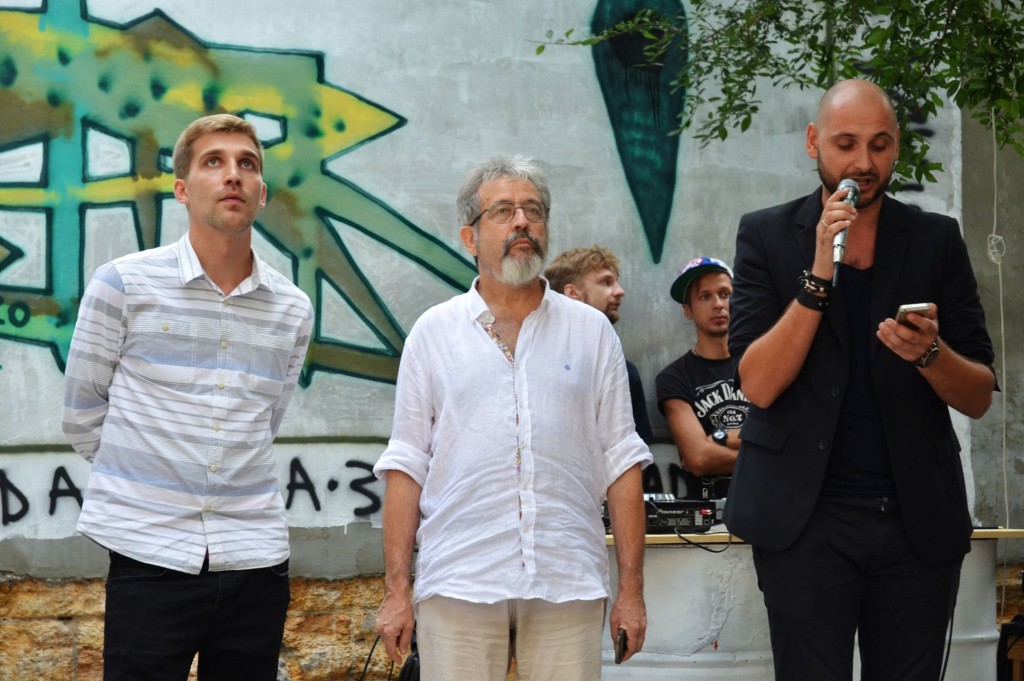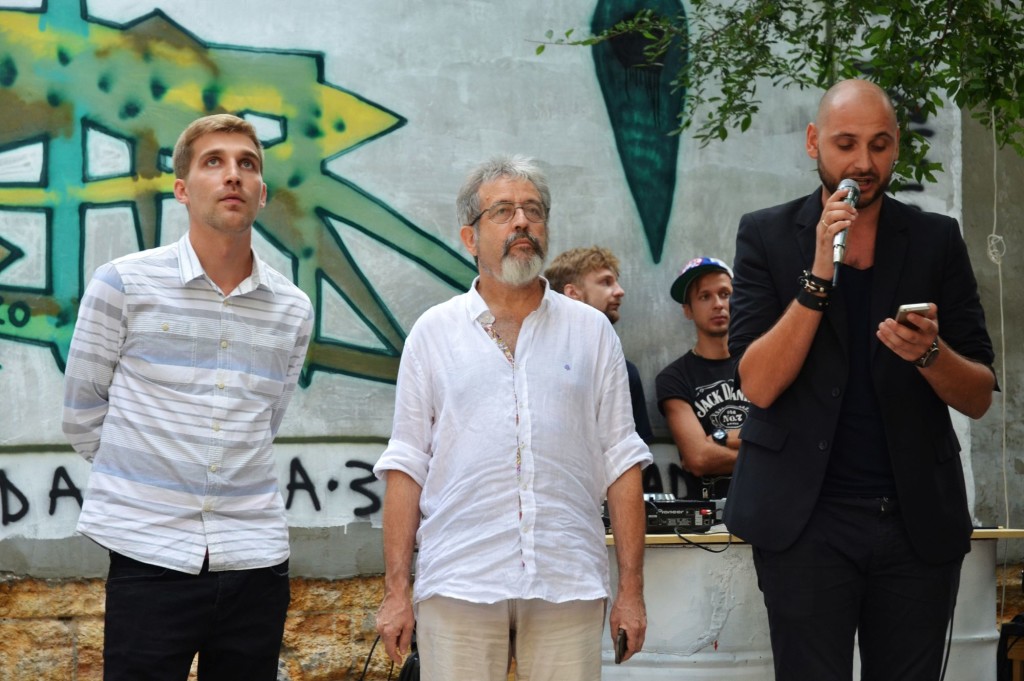 The enormous space hosted so many paintings that it would be impossible to encompass even just my favorites in this small format, but three works stood out to me most of all: Konstantin Pavlishin's "Return of Dante" — a large figurative canvas with some gaps and "incomplete" patches which only added to its expression, Nikita Tsoi's interpretation of the classical story of "Romus and Remulus" accompanied by gypsum sculptural elements, and Zoya Orlova's untitled black and white photo composition which invites many possible interpretations depending on the angle and distance from which it is viewed.
Nikolay Lukin is, as always, impeccable: his contribution featured a figure next to a black tire on a white background, calling to mind the purpose tires had served only recently: not for transportation, but for burning at the barricades, expressing protest with their black smoke.
Corporeality was one of the themes on display. "Thread Game" was a round canvas filled with human hands, a representation of the similarly named children's gamе, with its connotations of chaos and deception. Andrey Babchenko also chose hands for his "Polymers" — his are metallic, blue, dead-like. The sight is as unappealing as it is compelling. Nearby, Oksana Kavinets's photos feature living designs on human necks and faces.
The Parisian Irina Valdron's small works stood out with their poignant, ironic kind of take on the "social art" of the late Soviet period. In one, a sign reading "Moscow Modern Art Biennale" is inserted into a magazine cutout of stereotypically healthy, happy Soviet youngsters. In another, a girl carefully embroiders a dainty pillow with the name "Marilyn Manson."
The medium of painting was well represented at the exhibition, including by Ukrainian-Parisian artist Sergey Kononov with his small and intricate female portraits, Ukrainian-Dutch Larisa Zvezdochetova's thought-provoking meat grinder devouring all that surrounds it, Igor Gankevich's enormous "Laocoon" canvas, and Stas Zhalobnyuk's "Midsummer Night's Dream." The color yellow was a thematic element of the festival, and was represented across many works. In Andrey Salov's "Bio2Be," yellow pipes evoke an ecologically charged meaning.
One thing which particularly appealed to me about the exhibition is that the "greats" of our art world (like the aforementioned Roytburd, Mann, and Zvezdochetova) are exhibited alongside young, up-and-coming artists who, it must be said, do not disappoint in terms of quality and meaning. I want to thank Dimitry Ehrlich and Roman Gromov for their work in making the festival succeed, and I sincerely hope that the "First Annual" festival truly becomes a recurring annual tradition.