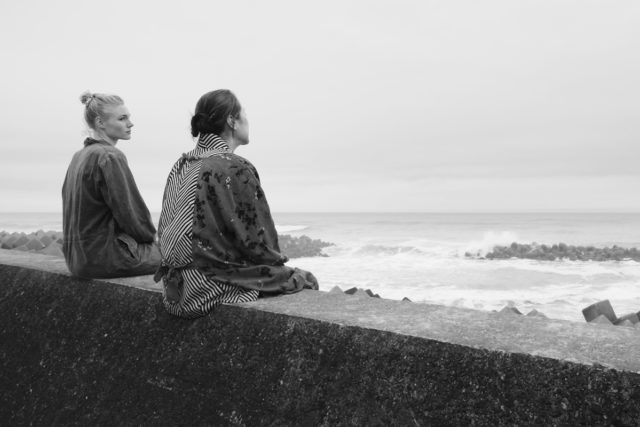 International aid work for impoverished or disaster-ridden areas is very popular; so popular it has essentially become its own vacation industry: "voluntourism". Thus every year, thousands of people fly thousands of miles in order to "improve" a community that they might not know much about. Granted, there are fantastic non-profits and agencies who send well-equipped people in areas of their specialties, such as the Peace Corps in the US.
But, the German movie "From Fukushima with Love" isn't about the later type of volunteer. This film, directed by Doris Dörrie, is about Marie (Rosalie Thomass) who is incredibly sensitive and is escaping her reality at home. She joins a group called Clowns4Help and travels to Fukushima, Japan to entertain the 2011 nuclear disaster survivors – which is already an interesting prospect in itself. She fails miserably in entertaining and she further facilitates the runaway of elderly Satomi (Kaori Momoi) from the refugee shelter back to her house which is in the radioactive Exclusion Zone. Marie quickly realizes that she made an irrational decision in coming here and decides to leave the shelter. At the last moment, she arrives to Satomi's home and is ready to help the elderly Japanese lady set up her damaged home. The two have a complicated and humorous relationship that is facilitated by their broken English. Satomi, being the last geisha of Fukushima, is quite graceful and scolds the tall Marie for being a "clumsy elephant". Marie doesn't take offense to this and instead comes to be a sort of a student geisha under Satomi.
Something that the two unlike women share is a sad and regretful past. Satomi is living in the area where so many people she knew died and this has brought her own ghosts to life at night. These ominous beings seem to feed off Marie's own regrets as well. These demons will not go away until the women become liberated from their guilt – Marie and Satomi cannot take back the past but they can regain their future.
The film is probably the most fantastically edited piece so far in international competition. The film is in a stark black and white and has a few moments of dull color when the ghosts of the past appear. The black and white is not only a style decision but it also represents how the old has crept into the women's current lives. It's reminiscent of 1930s Japanese photography. A festival favorite that garnered a lot of applause, "From Fukushima with Love" will enjoy further success with it's passionate actors and aesthetics.