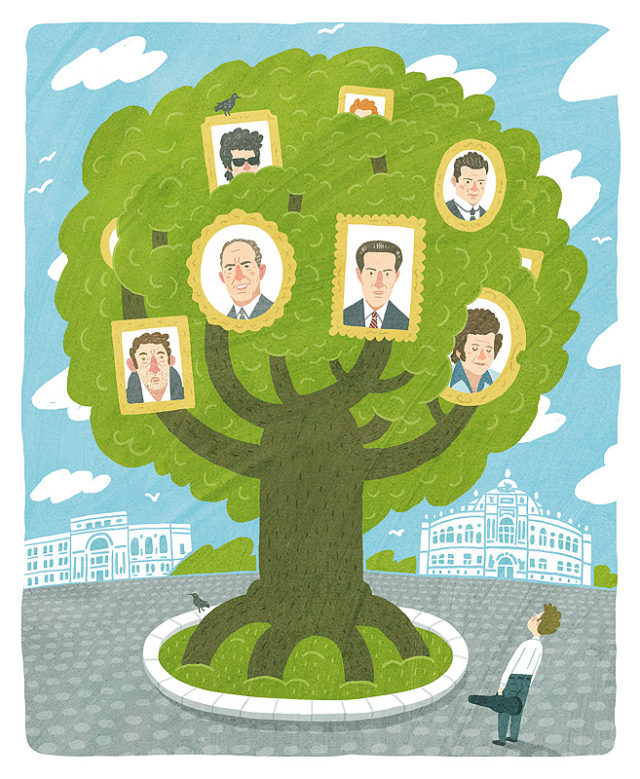 When studying the biographies of famous musicians, composers and singers, unexpected discoveries will be made. It should not surprise anyone that a good deal of the world's musical luminaries have deep roots winding back to Odessa! It seems that Odessa has sowed its "seeds" around the whole world – seeds which would blossom into some of the most prolific figures in the world of music. Can you think of others?
George Gershwin
One of the founding fathers of Jazz, the great American pianist and composer George Gershwin was born in 1898 in America, with the given name Yakov Gershowicz. His parents Moishe Gershowicz and Rosa Bruskina, were Jewish immigrants from Odessa, Of course, they must have breathed deeply of the magical Odessan air to create such a child prodigy. This was the same air where Italian opera, Balkan and Ukrainian folk melodies, and klezmer could be heard mixing since the very founding of the city. The proximity of the sea, the ubiquitous southern temperament and the free mixing of cultures – this atmosphere was a perfect one for creation of a fusion art such as Jazz, as well as for the creation of future Jazz-men. Surely, it was no coincidence that Odessa was considered the "Jazz Capital" of the USSR.
Joe Dassin
When an Odessa barber named Samuel was asked his family name by American immigration, the latter thought he was being asked where he was arriving from. He responded "from Odessa". The worker misheard him, and this is how the surname 'Dassin" – and history – came to be. Soon, Samuel Dassin had a son – who would later become the director Jules Dassin. After that came his grandson, the future singer Joe Dassin. Joe's son Julien remembers his father speaking of his dream to visit Odessa – unfortunately, he did not get to live that dream, but Julien would.
Serge Gainsbourg
Various sources give the provenance of Gainsbourg's father and grandfather variously – according to some, they lived in Odessa; to others, in Theodosia (that is on the Crimean peninsula). His father, Josef Ginsburg, had studied music in St. Petersburg and lived in Moscow. Serge (who was originally called Lucien) Gainsburg remembered his roots well and loved to sing in Russian. His music was always well-loved in Odessa due to his provocativeness, irreverent 'hooligan' reputation and sharp tongue – typical Odessan qualities.
Bob Dylan
Bob Dylan's given name is Robert Allen Zimmerman. His grandparents arrived in America from Odessa in 1905. Today, the legendary musician's photograph hangs in the American embassy in Ukraine next to the portraits of Igor Sikorsky, Milla Jovovich, Dustin Hoffman, David Duchovny and other famous Americans with Ukrainian roots.
Louis Wolfe Gilbert
The American composer Louis Wolfe Gilbert was born in Odessa in 1886. At the beginning of the 20th. Century he relocated to the USA. By 1915, he was already a popular Hollywood composer creating music for television and radio shows, including the famous Eddie Cantor Show. His music was used in the soundtracks of Hollywood films as well. After his death, Gilbert was inducted into the American Songwriters Hall of Fame.
Jacques Gordon
The famous violinist, first chair of the Chicago Symphonic Orchestra and leader of the Hartford Symphonic Orchestra as well as professor at the Eastman Music School was born in Odessa in 1897. He relocated to America in his youth to pursue his dreams of fame and fortune – and he would certainly succeed in achieving them. He became especially popular after he conducted a sort of social experiment during the Great Depression of the 1930s – dressed as a poor violinist, he would stand on Michigan Avenue in the middle of Chicago and collect change for his performances of Schubert and Massenet. This experiment was recently repeated in 2007 by violinist Joshua Bell, who played in a Washington metro station during rush hour on a 1713 Stradivari violin valued at $3.5 million. Bell earned $32.17 in donations for this performance, while tickets to his concerts start at $100! A century ago, Gordon earned $5.61 from his own experiment – which, adjusted to the present day, would be 2.5 times that of Bell's metro station earnings!