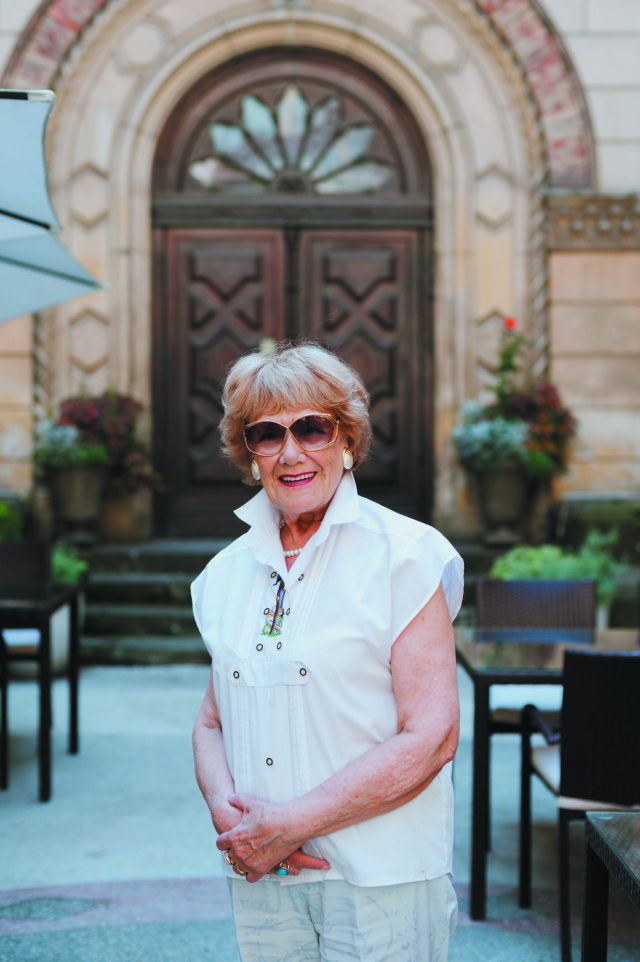 The Legendary First Presenter Of Odessa Television Nelly Kharchenko Talks About The Odessa Philharmonic Theater
It is difficult to choose a favorite place in Odessa. So many are special to me because of events that happened there, or their beauty, or their relation to my work with Odessa television for so many years. In fact, you could point out almost any spot in the city, and it would be a favorite with me for one reason or another!
Every time I come to Odessa, I always visit Gorsad (City Park), where as a child I walked with my mother holding me by the hand. I always loved the sea, the smell of it through the city. A favorite spot was on Lanzheron beach where the large concrete slabs used to be. I would go down through Shevchenko Park every morning, all of my youth… I adore any Odessa street that leads down to the sea.
But if I had to choose one place, I think it would have to be the Odessa Philharmonic Theater with its Moorish courtyard. Not only is it one of the most beautiful architectural sites in Odessa, but it has a very special meaning, even a cyclical significance to my life.
Do you remember that line, from Pushkin? "The time had come; she fell in love…" It seems those words could have been written about me in the spring of 1949. I was 17 years old, in 10th grade. Meanwhile, there was a boy attending the School of Stolyarsky. He was 18 years old, handsome, slender, very talented. I would frequently attend concerts at the Philharmonic — teaching myself to understand classical music. He took part in performances of gifted young musicians. We met and didn't part for more than a year.
In the grand hall of the Philharmonic, the fanciful arabesque motifs intertwined with European elements, the arched windows, the colorful stained glass — everything creates a majestic and romantic atmosphere. The sounds of "Introduction and Rondo-capriccioso" by Saint-Saëns from the stage… How can you forget the place where you first fell in love, the tenderness and purity of that feeling?
The talented boy, was the violinist Valery Klimov, a student of Beniamin Mordkovich and later of the greatest violinist of them all: David Oistrakh. He went on to win first prize in violin at the very first International Tchaikovsky Competition that was ever held, in 1958, the same year that Van Cliburn received the first prize for piano. Klimov left Odessa for Moscow, and eventually emigrated, like so many Odessan stars do, never to return to this city. I believe he is a professor at a German conservatory now.
Many years passed, I graduated from university and fate led me toward fascinating work in television. Meeting new people in the creative professions — great directors, musicians, actors — brought me to the Philharmonic again, but this time through the stage door rather than the front entrance. There was a great deal of work, I had to widen my horizons, explore this very new profession of a television presenter. I hosted concerts, took interviews, prepared new television programming, wrote scripts for shows.
A lot of this work was taking place in the beautiful Moorish courtyard next to the Philharmonic. The Actor's House was located there, and you could always drop in for a cup of coffee or a drink, set up a meeting, get some advice from veterans of the stage. On New Year's nights, the Actor's House put on comedy sketch shows, with the most talented journalists, writers, actors: Arkadiy Astakhov, Mikhail Vodyanoy, Kotov and Polyakova, Demina and Altman… All of Odessa dreamed of being invited to these, and I was fortunate to take part in them for some years. Later, a new generation of artists came in our place, but the tradition remained.
And so, in this place where I fell in love for the first time, my life and my work continued for years, up until the moment when I left the screen to work behind the scenes as television editor and producer — a symbolic arc, a long wonderful chapter. This building, an architectural masterpiece of the great Bernardazzi preserved almost in its original state, the great artists, the magnificent music, my first love, and a professional life that was full of passion, dedication and adventure. For me the Philharmonic is an oasis of joy, happiness and fulfillment. Of course, there were setbacks and misfortunes, but I truly remember only the good things…