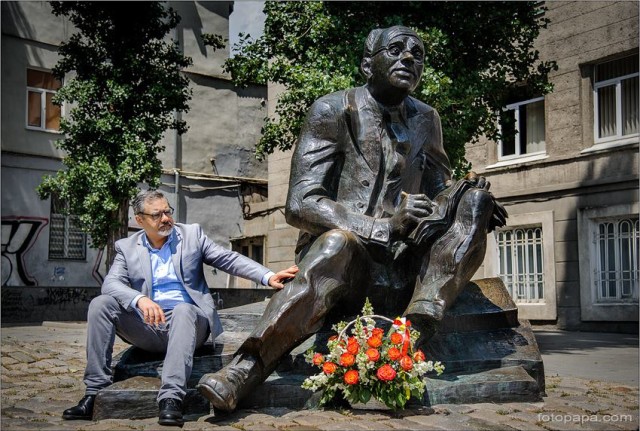 On July 12th and 13th, a celebration of Odessa's rich literary history will revive the public reading tradition and give a long-overdue tribute to a legendary Odessa writer.
It has become a truth nearly universally acknowledged that print, and the reading of printed material, is a dying art form. The modern urban lifestyle makes the carrying of bound books and newspapers unwieldy, the thinking goes, especially when smartphones or a tablet can fit thousands of volumes and stream breaking news on demand. And yet, when we pick up a gadget with the intention of reading a long book or serious text, too often we are carried away by the never ending stream of social network updates, snippets of news on Twitter, quick hits of pre-digested information that dilute our focus and overwhelm the brain.
Meanwhile, as the practice of devoting one's leisure time to the reading of books seems to be fading out, the tradition of reading books to each other has been lost for many years. From reading the classics of European and American literature we know that reading to a group of listeners, on quiet family evening or as part of social salon entertainment, was a popular pastime with the educated classes. Public readings by poets and writers also used to be more prevalent than they are today. That practice was bolstered by a culture that made celebrities of outspoken literary figures. Ironically, the idea of sharing, in modern speech, increasingly means sending a website link where the recipient can analyze the text by themselves. How different that form of grappling with the text is from delivering a vocal interpretation, in person, with all of one's love for the writing shining through.
The upcoming literary event on July 12th will look to bring back the tradition of public reading. Starting from the Literary Museum at the base of the Lanzheronovskiy Ascent and stretching to the Isaac Babel Plaza at the corner of Rishelievska and Zhukovska Streets, hundreds, perhaps thousands, of people will take turns reading out from works of beloved classic and modern Odessan authors for about 15 minutes each. The readings are expected to be performed in a multitude of world languages – Russian, Ukrainian, English, French, German, Moldovan, Armenian, Japanese, Chinese, Georgian, Estonian, Latvian, Lithuanian, Greek will all be represented.
The idea for this unique cultural event, certainly unprecedented in Odessa, originated with the Estonian entrepreneur Meelis Kubits. An enthusiast of the city since he first visited in 2007 Kubits had traveled widely and initiated successful cultural projects in a number of Ukrainian and European cities and was especially excited to make this literary celebration happen in Odessa. "The people in Odessa, the cosmopolitan atmosphere, the literary tradition — everything indicates that such an event will be successful. There are other cities — perhaps Minsk, Barcelona, Riga, Stockholm, Madrid — that would also be wonderful for a flash mob like this, but the circumstances are just right for Odessa this summer."
What Mr. Kubits means is that his affection for the city has naturally grown into partnerships and friendships that inspire creative initiatives. One of those friendships is with the eminent Odessan writer, satirist and cultural figure Valeriy Hait, who has long appreciated the importance of literature for Odessa's historic legacy — specifically what is known as the "South Russophone literary school" represented by such writers as Valentin Kataev, Ilf and Petrov, and of course Isaac Babel. On July 13th, on the 123rd anniversary of Babel's birth, Mr. Hait's efforts to mark this legacy will come to fruition with the inauguration of the Odessa International Isaac Babel Literary Award at the Golden Hall of the Odessa Literary Museum. The award is founded by the Worldwide Club of Odessites, with co-founders including the Odessa Literary Museum and Lidiya Babel, the writer's daughter.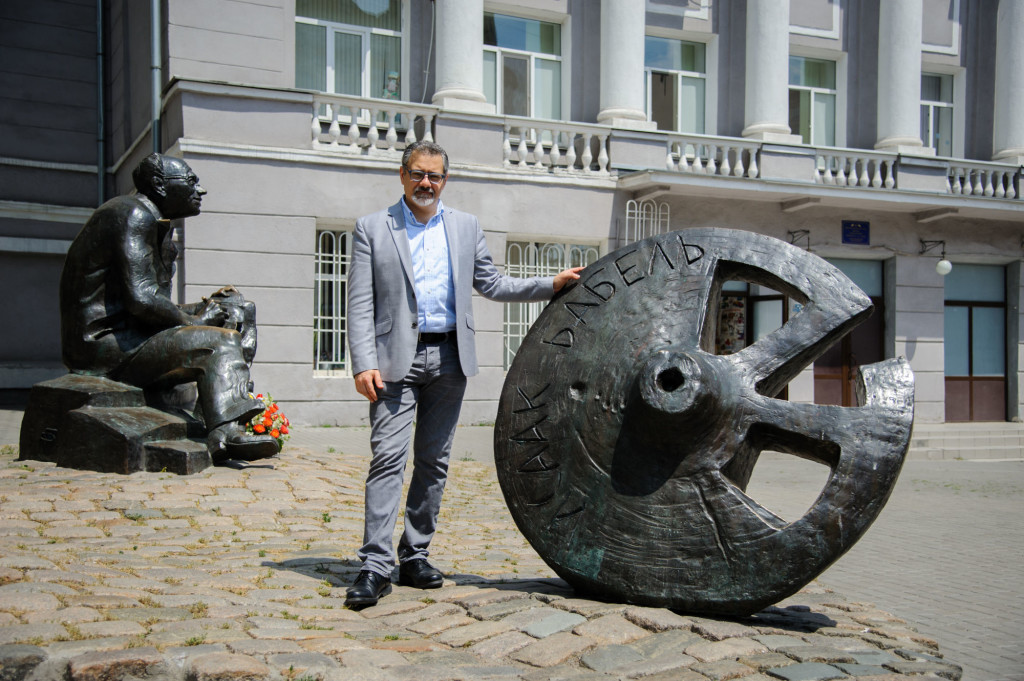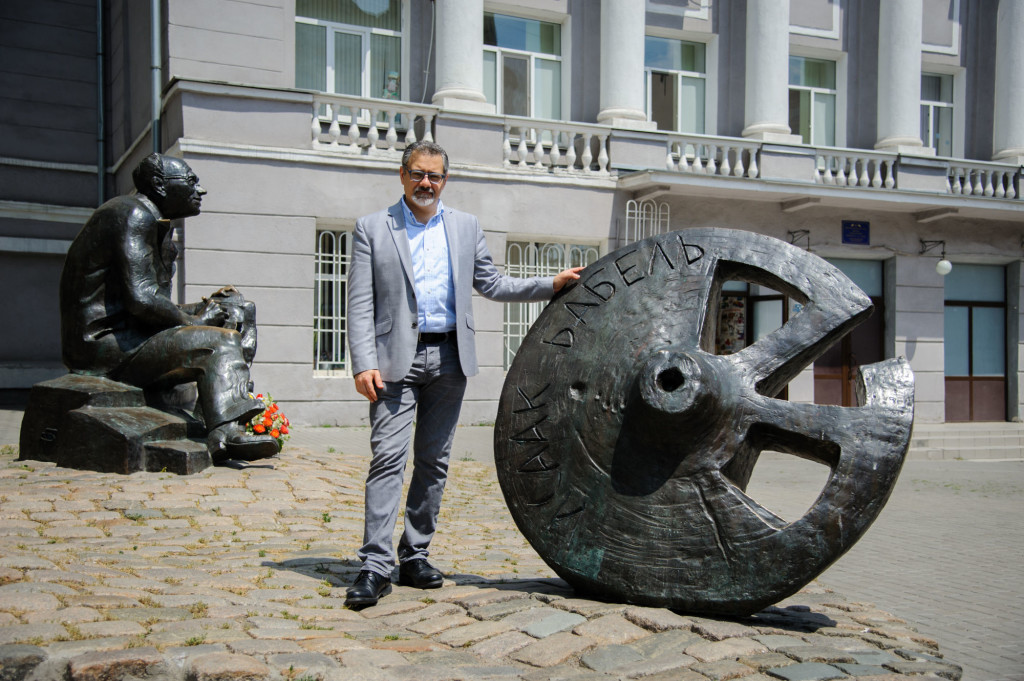 The idea of a reading flash mob took on a final shape when Mr. Kubits heard about the award presentation from his friend, and now the two events will comprise a two-day celebration, cleverly titled by Mr. Hait as "Odessa Chitaet, Odessu Chitaut" — Odessa Reads, Odessa is Read. "This is an important step toward the realization of our enduring dream: for Odessa to become a City of Festivals," Mr. Hait shares. "We hope that eventually, no day in Odessa will pass without a cultural event or festivity."
While local and international fascination with Isaac Babel's work is strong and long-established, this is the first official literary recognition in his name. Mr. Hait believes it is long past due: "If Isaac Babel hadn't been killed, if he could continue to work, out of all Odessan writers he was probably the one who was most likely to have been a Nobel Prize laureate… Like the greatest writers, he was a creator of worlds." The award is presented for the best short story or novella written in the Russian language — in keeping with the south Russophone literary tradition and the language of Babel's writing. Nevertheless, all winning and shortlisted stories of the Isaac Babel Award will be translated to Ukrainian, in recognition of the modern cultural context of the country, and offered to national print and online media for publication. Out of more than 300 entries, 15 have been selected for the shortlist. The organizers hope that the competition will bring renewed attention to the writer's legacy and encourage further research into Babel's lost manuscripts, which remain one of the great literary mysteries of the 20th century.
As Odessa is a famously multi-cultural city not limited by Russian or Ukrainian languages, the literary event will bring together diverse Odessan communities, highlighting these groups' own linguistic heritage, intertwined with the city's historic and literary narrative. The people of Odessa are the most important ingredient here, just as they were for Babel's stories, with an amalgamated identity worth celebrating. In fact, the Odessa International Film Festival is set to open the very next day after the Isaac Babel Award presentation, on July 14th, continuing naturally from the literary to the cinematic legacy. It seems that Odessa is indeed well on its way to becoming a city of cultural festivals, open to everyone. The Odessa Review takes part in the literary celebration by publishing an excerpt from the new English translation of Babel's stories by writer, editor and literary translator Boris Dralyuk.
Katya Michaels is Senior Editor at The Odessa Review.