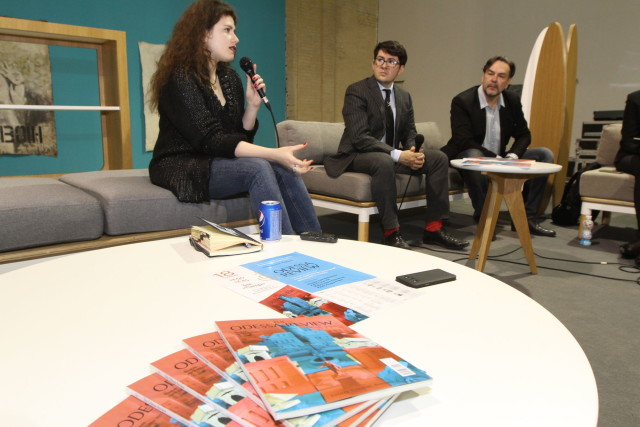 Over the last few years, the annual Knyzhkoviy Arsenal, or the "Book Arsenal," has grown to become the premiere destination for Ukrainian literati and book lovers. The sprawling grounds of the Arsenal provide an excellent space for the hundreds of book stands and dozens of concurrent readings and talks that take place during the four days of the festival. The festival has an extensive scope and brings together writers, publishers, translators and literary professionals from all over Ukraine for meetings with the interested public in a way that no other festival typically has.
Buzzing with young people attending literary presentations, book signings and publicity tours, the festival is an event that has been at the forefront of the development of contemporary Ukrainian cultural identity.
The editor of The Odessa Review, Vladislav Davidzon, presented the April/May issue of the journal during the second day of the fair (which appropriately enough took place in the "paper hall" of the Arsenal space) and led a panel discussion on contemporary Ukrainian Cultural Diplomacy. The lively debate featured the British-Ukrainian journalist, The Odessa Review contributor and gallery owner Myroslava Hartmond, along with Kennan institute head Kateryna Smagliy, and the renowned Ukrainian writer Yurii Andrukhovych.
The four speakers on the panel represented four different sectors and approaches to the cultural scene. Representing a more official viewpoint, Smagliy posted her view that the Ukrainian government is actually doing quite a lot to spread cultural diplomacy and that Ukrainian fashion is one of the most effective cultural exports of the country. The conclusion of the debate about the current state of cultural diplomacy featured a lively argument between Hartmond and Andrukhovych who took widely diffracting perspectives on the place of historical artifacts of Russian culture within contemporary Ukrainian culture.