On July 6th, Kyiv hosted the always eclectic and energetic Red Hot Chili Peppers at this year's U-Park festival. The world famous band coming to Ukraine was not simply another exciting night out. The California natives were the first major superstars to perform in Ukraine since tensions with Russia erupted in 2014.
As I waited in the rain for the Red Hot Chili Peppers to arrive on to the stage of Kyiv's Olimpysky Stadium, I observed the crowd in order to puzzle out the differences between Ukrainian fans and their peers at an American music festival. I should begin however with the tacit confession that I was a Red Hot Chili Peppers fanatic, one who collected obscure paraphernalia, spent time discussing concerts online with others and thought nothing of waiting 11 hours in the heat in order to see them from the front row. While I'd like to think that the obsession with them has passed, these past couple of weeks have proved otherwise.
The crowd assembled in Kyiv was composed of heterogeneous group of rock music fans that one can see all over the world. There were questionable looking cigarettes being passed around, arms covered with tattoos of the band's well-known asterisk logo, and people defending their standing space as if they were defending a castle. It made me feel at home when somebody tried to use the trite excuse of looking for their friend in order to shove past me to the front of the crowd. Luckily, music festival culture seems to be the same all over the world and had taught me better.
The festival's first band was Ukraine's hometown favorite The Hardkiss. The pop group is best known for their utilization of futuristic beats as well being the runners-up as the nation's representative at Eurovision 2016. The band certainly earned its place in this international line-up. Their stunning and forceful performance excited the Ukrainian crowd and set the course for the rest of the day's lineup.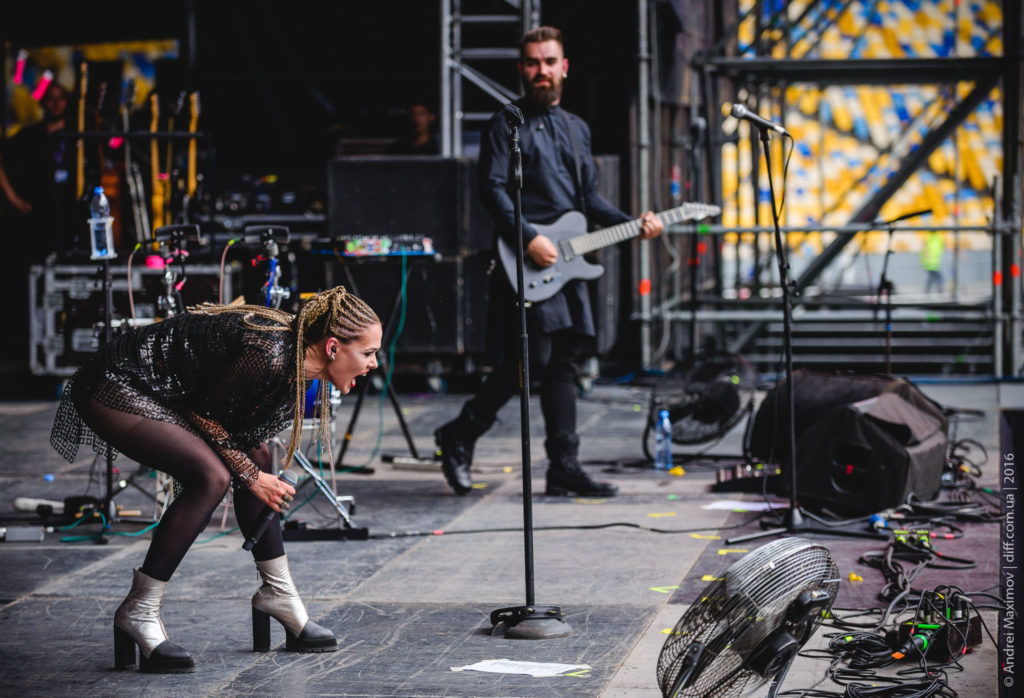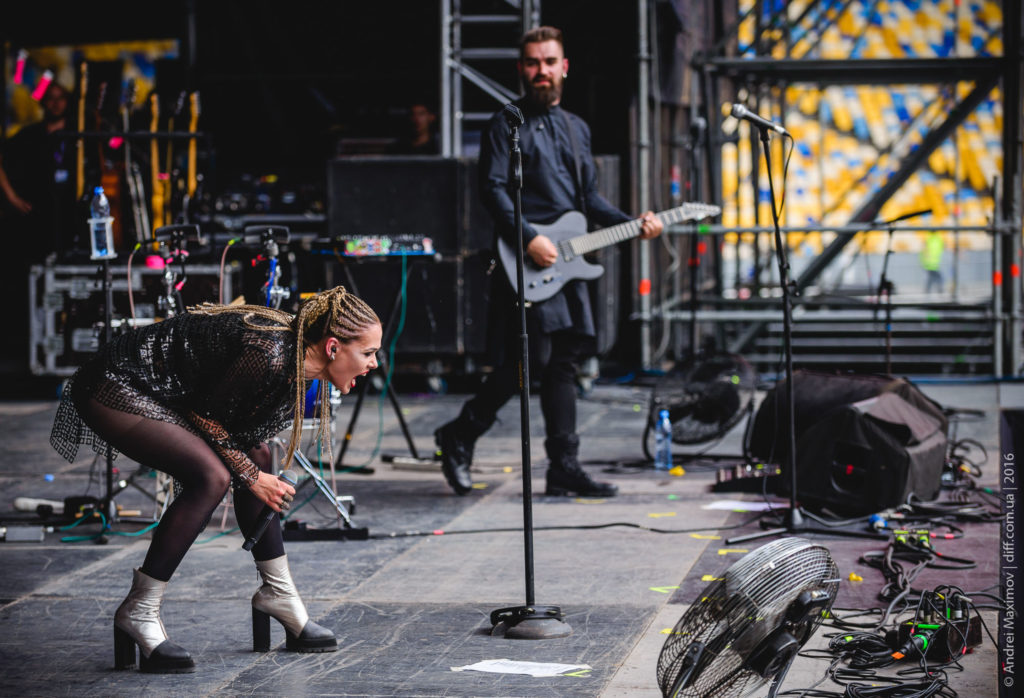 After some additional interminable waiting in the rain, the British outfit Nothing but Thieves stormed onto the stage. Lead singer Conor Mason has a powerful voice reminiscent of Freddie Mercury. The band's music distinguishes itself with its smooth transitions from melodic tones to heavy guitar and bass riffs. While they have only been together since 2012, their album's polished studio sound as well their cohesive identity seems to be fleshed out pretty well on stage.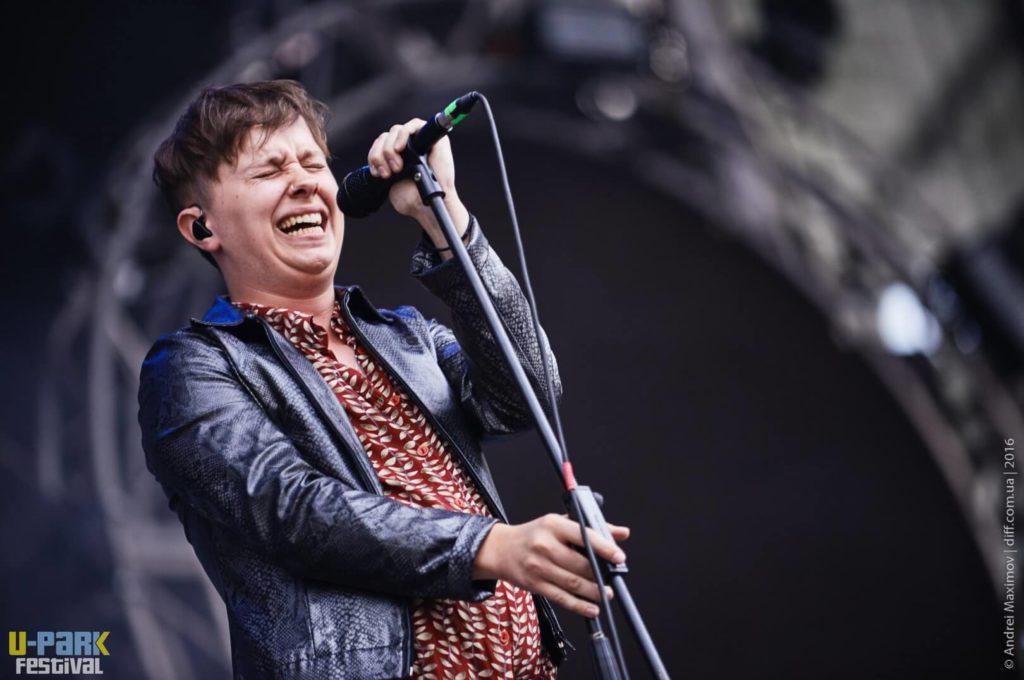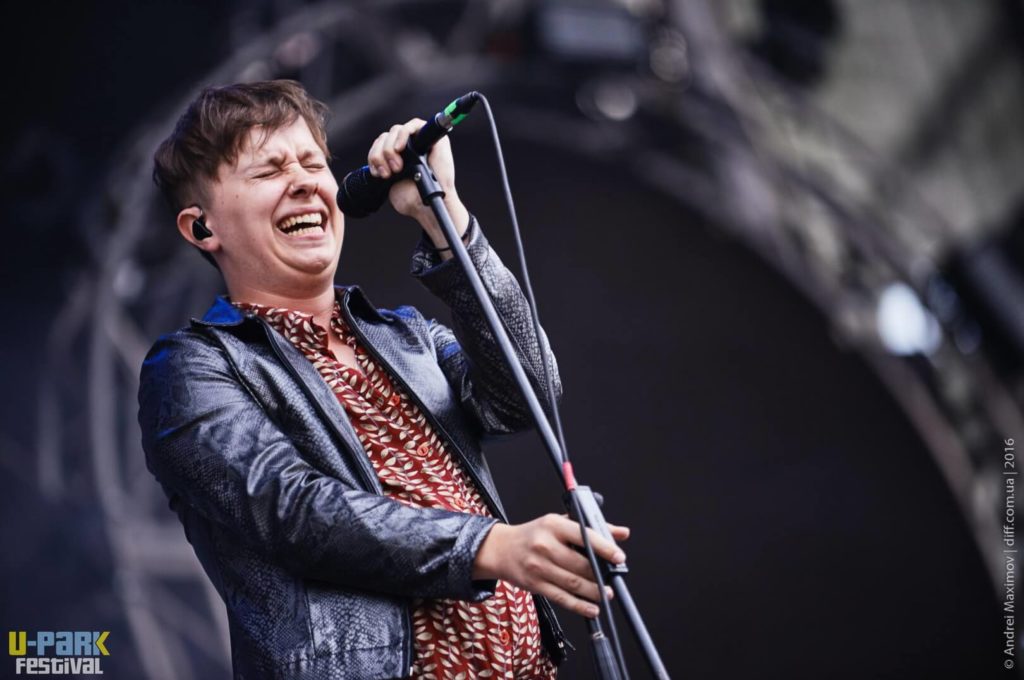 Then came the last opener, The Kills, an ensemble for which I have a particular affection. I first learned about this garage rock group a couple of years ago when I ended up at their winter concert in Brooklyn. My love for them was solidified when I heard their rambunctious lyrics: "I'm bored of cheap and cheerful, I want expensive sadness. Hospital bills and parole." Just like that snowy night in Brooklyn, The Kills left a memorable impression on this rainy day in Kyiv. The lead vocalist and guitarist, Allison Mosshart thrashed her body to the beat of the drums. The lead guitarist Jamie Hince added some solemn solos in addition to his backing vocals – his crooning voice complementing Mosshart's grasping, raspy vocals. Overall, it was an animated performance.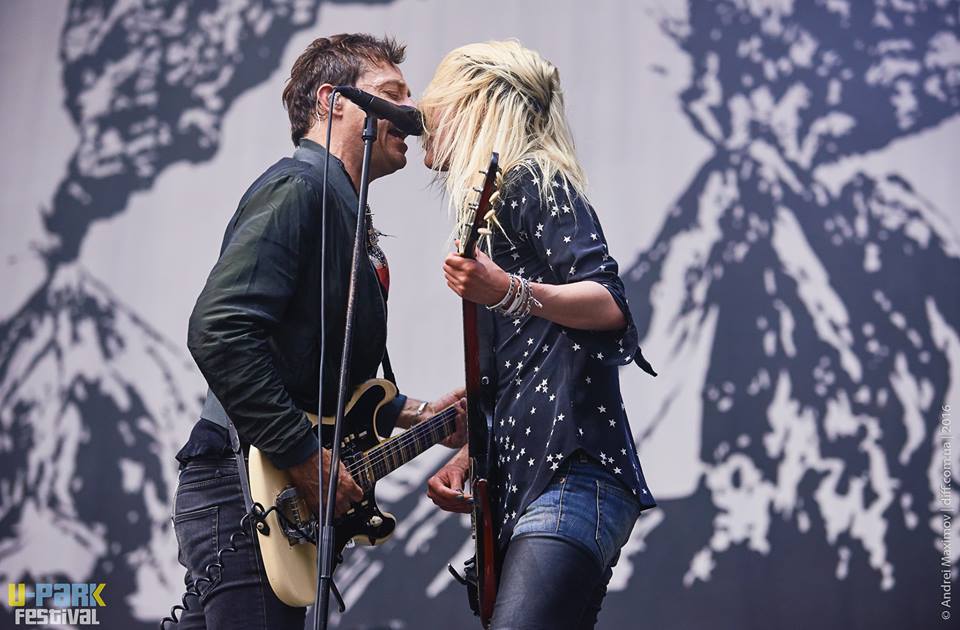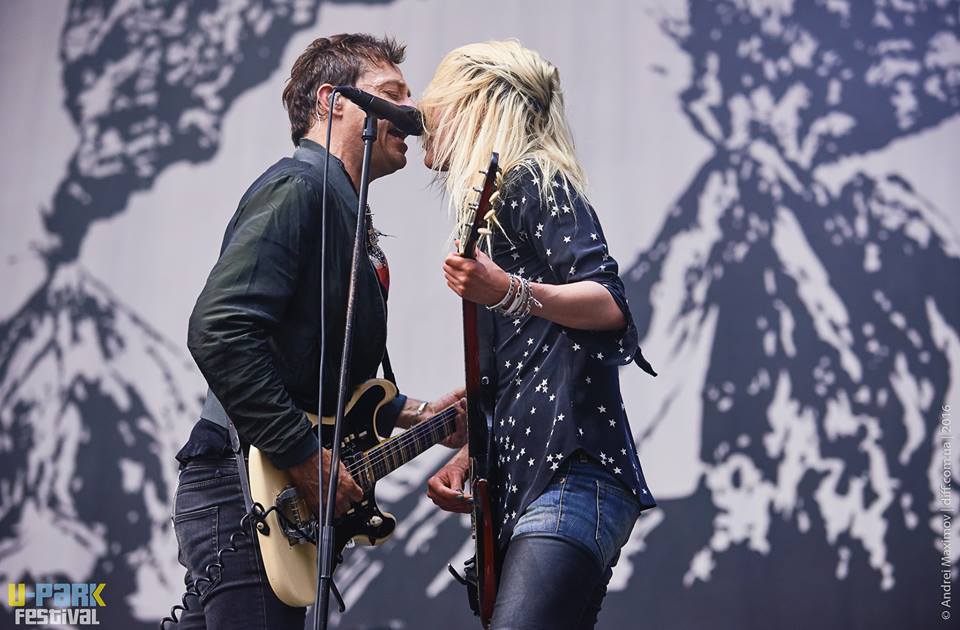 After Mosshart and crew left the stage, the atmosphere changed noticeably. The drenching rain finally ended, and a quiet excitement about the Chili Peppers rippled through the crowd as their road crew began setting up the stage. Eager for what was to come, the crowd chanted and began singing along parts of the band's classic hit, "Under the Bridge". This was the moment when I first noticed the difference between other music festivals and this one in Kyiv. Of course, people get giddy before the main event at any music festival. However, the celebrations here seemed excessive for an outsider (however seasoned by attendance at music festivals) and from the conversations I overheard, people were very expressive of their gratitude, considering the concert to be an incredibly important event.
In fact, they were correct to act this way. This was the first major international concert to take place in Ukraine since the beginning of the conflict with Russia in 2014. In fact, many well-known bands had cancelled their stops in Kyiv in 2014 (including Aerosmith, Peter Gabriel, and The National). There was one worthy exception, Thirty Seconds to Mars, who performed shows in 2014 and 2015. Speaking at their concert in 2014, the band's front man Jared Leto said "I understand that other bands have cancelled their shows, but there is no f***ing way Thirty Seconds wasn't going to be here in this beautiful city, in this beautiful country tonight." However, while Thirty Seconds to Mars is certainly well known, they aren't as big as the Chili Peppers. Which of course is not to ignore local and regional musicians who had consistently held concerts in the country throughout the political turmoil.
The economics of touring here have played a pivotal role because many Western European and North American musicians do not see Ukraine as a financially viable venue for playing concerts. While there is certainly a hunger for these concerts – I had always heard that Ukraine is a haven of Chili Pepper fans – touring here is less attractive because of the lower level of profit a band could possibly generate. There is a school of thought that posits that the only way a modern-era band can bring in money is through touring excessively. The relatively inexpensive tickets, the general decline of the Hryvna against the US dollar and Euro when coupled mixed with political turmoil (which mean skyrocketing insurance costs) makes the country unsuitable for bringing big acts. The fans at the Olympisky stadium were so genuinely excited partly because they understood that they would not get to see this type of performance as often as they had used to.
Luckily, the Chili Peppers met all those highly-set expectations head on. Every member exuded an extensive amount of energy throughout the concert. Lead vocalist Anthony Kiedis presented his strange brand of dancing during instrumental breaks. Veteran bassist Flea entered the stage by walking on his hands. Drummer Chad Smith threw approximately ten drum sticks out into the roaring sea of fans. Guitarist and back-up vocalist Josh Klinghoffer thrust his head back and forth as he hit his melodic chords. The songs were a catalog of hits such as "Scar Tissue", "Californication", "Dani California", and "Can't Stop". My favorite moment at every Chili Pepper show is when every member of the audience cries out the lyrics to "Under the Bridge" in unison, reaffirming the song's long-lasting influence and genuine emotion.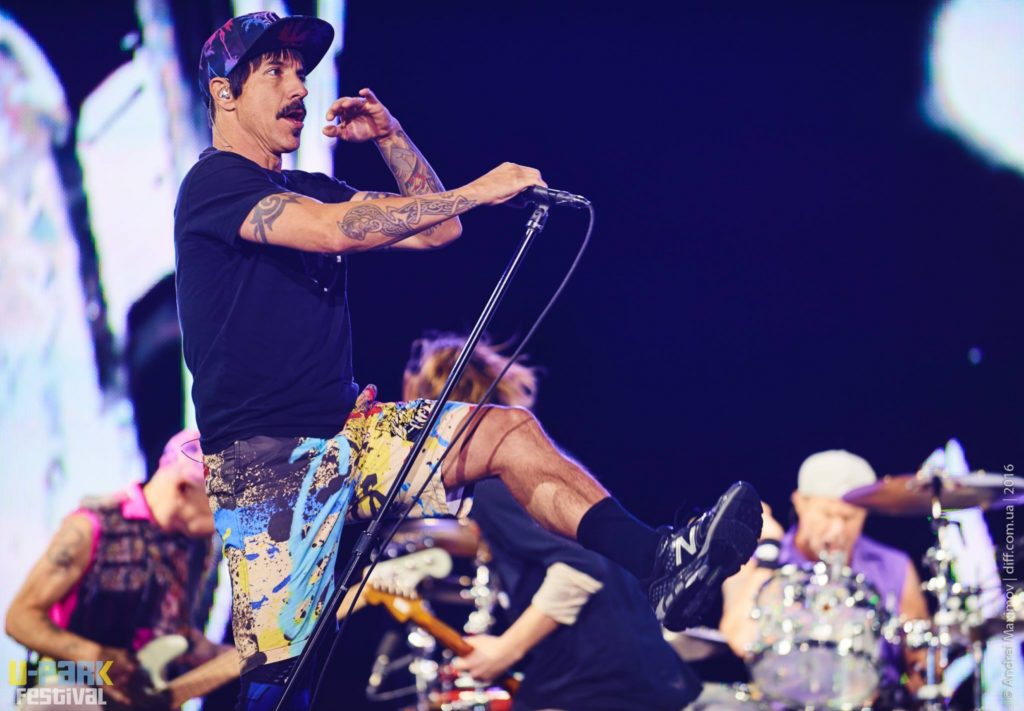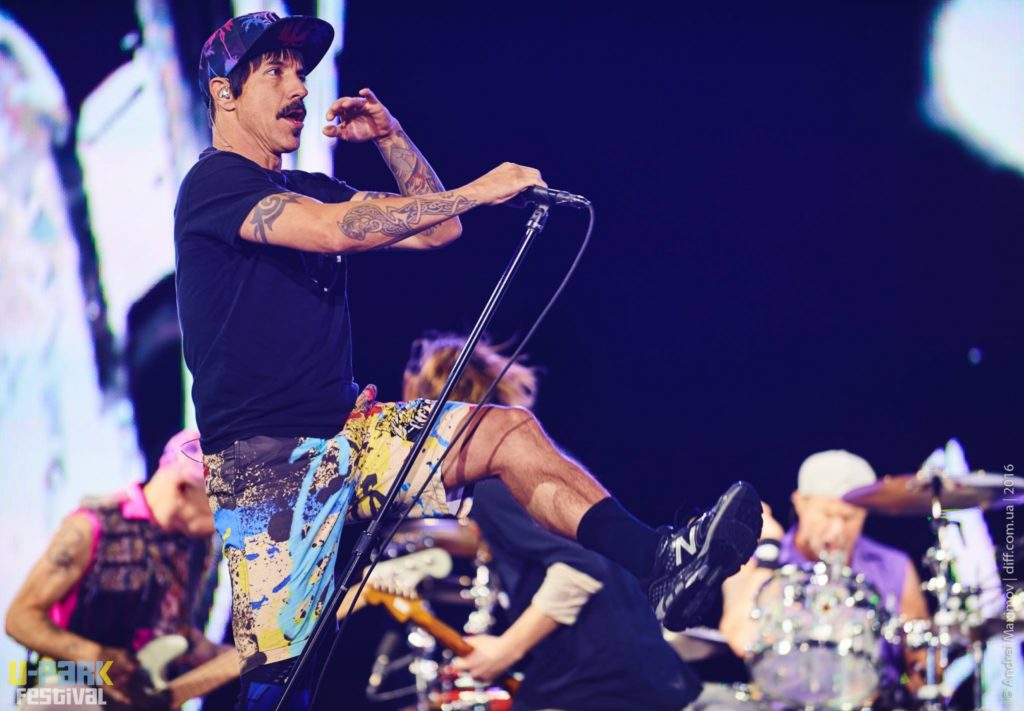 But besides the well-known songs, the band was in Kyiv in order to promote their highly anticipated new album, "The Getaway". The band performed 4 tracks from the Deadmau5 produced album. The album signifies an important transition away from their long-time producer, Rick Rubin, who is known for having molded the bands talent into what it is today. So far the album has gotten mixed reviews- some praise it for being a complete evolution into a more sophisticated sound, with others claiming that the group seem to be stuck in the same tropes that they have tinkered with for decades. I believe that the tracks on the album merit both readings. Guitarist Klinghoffer, who joined the band in 2011, seems to have become more self-conscious and has developed a more solidified sound in this album if it is compared to his previous work on 2011's "I'm With You". This maturation is well-noted on tracks such as "Detroit" and "Feasting on Flowers". The only trope that I identify on this new album is lead singer Kiedis' lyrical and vocal style. However, the Chili Peppers wouldn't be the same without his lovely whine.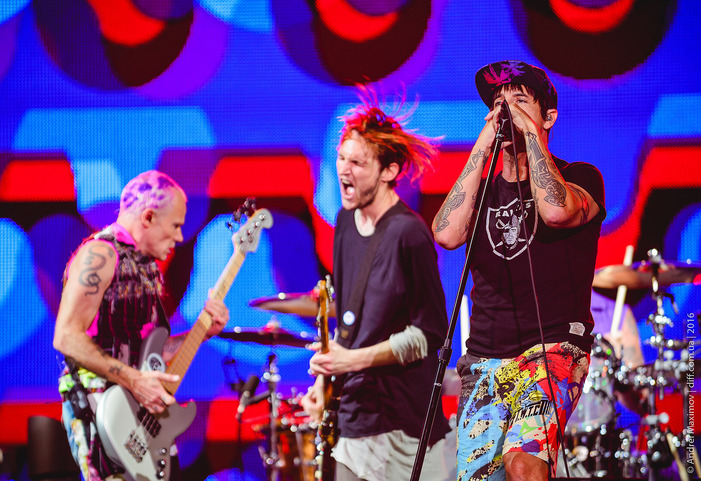 The concert ended as it began. Exasperated proclamations of love, fans hugging each other – I saw a girl in tears as the last member jogged backstage. As others struggled to get out of the packed venue, I waited in my front row spot and thought about how I'm consistently delighted with their live shows (besides this concert's serious sound problems during the song "Nobody Weird but Me"). They are an incredibly famous band who still seem to genuinely enjoy their symbiotic relationship with their fans. Their willingness to work where the fans are, rather than where the money and political stability are to be found, continues to excite me and other fans. They won't stay away from Ukraine for too long, and hopefully their good example will inspire other musicians to bring their talent back here.
Katya Maslova is an associate editor at the Odessa Review from America. All photos by Andrei Maximov.