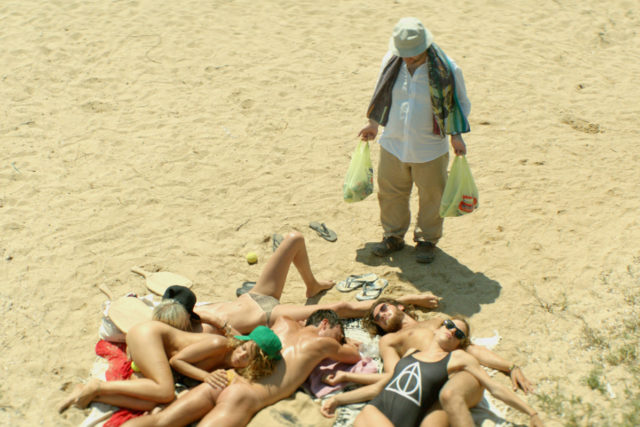 Many people daydream about an island vacation, where their responsibilities fly away as they lie out on the beach during the day and party heavily at night. Then there are the inhabitants of such island getaways who work hard in order to have a financially-sound year off a short summer of visiting tourists.
This is the expected atmosphere of the Greek film "Suntan", wild tourists and modest citizens. Of course, not everybody fits into their respective molds. Main character Kostis (Makis Papadimitriou) is the new local doctor on this island. His life hasn't turned out quite like he expected, he expected to be more successful, more sociable. In fact, he only interacts with people at his job or if somebody approaches him. 21-year old tourist Anna (Elli Tringou) and her friends do approach the doctor and he quickly falls in love with the libertine girl half his age.
The group is friendly with Kostis, until he begins to unnervingly stalk her and her friends. The innocent crush turns into something darker. The movie progresses with his unrelenting hounding getting worse and worse, giving the audience an inside look into this unstable person's logic and psyche. It's clear that he is attempting to grasp onto some sort of lost youth, that he believes she should love him out of pity for his unfortunate life. It could have been any friendly girl, not necessarily Anna, and he would've been just as insane.
The film's aesthetics glorify the joys of the traveling youth. There are lively shots of the young group playing in the water on a nude beach, dancing under flashing lights at nightclubs and of the group driving motorbikes down sunny highways. When the film focuses on the locals, the shots are more dim and the action in the scene is less animated. Those gloomy shots are of Kostis watching TV by himself, his cold doctor's office as he examines the bodies of the elderly locals, and Kostis buying multiple frozen meals at a small grocery store. It doesn't seem that this is how the other locals view themselves, the film is viewed through Kostis' disgust of his age-group and a veneration of what he thinks is true happiness.
Whatever the international jury thinks about true happiness at the Odessa Film Festival, they have quite the contender with "Suntan". This fierce film was the fourth piece that Argyris Papadimitropoulos has directed.
Also one extra note, there was a Q&A with actress Elli Tringou after the evening presentation of "Suntan". Odessites, ask better and more appropriate questions next time.