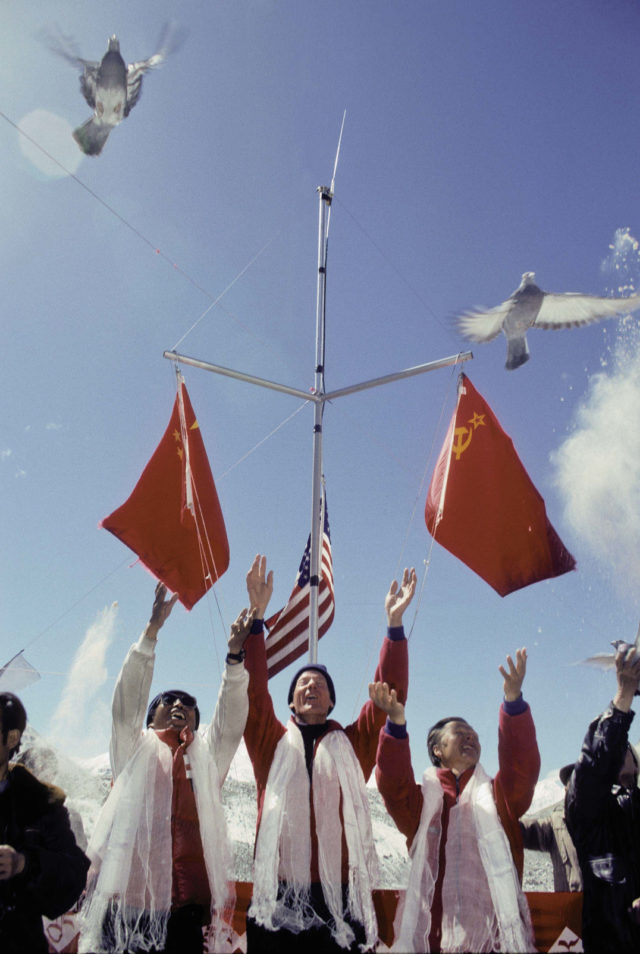 Recently, Odessa alpinism has marked 80 years of existence. There are still some eyewitnesses, living among us today, who watched the emergence of this sport in South Palmyra. There were many highlights in the history of alpinism in Odessa, one being the first Odessan who ascended Everest. Mstislav Gorbenko, the world-class athlete and head of the Odessa Alpine Club, shares his memories about "The Earth Day 20 International Peace Climb" that in 1990 brought together climbers from the United States, USSR and China to summit Mount Everest. He speaks about meaning of this expedition for his son. He also tells about KGB assignments that he did under the cover of night on the roof of the Kirch.
What happened 80 years ago, why is this date considered to be the birth of the Odessa alpinism?
Because Soviet authorities often tried to silence the achievements of Tsarist Russia, the year of 1936 is officially considered as the beginning of alpinism in Odessa. It is in this very year Alexander Bleschunov along with Professor Kirilov set up the first Climber's Club in Odessa. However, back in the 1890's Odessa of Tsarist Russia, the Crimean-Caucasian Mountain Club was established. Surely, all these people were amateurs, but there were many of them. Mountain climbing attracted nobles, scholars, even members of the Royal family. It looked rather like mountain hiking, or as they say today – trekking. Neverthe- less, they explored and did small climbs in the Crimean mountains, the Caucasus Mountains and the Alps.
However, I think alpinism as a sport only started in 1936, with mandatory camp trainings and competitions. Alexander Bleschunov's team mate Hanna Lerner-Stepanova is 96 years old today. She vividly remembers their very first expeditions to the Caucasus and Elbrus. Alpinism in Odessa began to become popular in the '50s and '60s. At that time, many universities built strong teams; and they stubbornly competed with each other. In my opinion, these years shaped the traditions of our alpinism.
Vadim Sviridenko led the first expeditions to the Pamirs and Tien Shan; he also paved the way to the Himalayas. Thanks to him, I became the first Odessan to ascend Everest in 1990. Before that in 1982, strong competition did not allow Odessans to join the first Soviet expedition to Everest; back then other Ukrainians, Turkevich, and Bershov climbed the highest peak of the world. I remember our climb in 1990 fondly and with gratitude.
How did you become an alpinist?
In 1972, I was in a mountain hiking group and at the foot of the Somoni Peak (Com- munism Peak) met climbers from Odessa. When I saw the difference in equipment, fitness level and climbing technique, I realized that it is time for me to move to alpinism. Next year I went to climber training camp, and then in 1976 became a first-rate sportsman.
Do you remember your first ascent?
Oh, I remember it very well. It was in the Caucasus, the Peak Koru. I was a ropemate to our trainer, – the honored coach of the USSR – Shakir Tenishev. I admired his long ice-axe, which was very fashionable back then. Our climb was successful.
When did you first find the idea of going to Everest?
You see in Soviet times, Everest was like a collection of sky castles, it was beyond our dreams. Especially since I was banned from travelling abroad. Our "beloved" KGB dug up some information on me, which I learned about much later. [Gorbenko laughs]. After the revolution, some of my relatives left for France. My cousin was involved in climbing too so I corresponded with her. She was sending over some reference books, for we did not have any available. Subsequently these contacts made me blacklisted and restricted from travelling abroad. It's funny that being a Director of the Alpinism Club, I did arrangements for teams departing to Italy, Germany, France, but the KGB always made me stay put.
As for the Himalayas, we did not organize any trips there at all. It was too taboo for us. It happened once in 1982 with federal approval (in honor of the 60th anniversary of the USSR), and that was it. Later, during perestroika time, I was able to go to Poland and Bulgaria. As for the participation in "The Earth Day 20 International Peace Climb", – I was officially invited by the national coach Vladimir Shataev. Twenty of the best climbers from the USSR were candidates for this team. Based on training results, I was among the five chosen athletes for the expedition. Can you imagine – I'm the guy who did speed runs on the slopes of Elbrus in crampons! [Laughing]. Nowadays, that' actually a sport – mountain speed runs!
Weren't you scared of the sad statistics? What you knew about Mount Everest?
Not at all. By that time, I already earned the "Snow Leopard" award. I climbed all five peaks of the seven-thousand meter mountains within the USSR – some of them twice. Also there was constant training for the Everest's expedition – which consisted of many mountain runs. Training lasted an entire year and was very intense. We went to the Caucasus, Tian Shan, Mount Rainier (Cordilleras). It did put me in great physical shape.
Who came up with the idea of an expedition to Everest?
His name is Jim Whittaker. A very reputable sportsman and the first American to reach the summit of Mount Everest in 1963. He was the personal trainer of President John F. Kennedy and his brothers. They climbed Alaskan mountains together. In order to make this expedition happen, Jim Whittaker sent letters to the heads of countries for 2 years, until President George H. W. Bush, Gorbachev and the Chinese leader gave their consent. By the way, last fall we all gathered in the States on the expedition's 25th anniversary.
As I have heard, you got very personal incentives for a successful Everest climb. Moreover, it was related to your son. Can you talk about it?
Sure. At that time, my son was just 2 months old and had already underwent multiple heart surgeries. I was told by our excellent doctors, in Moscow and Kyiv, that they did not have neither the appropriate equipment nor the means for his treatment. All of it is available in the States, but Soviet citizens can't earn that amount of money for American surgeries. When I became a member of this international team, I cherished the thought of getting him help from the States.
I sent a request to a Seattle hospital right from base camp after the expedition. Two weeks later, I received an invitation to the USA and our family flew there. Our young son, Rustem, got successful surgery and is in now competitively playing chess. By the way, all of my children have done some climbing.
Are you planning a memorable climb for the 80th anniversary of Odessa alpinism?
It has not been announced as of yet, but there is idea to reach the summit of the beautiful Himalayan peak Ama Dablam via a new path there. We will sort our plans soon.
Climbers have always been under scrutiny by the Soviet authorities. What about you?
Some interesting episodes took place in Odessa. The KGB has approached me twice about the same issue. As you know, the tallest building of Odessa in those times was the ruined Kirch building. Protesters used its peak to hang up banners. The KGB has always been vigilant against such things, however since none of the fire trucks' ladders could reach the top, a KGB officer asked for my help. It was quite a dangerous night climb, even for an experienced climber like myself. It became clear much later that these anonymous protesters were not CIA agents or hooligans. In addition to the banners, sometimes they hung sheets, old shoes, anything that students could find in the dormitories. Odessa had some romantic young climbers!