Aleksander Yourz, the chef of Odessa's Bernardazzi restaurant, is bringing painting to his kitchen and creating a new culinary style known as "Gastropunk". A profile of Odessa's most promising young chef.
Odessa's "Bernardazzi" philharmonic — an imposing Venetian Gothic Revival building — is a historically important spot for both locals and guests in the city. The eye-grabbing facade combines Florentine Renaissance forms with ceramic tiles, marble and stained glass decorations. On the third floor is the Philharmonic Theatre, the place to find magnificent music and classical melodies. Meanwhile, the second floor's wooden interior and muted lights, combinated with sonorous laughter and sincere conversations, create an atmosphere of celebration. But the most distinct place is the first floor, which boils with activity and workers rush to prepare the tastiest food for their guests on the second floor. This is the kitchen of the Bernardazzi restaurant and the beating heart of the establishment.
Entering this space, you'll see plenty of paintings. It initially seems like more of a gallery than a restaurant kitchen. The staff moves quickly and deftly. The sounds of splashes and gurgles slowly blend into a symphony. Instead of finding meals, you're more likely to see colors and creative forms reminiscent of abstract painting on your plate. You see orange, red and yellow mountains interspersed with vivid drops of white. In fact, this is one of Odessa's favorite meals: sweet pepper with nuts and brynza cheese. The next meal is full of maroon tones, and the beetroot lies center stage on the plate. The kitchen may seem straight out of a fusion restaurant, but it is also very traditional. This is chef Aleksander Yourz's main goal: to create a new perspective on Ukrainian cuisine.
Yourz says you can easily tell the character of a chef's work and whether there is a person in the kitchen who curates the process by simply looking at the presentation of the dishes. Thus, today Yourz is focused on more than just cooking. His aim at the moment is to increase Ukrainian cuisine's creative representation on the global stage. "Nowadays, it's not enough for a chef to just prepare food", he says. "We have to produce more creativity and more philosophy in relation to our culture".
Yourz chooses to prepare food mostly from local ingredients. His team's challenge is to find a quality product and then prepare in an interesting way that allows the guest to feel the meal's different harmonies. It's a process that involves constant updates, but Yourz always strives to make the meal airy and colorful. He says the most magnificent thing about food is its ability to bring back memories. As he helps revive Ukrainian and Odessa cuisine — two culinary cousins — his meals summon a sense of nostalgia.
Although Yourz's food looks like artwork, he does not pay much attention to preparing the look of the meal in advance. Different textures and colors seem to improve the dish itself, and the food simply needs to go on the plate in harmony and in the right proportions. Instead, Yourz's approach to creating the presentation can be described as improvisation or freestyle. He wants to reach beyond food and insert creative art into the restaurant, to bring more color into the work space and the process.
"A chef is a person who cooks what he feels, because food is energy", he says. And you'll remember these words when you see what he produces — bright, natural colors; diverse forms; a mixture of neatness and chaos.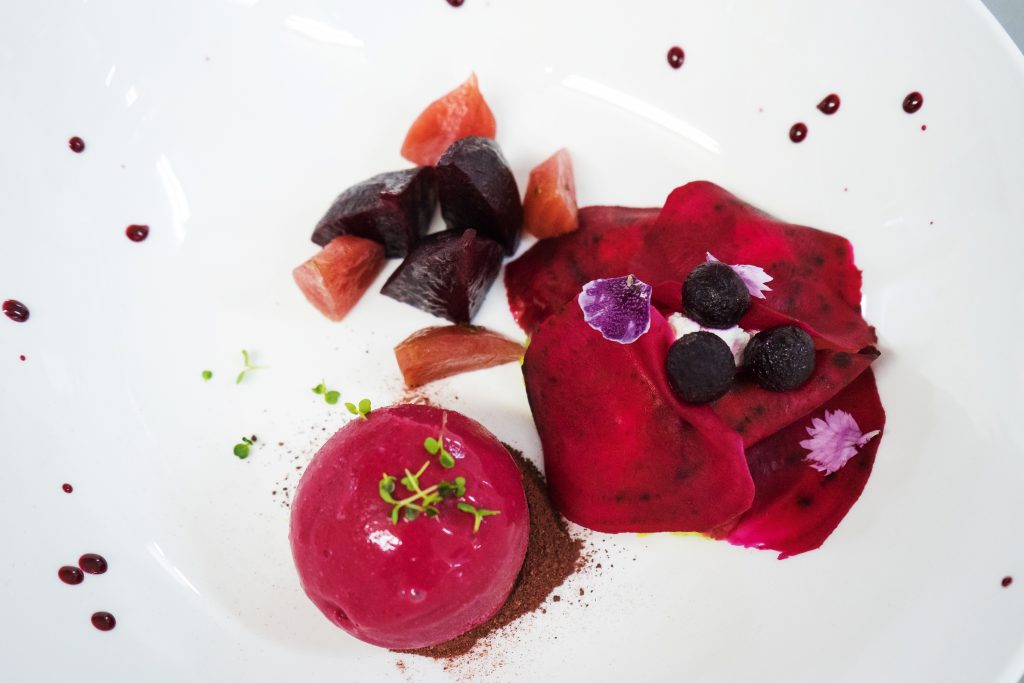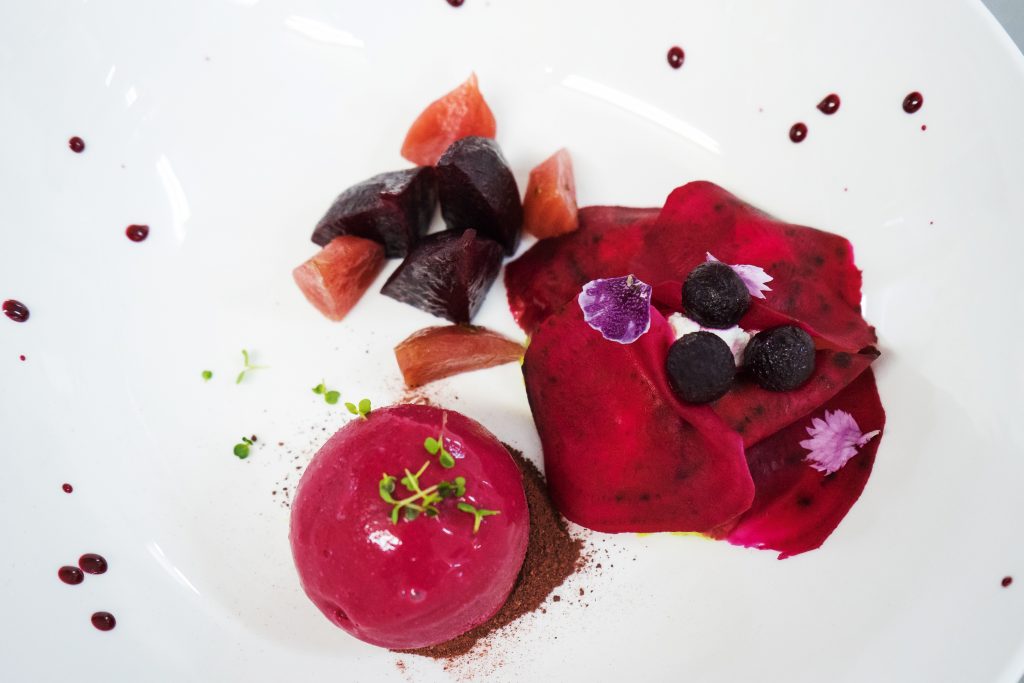 Yourz loves to travel and visit museums and galleries. Both classical and modern works of art can direct him to new ideas. He has been interested in art for a long time. His social circle largely consists of painters, DJs, architects and photographers — people who bring more inspiration into his craft. In fact, Yourz is a painter himself. A few of his canvasses even hang in the Bernardazzi kitchen, giving his workplace a splash of color.
He views his kitchen as an art space. As a result, its atmosphere is very important to him. It should feel like a second home so that the fifteen people in his employ — all with different personalities and moods — can successfully work together there. He hangs paintings and posters so that the kitchen staff is not surrounded by gray walls.
"The difference between the kitchen and the the arts is that, compared to music or painting, a dish must be repeatedly cooked the same way every day", Yourz says. "And every day you need to find a product of the same quality. And the chef's challenge is to balance it all. This process makes you think and find new ways to create".
Two works by Banksy hang in the Bernardazzi kitchen to inspire the team. And like the England-based graffiti artist, Yourz is also bringing innovation to his art form: he has invented a new direction in food preparation called Gastropunk. He describes it as a way to break the rules of the kitchen and cross boundaries. It came from Yourz's efforts to separate working from the creative process. Gastropunk gives you the opportunity to break away and do something crazy as a chef, he says. It may not always be accepted by everyone, but it is the freedom of action that everyone needs.
And, after a while, people have started to follow Yourz's path. In the future, the Bernardazzi chef hopes to share his vision with more people to help them loosen up and bring a breath of fresh air into their cooking. "Guests to Odessa want to taste our food and we want to give them more of our products, to show off those ingredients that will not be cooked in other places", Yourz says. "We are interested in showing the world Ukrainian cuisine with a new look".
Yourz lived outside Odessa for three years. When he returned, the city had visibly grown. New restaurants and bars had opened. In his mind, this progress is a positive step. But there is still more work to be done. Out of around 50 restaurants, maybe five demonstrate an impressive level of quality.
"I believe that Odessa has a great future and the city can outdo both Kyiv and Lviv in terms of gastronomy. I think that, in five years, we will set the pace and make a much more serious impact", he says. "We will get into the world ratings. I'm sure of it".
Masha Sotskaya is an Assistant Editor at The Odessa Review.