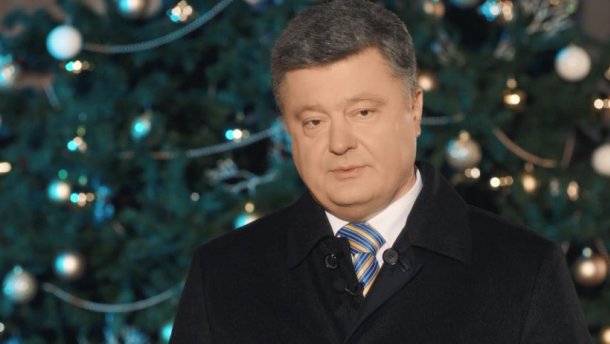 In Russia, popular opposition leader Alexey Navalny gave an address. In Ukraine, former Georgian President and Odessa region governor Mikheil Saakashvili gave a New Year's stump speech. Surely, if they can seize the presidential address tradition, we all can.
Dear readers of The Odessa Review,
With the New Year firmly upon us, the hangover and food coma following New Year's Eve (hopefully) fading, and the leftover olivier salad gradually decomposing in the refrigerator, I would like to seize the moment to issue a chief editor's New Year's address.
True, I am not the editor-in-chief of The Odessa Review (that would be Vladislav Davidzon), but that is exactly the point of my message. This New Year's Eve brought our region of the world an unexpected innovation: presidential addresses from non-presidents. In both Russia and Ukraine, the opposition took to the internet or the TV to give its own hot take on the year ahead. Surely, if non-presidents can seize the presidential address tradition, we all can.
Why is this a worthy development? Let's first examine the tradition of the New Year's address.
During much of the 20th century, the Soviet leadership gave a radio and, later, television New Year's address to the population. The speech was an opportunity to acknowledge the challenges faced by Soviet citizens, spout platitudes, take political stock of the year, and direct the public towards the "bright future" — a Soviet cliche that, like the horizon, was always ahead of you, but also very far beyond your reach.
Interestingly, the first New Year's speech-giver — in 1935 — was not General Secretary Josef Stalin, but Central Executive Committee Chairman Mikhail Kalinin. And during the de-Stalinization that took place under Nikita Khrushchev, the Soviet powers-that-be decided that the New Year's address should be impersonal, coming only from the Communist Party's Central Committee, the Supreme Soviet, and the Council of Ministers.
So how did New Year's Eve become a time for a presidential address? Blame or praise maybe should be placed at the hands of Leonid Brezhnev, who gave a mumbly televised New Year's speech in 1971 — and then reappeared in 2014 as an autotuned meme. It wasn't a straight shoot from 1971. Brezhnev grew infirm, as Soviet leaders were wont to do, and missed some New Year's addresses. Hearse-racers Yuri Andropov and Konstantin Chernenko, whose time in power was brief, also took sick leave of the practice. But a tradition was nonetheless born.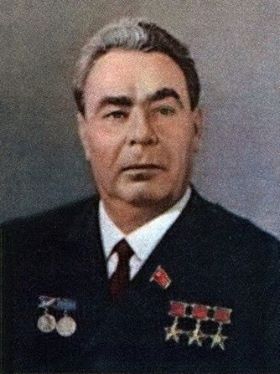 Move over, Dick Clark! Leonid Brezhnev invented the much more staid, Soviet version of "New Year's Rockin' Eve."
This New Year's Eve, Russian President Vladimir Putin gave an address that, surprisingly, failed to even mention the events of 2017. In Ukraine, the New Year's address began with short speeches by Akhtem Chiygoz, a Crimean Tatar leader recently freed from Russian imprisonment; Pavlo Budayevsky, a Ukrainian serviceman who won four gold medals in the Invictus Games for injured soldiers; and actress Ada Rogovtseva. Then, President Petro Poroshenko took over and gave a distinctly political speech. He praised the Ukrainian soldiers fighting in the Donbas, thanked Ukraine's international partners, hailed the new visa-free regime with Europe, and called for improving the standard of living in the country.
But with the growth of the internet, New Year's addresses are no longer exclusively the territory of those who control the state and its television companies. This year, the opposition also took the opportunity to play president. In Russia, anti-corruption crusader Alexey Navalny — who is not even allowed on Russian state television — issued a short video address over the web. With the characteristic candor that has made him popular among young Russians, Navalny noted that the Kremlin behind him "is, for now, a drawing." Despite that hint at his political aspirations, the message was largely festive. Navalny noted that he had spent the year travelling the country, and praised the people he had met. "Be yourselves, but stay good people who act properly and honestly in any situation," he said.
Navalny's address is easy to interpret. Right now, he is the most dynamic politician in Russia and he was recently blocked from running for president. His New Year's address is a means to further raise his public profile and humanize himself before the country's electorate, to essentially become the "president in opposition."
Meanwhile in Kyiv, former Georgian president and Odessa region governor Mikheil Saakashvili chose a different strategy. In his eight-minute address — read in highly accented, passionate Ukrainian and broadcast on the ZIK television channel — the mercurial politician again called for the impeachment of Poroshenko and declared that it is impossible to work with the current Ukrainian authorities. "They don't believe in Ukraine, but we do," he said with a dramatic wag of his finger.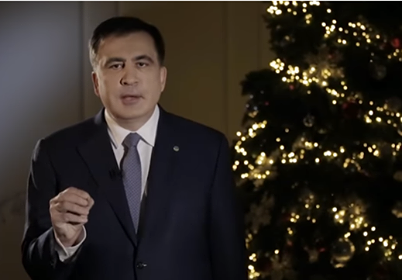 If this guy can do it, surely we all can.
Unlike Navalny, whose star is rising, Saakashvili's is falling. There was a time when he was, arguably, the president in opposition. But now the Georgian-Ukrainian politician has been stripped of his Ukrainian citizenship and stands accused of playing political footsie with a fugitive Ukrainian oligarch with close ties to Russia. He most recently made international headlines when his supporters clashed with police while attempting to storm Kyiv's October Palace concert hall mid-concert. There are signs he is preparing to leave Ukraine. His speech was perhaps throwing a metaphorical life preserver to his small, but dedicated following — people who are willing to bust him out of police captivity, but don't constitute much of the Ukrainian electorate.
If these two men — in different countries and different political predicaments — can give presidential addresses, then I say: Why can't we all? Surely, there's no harm in each of us thinking about and saying what we would do as president. Mahatma Gandhi is credited with the quote: "Be the change that you wish to see in the world." This year, give the New Year's address that you wish to see in the world. How do you feel about the past year? What would you like to see happen in your life and your country in 2018.
Give that speech — to your loved ones, your friends, to yourself in the mirror — and then make your wishes come true. There is even some evidence that talking aloud can help our memory, increase our confidence and attune our focus. So if you want to accomplish something in 2018, you won't be worse for wear saying it aloud.
Andy Warhol once remarked: "In the future, everyone will be world-famous for 15 minutes." After this New Year's Holiday, I hope that, in the future, everyone will pretend to be the president for between two and ten minutes. And we will all be better off for it.
Happy New Year! З новим роком!
His Excellency President For Life and Supreme Leader Matthew Kupfer.
(Okay, perhaps that's going a bit far…)