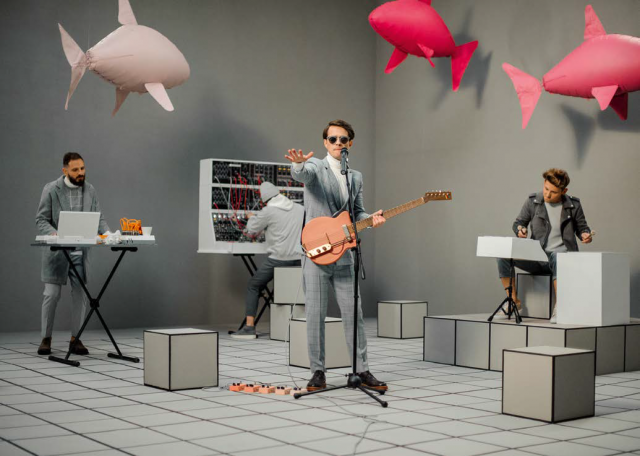 Thanks to their 'Knock Knock' music video the band has become well known in dozens of countries. Their videos are creative and dashing and they already have a European tour and a performance at the Sziget Festival under their belt. The band may look as if all of its members were born in Britain. Yet Brunettes Shoot Blondes is from an industrial Ukrainian city.
Kryvyi Rih has never been an important place on the Ukrainian culture map. It is generally thought to be a city with a depressing atmosphere pock marked with bleak urban views. 'Metallurgy' is probably the most used word when we speak of Kryvyi Rih. To look at that gloomy cityscape, you'd never imagine that vibrant cultural life existed in the city as well. Yet, it is a fact of life that quite often people who were born and raised in Kryvyi Rih have become important players in Ukrainian show business. Their talents are praised in the bigger cities of Ukraine as well as abroad. One of the most intriguing is the popular Ukrainian indie-pop band, "Brunettes Shoot Blondes", formed in Kryvyi Rih in 2010. In 2014 dozens international mass media wrote about them — from Rolling Stones to USA Today. How come?
Incentive, ambitions, motivation
We spoke with the frontman of the band, Andrii Kovalev, in a Kyiv recording studio. The band is now based in the capital of Ukraine. This critic enjoined Andrii to reminisce a little bit about his experiences.
The unpleasant atmosphere in Kryvyi Rih gives impetus to those who have ambitions and a desire to grow. Those living in Kyiv, have a different lifestyle, unhurried, as if time does not matter,' Kovalev said. Then he began to tell me about a different side of his native city and of the characteristics that are not always obvious at first glance.
'In Kryvyi Rih there are some places where all the artistic types gather. We have a decent jazz school. One of its representatives is Efim Chupahin, who lives and works in New York.' There's also the local cultural centre ШЕLTER+, which played a significant role in the destiny of Andrii and his band. Though the first concerts were not successful, the center offered the band its support. Kovalev could practice his music in its confines free of charge. 'There were some people there who if they saw talents and a thirst for art, would help. They said: 'Now we're helping you. If you succeed, you can help us.' Andrii is grateful to ШЕLTER+, and this is the best advertisement for the club.
Virtual power
When Andrii was ten years old he was given his first computer. With a smile on his face he remembered the era of dial-up when modems producing sounds similar to the soundtracks for horror movies. 'My modem was 2 MB/h. If it had been 2.8 MB/h, I could have downloaded a song in an hour and a half if the connection was good.'
When in 2012 "Brunettes Shoot Blondes" decided to make their first video, the internet was a thousand times quicker. The song could be downloaded in several seconds. YouTube was becoming more and more popular. But this young band was quite old-fashioned in some ways and they yearned to appear on TV. Bands which had their videos televised several times a day instantly became famous and had a built in fan base. That's why the video 'I don't know' is trivial; the boy singing, girls around, the car in the picture. 'It was popular on TV then, we wanted to fit the format. Later it was clear that nobody really liked it. Only a few channels wanted the video,' Andrii laughed. Two years later they would change their tactics. Ukraine understood that more and more interesting videos could be found online rather on music channels. Kovalev remembered thinking: 'why should we go in for TV? Anyway, they would want us to do what they like anyway. And, of course, they did not want a band with English songs. There are lots of bands with English songs in the world, why should they take some guys from Kryvyi Rih?'
Thus the musicians' decision to opt for You- Tube. It was there that they found a community of like-minded people who liked their music.
Knock Knock and an international breakthrough
By 2014 the term 'viral video' was already in use and Kovalev understood that only this could help the band reach their audience and showcase the band's music, if perhaps not to millions, but hopefully at least thousands of people. Andrii didn't have an Iphone 5, but considered the phone model to be stylish in design. He thought it would make a beautiful shot. The only thing left was to come up with an idea. And they did it. 'Once when I was at university I had a close look at some laptops which had been placed close together. I thought that it would be great to create a cascade effect: the story would begin on one screen and then it would move to another and so on. I shared my idea with our drummer Roma Sobol. He said: Why not?' Having no budget they wanted to make an impression and decided that Andrii would be the director. His friends from SYT-X added animation. In addition, his friends lent him 14 gadgets — mostly iPhones and iPads. The process took several months as nobody wanted to rush things. The concept for the music video was to create the illusion that it had been shot entirely by phone (although, it was in fact filmed with a digital camera). The picture was not polished. The idea was to enthrall the audience with the romantic story of a girl and a hare.
The video premiered in September 2014 and for the first five days after its release, there was no noticeable public reaction. Kovalev began to think it was a flop. He said to himself: 'We did what we wanted, we'll have a hit next time.' However, within 10 days of release, the video had 600 thousand views on YouTube. Two months later the number was at 6 million. This was done without an advertising budget. The music video quickly reached audiences in Europe and the USA. The band was soon being mentioned by major media such as the Daily Mirror, Huffington Post, Billboard and Daily Mail. Technology has advanced since then. I asked Andrii: Would you change anything if you filmed it today? He says: 'I would add some devices with unusual shapes which were not in use back then, for example, smart-watches.
Date With a German Auto Giant T
two weeks after the video premiered, the band was in the spotlight of the Ukrainian and international press. The musicians found themselves receiving numerous letters, with a message from the advertising agency Scholz&Friends Group being among them. The German company wrote: 'We have a client, Opel, introducing a new navigation screen. We would like to create a promotional video as a promo. We have a budget for this which you may use it as you see fit. The only thing we need is a video in which there is this screen.'
'When musicians spend eight hours a day in the office and then have about an hour to write songs in the evening that is one thing. To live your life as an artist all the time is yet another thing. A project like "Bittersweet" would be impossible in the countries of the former USSR. Nobody would give money to a band that had not yet proven itself. That would be a great risk. But in Germany they can take risks, they have this so-called safety margin. Even if we got zero views, it would not harm them in the long run.' Andrii also found that every country has its own peculiarities and its own perception of Europe. In Hungary he had a conversation with a man who said: 'Europe begins on the borderlines of Hungary. Austria is Europe.' After that Kovalev understood that should he go to Austria, he would be told that Europe is Germany. 'Each and every one has its own idea of sadness and happiness' he concluded. In 2016 the band performed at Colours of Ostrava in the Czech Republic. Kovalev really enjoyed the event and was amazed by the fact that this beautiful event took place in a city that so strikingly resembled his native Kryvyi Rih. There were lots of industrial plants with many of them being neglected. There was even a metallurgical one that reminded him of home. 'During the first month of negotiations I did not believe anything would come of it" Kovalev revealed. "I thought that this agency, working for a famous brand, wouldn't really be willing to collaborate in the end. It was a mistake. Because when we finally agreed, there was only one month left. I was afraid that we would fail' 'Despite the fear, we began to work.'
It was agreed that the video would be for their song "Bittersweet". All the members of the group almost forgot about sleeping for the duration of that month. The lyrics were written at the last minute — before filming was to begin a third of the text was still unfinished. The musicians had to bring in some creativity and gumption to fill the gaps with action. Kovalev did not know what to sing, which forced him to miss some shots.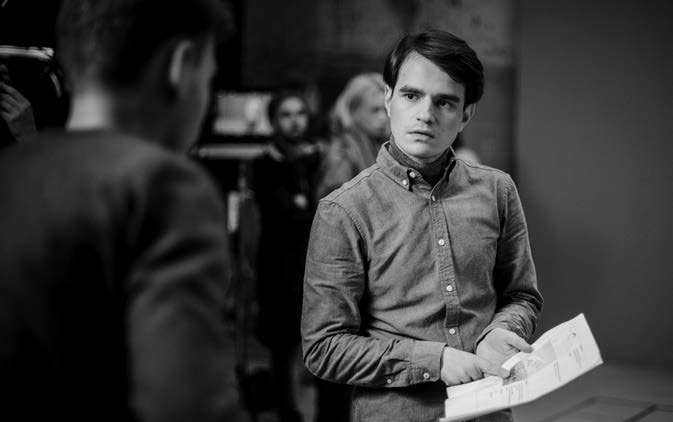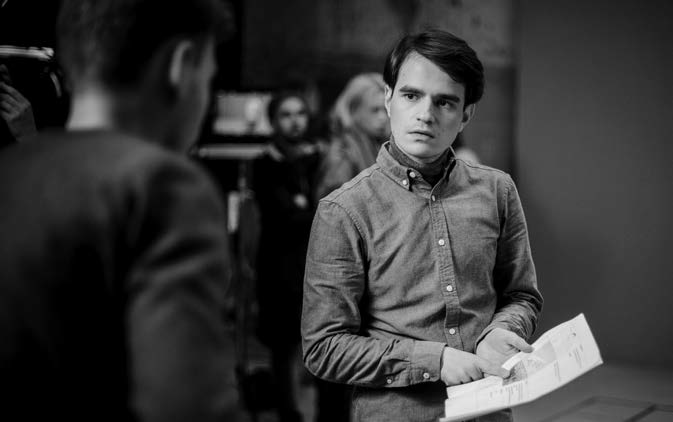 In the end
the client was happy with the results and used the video that they had made for their promotion. 'They had 20 projects for this: our video, a web game and many other things.' A well-known auto giant got a stylish advertising product and "Brunettes Shoot Blondes" got a new cool video. It was a winwin situation. Robots VS Composers We moved on to speaking about robots, and James Cameron's 1984 classic"The Terminator" sprang to mind. We discussed some cases where artificial intelligence had created music. Did he think it was possible that robots would replace composers and, thus, make the musical profession irrelevant? 'I don't think so, robots follow algorithms, they are bound to end in deadlock.' Indeed, that process of creative sterility at the hands of the musical algorithm might be seen in numerous modern hits. For example, in 2016 "Major Lazor" and "MØ "released their single 'Lean On' which soon became a major hit. Numerous songs similar in style and mood soon followed. The first three songs were great, but these were followed by a continuous stream of copies that did not become hits. At least for now, algorithms cannot replace a human being in terms of creative prowess. Igor Panasov is a music critic living in Kyiv. According to Kovalev, we live in an ideal time. Technology has granted people lots of opportunities but it has not yet stripped us of our humanity or overtaken us in our capacities. Fifteen years ago musicians had to follow managers of recording studios around and beg them to have a shot. Now anyone can record anything and stream it with listeners and music lovers being the only judges of the work. 'This situation is far better, even in spite of the fact that a lot of banal music appears every day. Competition is always good. Real music will find its audience. It is fair now.'
Europe consists of different Europes
Since the band was first formed, "Brunettes Shoot Blondes" have performed at various festivals in Poland and Germany. In 2016 they performed at the Sziget Festival in Hungary. But it is only last year that they managed to go on a proper tour around Europe and had a chance to glimpse at the way people live in Western countries.
Andrii mused on the various ways that music is consumed in different countries. He noticed that when a country generally feels good, its citizens have time and money to spend on concerts and that this has a huge influence on the way that artists construct their lives and make their music.
You can watch the music video here 
Andrey Kovalev.
photo by Maksym Fesenko