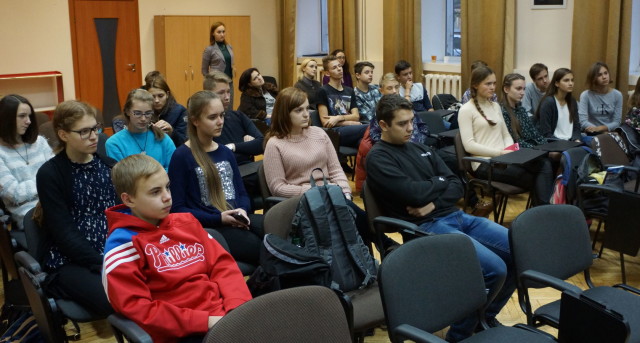 A group of exceptional students from backgrounds of economic disadvantage and internal displacement find intellectual challenge and community in the Odessa chapter of an intensive English language program.
Alex is fourteen years old. He is a fan of extreme sports while also being a diligent student. He enjoys skateboarding and photography. He's currently at the South Ukrainian Pedagogical University for an after-school English class, where for a few hours, he will speak only in English with his friends and classmates. Alex is not originally from Odessa – he is from Donetsk. He and his family were forced to move to Odessa following the outbreak of  the war in his home region in the spring of 2014. They are among the more than 1.8 million people estimated to have been displaced by the conflict.
Many students in the classroom of the Access program have stories similar to Alex. More than half of them are originally from Donetsk and Luhansk; the other half are from families afflicted by unstable family situations or with insufficient income in and around Odessa. However, to look at the students of Access is not to know this at first glance. In fact, they resemble any group of Ukrainian students between the ages of 13 to 16. Watching their classes, however, one gains a sense of how exceptional they are, as students of the English language, as members of a community, and as Ukrainian citizens. They have not only volunteered but competed to take part in a time-consuming, intellectually challenging, year-long course in English. The students are operating outside of their linguistic comfort zone on a regular basis. They take part in volunteer projects in the community as part of their coursework. This distinct classroom environment is a credit to the quality of both the students and their teachers, as both are participants in a project that has only been operating in Odessa since January of last year.
From Luhansk to Odessa
Since its inception in 2004, The Access Microscholarship Program has operated in 85 countries, under the aegis of the US State Department. The aim of the program is to provide the opportunities for high quality English education to exceptional students from economically disadvantaged sectors. In Ukraine the program has come to serve internally displaced persons as well.
Access opened its first chapter in Ukraine in 2009, at the East Ukraine National University in Luhansk. There, Access teachers Maria and Elena helped to grow the first program in Ukraine into a number of large groups, with links to others throughout the country. Beginning with around one hundred students, the program in Luhansk grew to house four groups from in and around the city, and in nearby towns like Shchastya.
In the spring of 2014, as the Russian military operations escalated in the East, the Access program in Luhansk was in jeopardy. Along with many of their colleagues, Elena and Maria were forced to relocate. East Ukraine National University itself was relocated to Sievierodonetsk, around ten kilometers from the present-day border of the Anti-Terrorist Operation (ATO) Zone. There, the university attempted to open another Access chapter, but was unable to do so given the uncertain conditions in such close proximity to the conflict.
After a subsequent move to Odessa, Elena and Maria began working on establishing the Odessa Access program in October of 2015. They were joined by Anya, a teacher at the Pedagogical University and an Odessa native, in building a new program and recruiting students. By January of 2016, the Odessa chapter of the program was founded, drawing students from Odessa, as well as those who had relocated to Odessa from Donetsk and Luhansk.
More than just a classroom
For the students from Eastern Ukrainian, Access has come to be especially important. "It's a flexible program, so it's not impossible to relocate," says John Silver, the Regional English Language Officer at the US Embassy in Kyiv. "But for the students, when your life has been shattered, it can be difficult to integrate."
Maria and Elena have a particularly deep understanding of the stresses that students migrating from the East have to contend with, having been displaced themselves. Masha explained how this manifested in the group's early classes:
"The first unit we had was about early childhood and childhood memories. It was very painful for many of them when they spoke. Each life, each story, it was hard." Speaking about some students who have had to travel to Odessa with only one parent, or even with only their siblings, Maria points out that "these students are teenagers faced with wholly adult problems." The teachers also point out that many of these students face discrimination in their schools and day-to-day-lives.
However, with time, Access has proven a valuable resource for the students. "Now, fortunately, they are quite good friends, and get on well with each other. I know, for instance, that they often don't go home when lessons are over. They want to stick together. It became a kind of family, really," Anya elaborates. "They come here to relax. There were a few kids who were afraid of everything when we first began, not speaking with anyone, but now you can see that they are active – not only speaking English, but also not as afraid of other people."
The teachers posit that this is due to the sense of community fostered by the program. As the students filed in before the class, they chatted over tea and cookies. It is impossible to tell which students are native Odessans, and which have relocated here from the East of the country. Anya sees that lack of distinction as being critical to the sense of community fostered by her and her fellow teachers.  "These internally displaced students do not feel that they are not native."
After Access 
All of the students are selected based on academic criteria, but as the teachers explain, the more critical part of the process consists of seeking leadership qualities and key values. Anya details the interview process: "We ask the students in interviews how they feel about volunteer work, as this program is not only about English education. They take part in certain volunteer opportunities as well." Lena expands on this: "In Luhansk, almost all of the alumni went on to do further volunteer work, aside from their other accomplishments."
The success of Access alumni is impressive. Many of them go on to apply to the highly competitive FLEX Program, giving them the chance to study in a high school in the United States for a year. FLEX alumni in Odessa described the year abroad as a formative experience, and their English abilities, as well as their academic and professional achievements, are self evident. Aside from FLEX, Access students are informed about English language programs in the US, Israel and elsewhere.
The students have aspirations beyond further English programs, and are eager to share their academic and professional plans. The plans they describe are founded on the confidence they've built through the program at Access, and are far more developed than what one might expect from a student under the age of 16.
Take for instance Anastasia. She is a 15-year-old from Luhansk, who wants to take part in a program like FLEX. She hopes to teach English abroad for the professional experience, as well as the chance to see more of the world. There is also Liza, who is 16 and from Odessa. She plans to study theater in Kyiv and become an actress, but she is also interested in working in Poland or Central Europe. Ira is 15, and also a native Odessan. Like many other students, she would like to study abroad, but also wants to return to Ukraine and to contribute to the country. While she is interested in history, she intends to study environmental science and return to work in ecology.
The Access program continues to grow, even in the regions affected by conflict: students from the Donbass finished their program in Cherkasy and a new program opened up this year in Sloviansk, just two years after it was retaken by Ukrainian forces in a bloody 2-month-long battle. The Odessa chapter of Access is not the only chapter serving internally displaced students, but it is distinct in its mixed composition. "This can be a real model for the integration of internally displaced persons," explains Silver, "the kids, local and non-local, are really supportive of each other." Maria agrees. "This is a community; it is a safe place for them."
While the issue of internally displaced persons in Ukraine has been largely forgotten by the international community, and Kyiv struggles to find a sustainable solution, people's lives continue. Especially amongst displaced youth, programs like Access are critical to their ability to support themselves and thrive despite their circumstances. Many observers,  both internal and external, express cynicism in regards to the country's long-term prospects, and the avenues available to the internally displaced. Young, exceptional Ukrainians, such as the students of Access, are themselves a rebuttal to this view. It is perhaps fitting that despite the challenges these young people have endured in Ukraine's struggle for independence, they will be among the best equipped to take part in the development of their country in the future.
Jack Margolin is Assistant Editor of The Odessa Review.