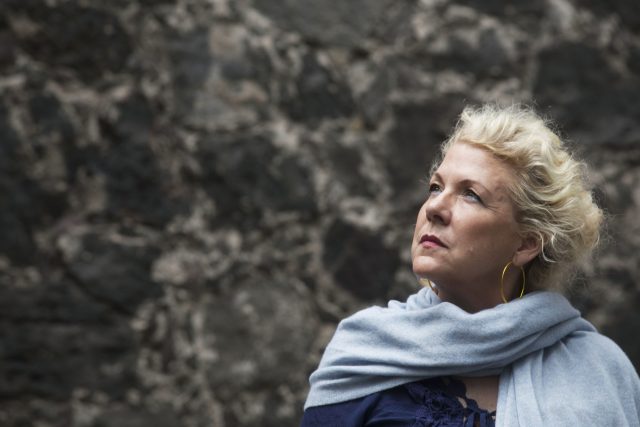 Jennifer Clement is President of PEN International and the first woman to be elected to the office. She is an American-Mexican writer and the author of the cult classic memoir "Widow Basquiat", as well as the novels "A True Story Based On Lies" and "Prayers for the Stolen". Clement, whose ancestral roots are from Odessa, attended the Odessa Literary Festival a week after hosting the 83rd PEN Congress in Lviv, Ukraine between Monday 18th – Thursday 21st, September 2017. The Lviv PEN congress was a historical event during which the delegates voted on important changes to the PEN Charter. Clement met for lunch with the editors of The Odessa Review on the first day of the Odessa Literary Festival.
PEN is born in 1921 after the First World War through an acknowledgement of how writers had helped to support, create and disseminate hatred and xenophobia. So it was a moment of introspection that led this handful of writers to establish a kind of brotherhood, or what they called a club, in order to create a network of writers around the world. At first it was a brotherhood, as women writers were not allowed to join PEN until 1928. The concept of PEN changed radically in the congress of 1933 when PEN expelled PEN Germany for its ties to fascism. Ernst Töller made his famous address to the delegates while pointing to the German delegation as those who'd been in the frontline of the burning of books by Jewish writers. After the expulsion a German PEN centre in exile was formed and based in London. By becoming an anti-fascist organisation as early as 1933, PEN became a political organisation. At our offices in London we have a poster from that time of a swastika made of broken pencils and the list of the German writers in exile: Theodor W. Adorno, Walter Benjamin, Thomas Mann, Klaus Mann, and Ernst Töller, among others.
Once PEN became political, our first case was the failed defence of Federico Garcia Lorca followed by the successful release of Arthur Koestler who had been arrested in Fascist Spain and sentenced to death. In 2021 we will be celebrating our centennial at St. Hugh's College at Oxford. This turning point in our history will be showcased as well as other crucial moments such as the Salman Rushdie story, the unsolved assassination of journalist Anna Politkovskaya and the work we have done to protect languages and defend writers at risk and in prison.
This year's conference was held in Lviv because it was hosted by PEN Ukraine. Since the Russian occupation of Crimea and the Donbass, PEN has promoted the dialogue of Russian and Ukrainian writers against authoritarian regimes and violent aggression. The keynote speaker was the writer Philippe Sands who spoke about his most recent book "East West Street". In this work he describes the extraordinary story behind the men, both students at Lviv University, who established the concepts of crimes against humanity and genocide after the Holocaust — Hersh Lauterpacht and Rafael Lemkin.
The theme of the congress was "Regaining Truth from Propaganda". We presented two reports on freedom of expression in Ukraine and in Russia (they can be found on our web site). David Patrikarakos closed the congress addressing "Fact, Fiction and Politics in a Post Truth Age". He spoke of the way in which Internet trolls have become an army, as they are literally soldiers in the new social media warfare of creating false stories to influence or direct world events. PEN is concerned about Russian propaganda in Ukraine, not only in the way that it is used to sway world opinion, but also in the way that it has been used to divide the Ukrainian people. During the Congress on September 21st, World Peace Day, we brought out a statement signed by everyone who was in Lviv and by writers from all over the world.
At Congress we had an event to honour the Ukrainian filmmaker Oleg Sentsov, who is in jail in Siberia. As we have repeatedly stated, PEN international has denounced serious flaws in judicial proceedings against Sentsov, including his lengthy pretrial detention, the failure to investigate his allegations of torture as well as the fact that he is being held in Russia. Under international law, Crimea constitutes occupied territory and as the occupying power, Russia is obliged not to transfer civilian prisoners out of the territory. Trying civilians in military courts also violates international human rights norms. Since the Russian occupation and annexation of Crimea in February-March 2014, most opponents of the annexation have been harassed into exile or silenced, while media freedom in Crimea has been severely restricted. We also drew attention to the case of the journalist Pavel Sheremet who was assassinated in Kyiv one year ago, as the Ukrainian government has not seriously investigated the case. We also presented resolutions on Mexico, Russia, Venezuela, Bangladesh, India, Kazakhstan, Vietnam, China, Hungary, Spain, Turkey as well as resolutions on linguistic rights for Kurdish writers in Turkey and the Uyghurs in China. We also supported the status of Ukrainian as the national language of the country and recommended that Ukraine allow minority communities to continue to retain their languages (such as Hungarian).
Within the organization, this congress was also historic because we changed our Charter. The first version of PEN's Charter was adopted in 1926 based on three resolutions proposed to the Congress by John Galsworthy. The article, which forms the basis of current Article 3, was adopted then and has stood unchanged ever since although changes have been made to Article 1 and an additional article 4 (concerning PEN's commitment to promotion of freedom of expression, with the twin aims of opposition to censorship and to the 'evils of a free press') was added in the 1940's and has been subject to amendment since. The Charter change states that: "Members of PEN should at all times use what influence they have in favour of good understanding and mutual respect between nations and people; they pledge themselves to do their utmost to dispel all hatreds and to champion the ideal of one humanity living in peace and equality in one world". I have a fascination for documents that attempt to bring out the best in humanity — Magna Carta, the Slavery Abolition Act, Rights of Man, etc. — and the PEN Charter is certainly a document of this kind.
The PEN International Woman's Manifesto also passed unanimously. Through this Manifesto PEN acknowledges that in the variety for kinds of violence — from murder, sex-selective abortion to stolen girls who are sold and trafficked to female students at universities who are rated and slut shamed on social media — one common result is to disappear and silence the voices of women. The lack of freedoms for women and girls in the past and also today are almost always defended by reference to culture, religion and tradition. These arguments underscore that few groups have suffered greater violation of human rights in the name of culture than women. Women are killed everyday because they write or speak out. My hope is to show through the Manifesto, and the actions around it, that PEN believes in women's words and stories. Women everywhere must cross the boundaries of culture, religion and tradition, and to fill pages so as to enrich our world literatures.