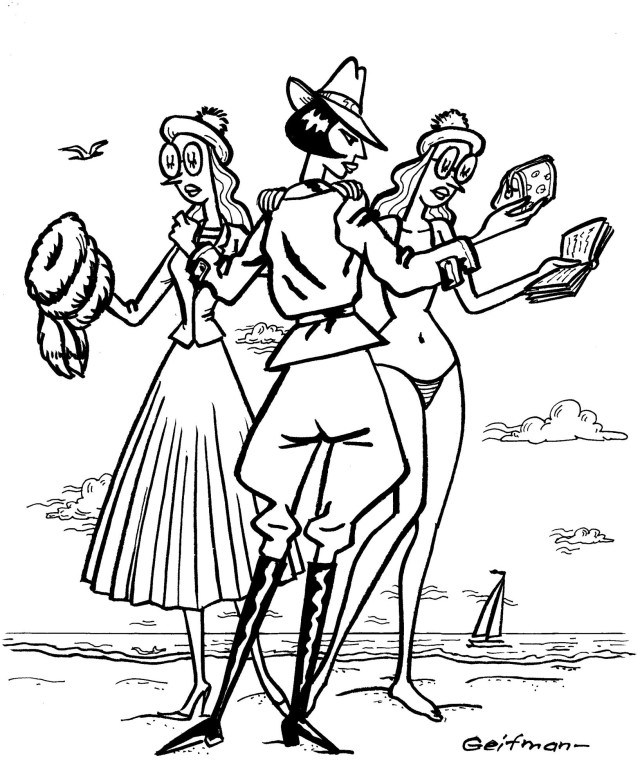 Once we met up with the Odessa Intelligentsia in order to go to the beach. We decided to meet on the corner of Bebel and Babel streets. She was late to the meeting place but she brought her girlfriends along with her. They were the Odessa Literary Public and the Odessa Secret Service. On the way to the coastline, the ladies declared in unison that they had all forgotten their swimsuits. It was almost as if they had conspired together to do it. Or had they conspired indeed? The liberated and self-assured Odessa Secret Service immediately suggested that we go to a nudist beach that had recently opened up on the Chkalovsky slabs. The new beach was specially equipped with sloped lodges for the benefit of the voyeurs. The ladies agreed, but I resisted stubbornly.
"But I took my swim trunks with me" – was my usual response to their unpersuasive argument. The company was divided by gender and so I went to the "Dolphin" beach, spread out the bedding, lay down and began to wait.
The first to arrive, of course, was the Odessa Secret Service.
"You lost your chance" – she said, I found my swimsuit! It was in my make up bag."
"It was in the make up bag?" – I asked with some surprise, but the swimsuit of the Secret Service was so small that it could have fit into a compact.
"I thought that with you, my dear, I always had a chance-" I said, What can I do for you?
"To be honest with me" smiled the Odessa Secret Service, cunningly, as if she was in the midst of hard labor, oh! That was merely a slip of the tongue, as if we were in   the middle of an interrogation! Why don't you come see me in the "Hotel Odessa" hotel, I keep a cozy room on the ground floor.
I knew that room – I had been interrogated there twice. They were trying to find out the address of the library, where I had acquired some interesting books, but, as luck would have it, I had forgotten the address! But I remembered the room very well.
"That room is uncomfortable" – I complained. "There is no bed and most likely there is no shower room."
"So the spacious desk is not enough for you?"  sang the Secret Service.
I had no time to answer, because at that very moment, the Odessa Intelligentsia and the Odessa Literary Public approached us. The intelligentsia had found a swimsuit in her muff, and the Literary Public had actually come to the beach in a swimsuit, and forgotten the linen at home forgot.
We talked for a long time about the contribution of Leonid Brezhnev to the cause of peace and the literary merits of his book "Tselina" – which was our favorite topic of conversation in the presence of the Odessa Secret Service.
The water was cold that day and there were a lot of jellyfish in it.