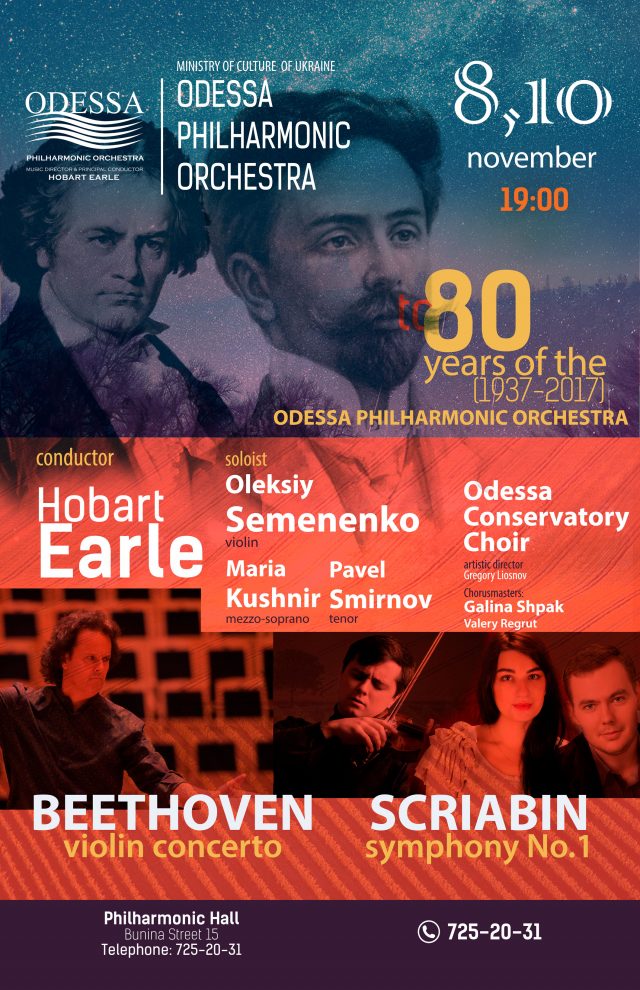 The Odessa Philharmonic Orchestra was founded in 1937, and belongs today to the most prominent musical ensembles in Ukraine.
During the Soviet era the orchestra performed regularly at home under such conductors as Nathan Rachlin, Yuri Temirkanov, Kurt Sanderling, Arvid Jansons and also Mariss Jansons.
With the independence of Ukraine, the orchestra's status rose; in January of 1993 the Government of Ukraine formally awarded the Odessa Philharmonic Orchestra federal status, and in 2002 president Leonid Kuchma granted the orchestra national status. The OPO thus became the first performing arts organization in Ukraine outside of Kiev to attain national status, and today remains the only institution in the entire country to have their status raised twice: from regional to federal, and from federal to national.
Over the years, the orchestra has performed with a constellation of virtuoso soloists: David Oistrakh, Emil Gilels, Mstislav Rostropovich, Tatiana Nikolayeva, Viktor Tretiakov, Yuri Bashmet, Nikolai Petrov, Oleg Kagan, Dmitri Bashkirov, Igor Oistrakh, Yefim Bronfman, Steven Isserlis, Irina Arkhipova and Mikhail Pletnev, to name but a few.
Since 1991, the orchestra has been headed by Hobart Earle. Maestro Earle has elevated the orchestra to a position of international prominence, unprecedented in the history of the organization, with the Odessa Philharmonic becoming the first symphony orchestra from Ukraine to cross both the Atlantic and the Equator.
The orchestra and Hobart Earle performed at  the best concert halls in 15 countries (among them Carnegie Hall, New York; Kennedy Center, Washington; Musikverein, Vienna; Barbican Hall, London; Franz Liszt Music Academy, Budapest; Philharmonic Hall, Cologne; Great Hall of the Moscow Conservatory, Great Hall of the St. Petersburg Philharmonic Society; the United Nations General Assembly; the National Auditorium, Madrid ) .
During his tenure in Odessa, Hobart Earle has also led numerous performances of repertoire never before heard there. In particular, he is the first conductor to perform such major works in Odessa as: Gustav Mahler's 2nd, 3rd, 6th and 9th symphonies, Anton Bruckner's 8th symphony, Jean Sibelius's 4th, 5th, 6th and 7th symphonies, Richard Strauss's "Four Last Songs", Elgar's 'Enigma' Variations, Alban Berg's "3 Excerpts from Wozzeck", Gustav Holst's "The Planets", Aaron Copland's "El Salon Mexico" and "Lincoln Portrait" and Leonard Bernstein's 'Jeremiah' symphony, as well as many works of contemporary composers.
On the ASV label (Great Britain), the Odessa Philharmonic Orchestra and Hobart Earle have recorded two highly acclaimed CDs from the series "The Music of Ukraine", including previously unrecorded music by Ukrainian composers Mykola Kolessa, Myroslav Skoryk and Yevhen Stankovych, and on Naxos label, music by Myroslav Skoryk.