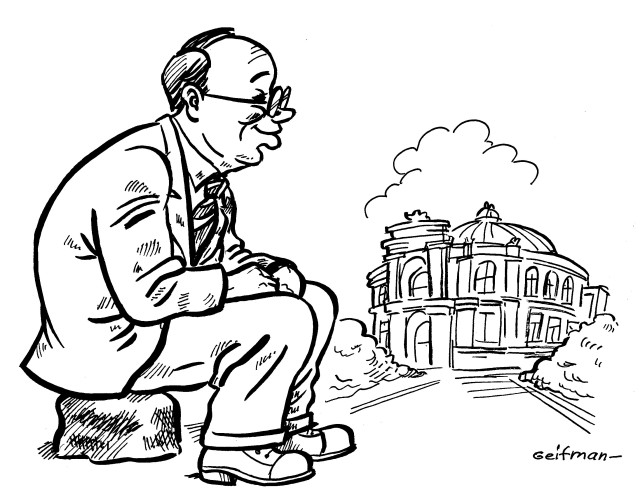 The Odessa Review pays tribute to Odessa's most influential and inspirational literary figure
Isaac Babel's short story collections, 'The Odessa Tales' and 'Red Cavalry' remain justifiably beloved cornerstones of the Russian-language literary canon. These stories of adventure, fantastical gangsters and maravding Cossacks remain perennial favorites, and Babel the most treasured literary son of what has always been a consummately literary city. More than any other poet, writer or essayist who got their start in Odessa, Babel's work captures the spirit of the city in all its anarchic glory. The 'Red Cavalry' stories of conflict in Ukraine, of military maneuvering between rival cavalry is now more timely than ever -except the steeds now are steel tanks.
Babel met an infamous end. Last year marked the grim 75th anniversary of the execution of the great writer in Moscow's Butyrka prison. The exact circumstances surrounding his death constitute a widely disputed and decades-long enigma. For many years, the details of his arrest and imprisonment were unknown and unknowable, but we now know that the sentence was carried out the day after a hasty twenty minute trial. Babel's letters and notebooks were confiscated by the Chekists who arrested him. They were deposited into one of innumerable secret archives and have not been seen since. The fate of his final, confiscated manuscript remains the last outstanding piece of the puzzle.
Despite this tragic finale, Babel lives on. His slangy, street smart, funny stories about Odessa are certainly monumental – an archetypal monument unto themselves, but that has never prevented his most passionate local partisans from building him literal monuments. The tales are themselves a vital living monument to the city but it has been five years since the statue of him was erected on the plaza across the street from his former apartment building on the corner of Rishelyevska and Zhukovska streets.
The monument itself is not bad. Commissioned with donations that were raised from among Odessa's sprawling worldwide expatriate community, it was molded by the Russian celebrity sculptor Georgy Frangulyan. It certainly has a rough hewn charm. For many, it is a work of populist kitsch redeemed by its humaneness. The kindly, frocked, Babel reposes next to a massive "wheel of fate." He scribbles his tales into a notebook. He gazes dreamily into an imaginary world. He is hunchbacked, yet the folds on his jacket look like wings that are about to sprout from out of his back. His nose has already been oxidized away from palms rubbing up against it.
This summer, the plaza in front of the lumpy neo- Soviet columns of high school number 117 on which the statue (literally) sits will also be renamed in his honor. In a popular gesture towards cultural credibility, Governor Mikhael Saakashvili's administration has also announced the inauguration of an annual Babel Award for narrative fiction composed in Russian. The prize criteria sparked some of the usual debate about the politics of the Ukrainian and Russian languages in the city. ''The main criterion for selection of entries for the award, in the words of Isaac Babel, should be a "tyranny of taste" as the prize guidelines stipulate.
Babel's legacy is also explored this year by an excellent and emotionally laden new film.
In Finding Babel, Andrei Malaev-Babel, Isaac's grandson returns to Ukraine to seek out his grandfather's legacy. Made by the American filmmaker David Novack along with the participation of the Canada-based international organization 'Ukrainian – Jewish Encounter,' the film follows Malaev-Babel's search for his family identity. Babel himself is voiced by Hollywood actor Liel Schreiber.
The film had its Ukrainian premiere last year at the Molodist Film Festival in Kyiv. After screenings in Tallinn and Moscow, Andrei Malaev-Babel will be returning to Odessa to take part in the inauguration of the prize, and the filmmaker is planning an Odessa premiere later this year
It should be said that this is a good time for Babel publishing. He is experiencing a rush of renewed attention in the English-speaking world. Babel's Red Cavalry collection of 35 stories, first published in 1926, has been newly retranslated by Boris Dralyuk for the Pushkin Press (a publishing house known for their excellent literary taste). The reception for that book has been glowing with the Financial Times critic declaring: 'this new edition does an excellent job of capturing both the joy and the violence' and that we should 'salute this beautiful new English translation for bringing our attention back to one of the enduring jewels of 20th-century Russian language literature.'
Babel's latest translator, the New School professor Val Vinokur, is working on a set of brand new translations of all of Babel's tales (forthcoming from Northwestern University Press). The key story 'Odessa' as well as an essay on the history of translating Babel into English, appear in this premiere issue of The Odessa Review. Vinokur's translation is remarkably fecund and shapely. We await the publication of his forthcoming edition of Babel's collected stories with impatience. Vinokur also appears as a talking head expert in the film Finding Babel. An interview with David Novack will appear in a forthcoming issue of the magazine.
We hope readers will enjoy this month's homage to Isaac Babel in the debut issue of The Odessa Review. Given his status as a giant of Odessa's cultural heritage, we regard it as an honor to dedicate this month's magazine to the Black Sea Bard.
Continue reading our Babel portfolio:
Babel's 'Odessa' in a new translation by Val Vinkour.
The Art and Science of Translating Babel by Val Vinokour.
Taking Isaac Babel to Canada by Joshua Dolgin