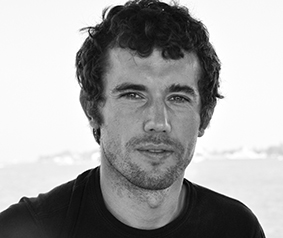 The Odessa Review spoke with the Lithuanian director who represented Ukraine at the world-renowned Berlinale film festival this year. The Odessa Review's Ute Kilter met Kvedaravicius at a café on Deribasovska Street where they discussed his latest work over bowls of hot soup. Kvedaravicius has quickly made a name for himself. His film "Barzakh" took home the award for Best Documentary at the 2011 Berlinale, and "Mariupolis" was nominated for the 2016 Amnesty International Film Award. His very first film was produced by the notable Finnish screenwriter and film director Aki Kaurismäki — Kvedaravicius's erstwhile teacher with whom he worked as an assistant in the early stages of his career. The premiere of "Mariupolis" took place in the Forum Cinema Vingis theater in Vilnius as part of the Vilnius International Film Festival and was attended by Lithuanian president Dalia Grybauskaitė.
"Mantas Kvedaravicius and I met during the Odessa International Film Festival," Kilter explains. "Right away in the course of our conversation, the director revealed his deep knowledge of cultural anthropology — something that caught my interest at once. We struck up an immediate and easy friendship. When we were first introduced, I instantly became curious about Mantas's family name — while "Lithuanianized," it seemed to have a Greek provenance. I surprised him by asking if he had any Greek ancestry, which he confirmed. I was later involved in one of Mantas's projects, and interviewing someone you know quite well often proves to be a very difficult task. However, it turned out that I did not know Mantas quite as well as I thought, and the interview turned out to be much more exciting than I anticipated, as he revealed many amazing details about his life."
The Odessa Review (Ute Kilter): Thank you for joining us. Can you tell us about the background for "Mariupolis"?
Mantas Kvedaravicius (MK): The idea of "Mariupolis" was to show the course of life during wartime — how regular people carry on with their everyday lives mere steps away from a war zone, gunshots, explosions and death. It is a film about the pricelessness of every second of life. It is not about war, but about life next to war and lived in spite of war.
OR: Is it difficult to make a documentary film when one is involved as a subject or as a participant observer?
MK: You have to take yourself out of the picture. To film from an objective point of view where you are not part of the picture.
OR: What for you dominates the message of your movie, carries it across most clearly — is it the visuals or the concept itself?
MK: To me, filming is pleasurable, so I would say the process. My thoughts, my own approach to the subject becomes part of the message. In this case, that fear is inevitable. Violence is an inevitable part of reality. All of these things are an objective, inextricable part of our existence.
OR: This is why you focus on the unembellished stories of real people?
MK: I don't care about actors or big names. People, actually existing people are important to me: the living, breathing people that I work with in creating a film. Their stories are my raw material, the components from which I create my narrative. Of course, there are some preliminary guidelines, the intended topics are written down — I prepare myself exhaustively for filming. That part is indeed all me, but past that point entropy takes over.
After all, our actions affect everything. Even the two of us, eating our soup right now and right here, is an action in a chain of events. We have free will with which to direct our actions, which in turn affects our future decisions and actions, and so on, and so on. More than anything, I am talking about personal accountability. My surroundings dictate my actions, but I have no control over the final result of the creative process. I can attempt to change it in the ways that I want, but I am not in total control of it.
OR: What is your intended result, then? And how do you achieve it?
MK: I love places which are attractive for unknown reasons. Places where everything is going wrong, and suddenly people begin to appear, to materialize against this backdrop. This film is dedicated as much to the poets of Mariupol as it is to its shoemakers. Indeed, I see shoemaking as a kind of poetry: we can't walk around barefoot, just like we can't live without imagination and art. It would be very hard to focus on art when you are unshod.
Mariupol is a place with a very specific atmosphere. On the one hand, it still bears imprints of its ancient Greek mythology, from the first historical inhabitants of the area. On the other, it exists in this very current, very strange but concrete and present post-Soviet reality, which brings a feeling of great unease and even fear.
The factories, the sea, the omnipresent soldiers, the sounds of the violin blending with the sound of the exploding shells — all of this forms the surrealism of an ordinary city during wartime. The newscaster who is also the shoemaker's daughter, the wedding, the news reports, the transit system…
There is, of course, the Greek component. Only after exploring that history did I truly understand the town. This could have been the first, the Greek part of the "Stasis" project. But after World War II, the government exiled the entire Greek population to the Middle East. Two millennia of culture were destroyed in one fell swoop, and Mariupol's ancient traditions with them.
OR: Were you afraid during the bombings?
MK: Well, after having been in Chechnya… Not really.
OR: Can documentary filmmaking be discussed separately from politics?
MK: You could make a movie about a simple butterfly. Someone will inevitably extrapolate it into ecology, and so it goes.
OR: One of the most difficult parts of the documentary process is getting your subjects to open up to you. How did you achieve this?
MK: This is definitely true. When you put someone in front of a camera, even people that you had already established a rapport with, they start behaving differently. Getting someone to be truly "open" is difficult and rare. People are reluctant, they don't know how to be open, they don't want to repeat the things they had revealed earlier.
All of these were part of my approach in the case of "Stasis," but even when they failed, I did not give up on the project as a whole. "Stasis" is a sort of cultural anthropology study of three cities: Athens, Istanbul and Odessa.
OR: Do you personally believe in the concept of "happiness"?
MK: This is a silly question. Happiness is not something that can be measured, grasped, bought or sold. It's not a material good, it's not a trip to the Canary Islands.