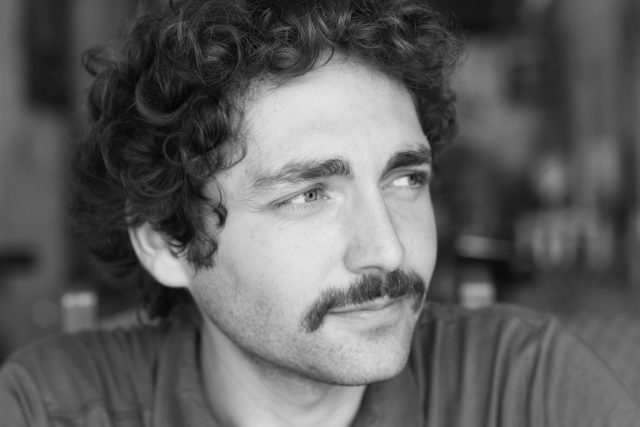 Boris Dralyuk is the Executive Editor of the Los Angeles Review of Books as well as a literary translator. He holds a PhD in Slavic Languages and Literatures from UCLA, where he taught Russian literature for a number of years. He is the author of "Western Crime Fiction Goes East: The Russian Pinkerton Craze 1907-1934" and translator of several volumes from Russian and Polish, including, most recently, Isaac Babel's "Red Cavalry" and "Odessa Stories" published by Pushkin Press. He is also the editor of "1917: Stories and Poems from the Russian Revolution," and co-editor, with Robert Chandler and Irina Mashinski, of "The Penguin Book of Russian Poetry." He is widely considered to be one of the main scholars on the life and work of Isaac Babel.
Summer in Odessa is ending, but the highlights of its festivals will stay with us for many seasons to come. In our previous issue, The Odessa Review participated in a literary celebration dedicated to iconic Odessan writer Isaac Babel by publishing an excerpt from a fresh translation of "Odessa Stories" by Boris Dralyuk. For our literary issue, we wanted to take a closer look at the art of translation and take advantage of Dralyuk's scholarly expertise in Babel's writing. On a sunny Los Angeles morning, Editor Katya Michaels met with Mr. Dralyuk at the University of South California's student pub to speak about Babel's Odessa mythology, the Russian-English translation revival and not being a slave to the original text.
The Odessa Review (Katya Michaels): Mr. Dralyuk, first of all, would you say a few words about how you came into this profession?
Boris Dralyuk: It was at once a circuitous and a surprisingly direct route. Circuitous in the sense that it has to do with immigration, learning English as a second language and then transitioning fully into English at the age of 9. My choice of translation and the study of Russian literature as my life's work was triggered by my rediscovery of Russian after willfully trying to forget it as I strove to master English. When I was about 14, I discovered that I had let my Russian fall by the wayside, and immediately tried to reconstruct what I had lost and to build on it. Part of that process was reading quite a lot of poetry. I remember the first poem that affected me so much that I felt an overwhelming — more than desire — necessity of putting it into English so I could share it with my friends. It was a poem by Boris Pasternak, and to this day I have not translated him successfully, but my first attempt was a very meaningful one for me.
OR: When, as a child, you felt this urge to communicate the beauty of Russian poetry in English, did you ever feel discouraged by the impossibility of perfect translation?
BD: No, and actually my mother's encouragement played a big part. Her first literary love was Cervantes — and I assure you that she did not read Cervantes in Spanish. She had a big academic edition, beautifully translated into Russian. She read Dickens, Hugo: these were her favorite authors, but she didn't discover them in their original language. So I never felt that literature was untranslatable. It exists in another language, it nurtures us in other languages and I always wanted to take part in that magic. Especially with Babel — that is my dream come true.
OR: I imagine something like Babel is very difficult to translate, with such idiosyncrasy in language use. But, is Odessan language quite so unique? Or does it have a parallel existence in English, in a kind of subculture?
BD: I think it absolutely does. When I fell in love with American literature, it was with a certain period, a certain genre. I loved Jewish-American writing of the 1930's, 40's and 50's, like Saul Bellow's Augie March. I felt like I had come home when I read that particular blend of Yiddish and English — that Yinglish. There have been pockets both of lived culture and literary culture in America that are resonant with Babel's Odessa. New York's Lower East Sidebetween the 1910's and 1940's, Saul Bellow's Chicago. These are urban communities — with dense Jewish populations, crime ridden, full of local color — that give rise to the kind of myths that Babel's Odessa gave rise to. I felt that my own way of speaking English, through accident and through concerted reading of certain American crime fiction, was exactly the right idiolect for relating Babel in English.
OR: Speaking of Babel's mythology, there are literary scholars in Odessa who believe that had Babel not been killed, had a great deal of his work not been lost, he may have been a Nobel Laureate in literature, because as a creator of mythological worlds he is on par with writers like Gabriel Garcia Marquez.
BD: Definitely, in a certain sense he is a magical realist. You can follow these long family lines, with marvelously conflicting stories about marriages, who knows what's happening! This is exactly what Marquez was able to do with his little world, and what Faulkner was able to do with Yoknapatawpha. In each case there are fictional liberties, but they only add to the charm of the original place, with multiple versions of the narrative existing at the same time.
OR: Odessa's mythology is very rich, thanks in large part to Babel, but one of the concerns that the city faces today is how to reconcile that mythology with a modern representation of Odessa? How to honor this literary legacy, but move past the stereotypes of cavalier attitudes toward criminality?
BD: It's a fascinating question, because you don't want the city to turn into a living museum or a Civil War reenactment — the Russian Civil War! I think it's best to let go of the anxiety of being trapped by these myths, and to develop on them organically. That's what I think you're doing at The Odessa Review — creating a new vibrant literary culture bit by bit, giving attention both to Babel and to fresh, fascinating work that isn't directly linked to that tradition. At the same time, there's no need to be Oedipal about Benya Krik — he's there, he's not going away, and his kind of world can develop in interesting ways in new writing. In Odessa, you're dealing with a cosmopolitan, densely populated town on the coast. These kinds of port cities always attract a great variety of people and offer a lot of opportunities for quick rises. You can be anxious about crime, you can make an effort to create a counter-narrative about Odessa, you can emphasize and work toward a safer environment. But I don't think Odessa is unique, for a city of its size and location, in having a legacy of crime. Nor can we make it any less appealing as a literary phenomenon. Crime fiction thrives on real crime, and exploits it. We fall in love with the flawed, but interesting, characters of crime fiction. We are entertained by the vibrant language, vibrant personalities, the self-contained world. These fully-fledged people act in ways very different from ours, bu they are not un-understandable. Besides, it's no accident that in Babel's case we are following a gang of Jewish criminals. They have been acted against by organs of law in an absolutely unethical manner. There is a kind of savior's aura around Benya Krik. He is like a Golem, created to defend his community. Sure, once a Golem is brought to life, it's a little less controllable than you'd like, it can start smashing things left and right. And this is what Benya does — he creates chaos, but always in the service, supposedly, of his people.
OR: Do you feel that there is a Babel revival, or more generally, a revival of Russian- English translation happening now?
BD: Yes, I think Russian to English translation has never been healthier and has never been the subject of more interest, critically, than it is now. There is a remarkable number of people who are dedicated to working on one author, or a group of authors, and bringing undiscovered treasures into English with the kind of care that they deserve. There are new brilliant translations of Sigizmund Krzhizhanovsky — he was lost even to Russian readers and he is now being re-discovered by Joanne Turnbull. My colleague and friend Robert Chandler is working on Vasily Grossman right now. He is responsible for single-handedly bringing Grossman into English, but he has also discovered Teffi for English readers, and Andrei Platonov. These are giants of world literature that would remain relatively unknown even in their home countries, if not for the efforts of translators. Now, Babel has been translated a lot, and there's a new translation coming out in just a few months. That's all for the better, I think. Let a thousand Babels bloom in English! I do feel a personal attachment to him, because he has meant a lot to me, but I want him to mean a lot to many readers.
OR: Why do you think this revival is taking place now? Is there a need for better cultural understanding?
BD: I'm not sure where the current tension between the US and Russia will lead. People want to understand Russia, but they are not as interested in its literature, more so in its politics. I happen to think that literature is the best gateway to understanding a culture's politics, but that view may not be so widely held. Actually, I think that the florescence of Russian translation into English in the past couple of years is due to the work of a number of very dedicated people who open the door for other, younger colleagues. We have a very strong, supportive community of literary translators. There are more workshops, more opportunities to learn than there were before, so I think that's helped a great deal. There is a professionalization happening, as well. The translators today are not just people who happen to know Russian, but great speakers and users of English.
OR: Do you distinguish between Russophone Ukrainian and Russian writers? As Ukraine rediscovers its identity, there's been some debate whether a Ukrainian author is someone who has to create his work in the Ukrainian language.
BD: Well, I think it's not just about the rediscovery of identity — some parts of Ukraine have had a consistent identity through history— but about combining a lot of Ukraines into one Ukraine. It's a very interesting and very fruitful process. I regard Babel as a Jewish-Ukrainian-Russian-Soviet writer, not necessarily in that order, but all of those things. The kind of Russian language that is spoken in Odessa is distinctive, inflected by Ukrainian as much as it is inflected by Yiddish and numerous other languages. So Babel is a Russo-Ukrainian writer, if you want to call it that, and very much a Jewish writer. No one can claim ownership of a language. I think it's a silly, pedantic endeavor to draw lines that separate literatures in such strict ways, but it's not an unproductive conversation — as long as it is cool headed, and there is a desire to arrive at a good conclusion.
OR: Who are some of your favorite authors? Are there ones that you'd love to translate, and others you enjoy but don't think could be translated? 
BD: I never think about what's impossible to translate, because so many things are possible! I could fall in love with a writer without necessarily feeling the urge to translate that person, but then something might shift: I might suddenly identify with a poem or a piece of prose at a heightened degree. It comes to me at exactly the right time. Suddenly I'm moved to do the translation because it has struck the right chord, touched a nerve I didn't know I had. There are other Odessans of Babel's era that I love very much; I would love to translate Eduard Bagritsky, his poem "Contrabandists." But so far it's just living in me, it hasn't found its way out.
OR: What was your most recent work after Babel's stories?
BD: I finished a collection of short stories by Mikhail Zoshchenko. For me it's actually easier to work with writers that are so idiosyncratic. They have their own language, which means I have the liberty to create my own style in English that I feel matches theirs. Zoshchenko's language, in these short stories, is the language of a bad writer, who thinks he's good. Zoshchenko, a writer who uses language very skillfully, stands behind the mask of this bad writer — a provincial, petty bourgeois. This character is divorced from the main currents of Soviet life, but writes about things in his town as if they are the great events of his era, as if they demonstrate something true and profound about human nature. They do, and they don't… They do, despite his efforts. What I hoped to do was to create a language in English that was broken, but recognizably intentional in its breakages. The reader would know that above the work of this bad writer is a good writer. A box inside a box inside a box… Those are the boxes I live in! I like the layers, the tension, the plurality of voices. For me, every line of a prose story is like a poem and the story is like a poem cycle. You want every line to have its own weight and be able to stand on its own.
OR: Does the translator carry a certain kind of responsibility for the representation of a specific language and culture to a foreign reader? Isn't there a danger of subjectivity?
BD: I think it's impossible not to have a sense of responsibility, but one shouldn't be slavish in any regard to the original work. You want to get the effect of the original across, rather than every word literally. In any case, if you choose to translate something, it has to be a passion of yours. It's no use translating bad work simply because it conforms to a message that you would prefer to promote. And of course it's subjective, but if you are not a subject, if you're not a human being, what's the point of engaging with literature? You must take pride in the fact that you are a sensitive reader that has been affected by something, and now you are going to be the best writer you can be to recreate this effect in English. That has to be a priority. Every translation is a separate work. You are trying to stay as close as possible to the meaning of the original, but not at the expense of its literary qualities. When you're dealing with a living author, you can always check — is this ok? Some are very lenient toward the translation, others have very strong opinions, but in conversation beautiful things emerge. Working with a living author is a very laborious, but rewarding process. Working with a dead author is very easy, because he or she agrees with everything. Babel loves everything I do!
Katya Michaels is the Senior Editor of The Odessa Review.