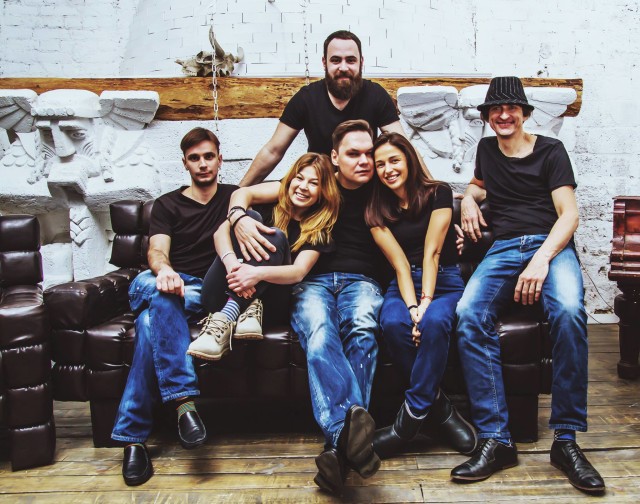 Monkey Juice are more than just a cover band — their performances have an entirely unique and personal sound. Originally based around a classical jazz trio, the group consists of Andrei Bolshedvorksiy (vocalist), Alena Kurtienko (vocalist), Anastasia Kraevets (vocalist), Andrei Pokaz (keyboardist), Yakov Taruntsov (drummer), Vitaly Fesenko (bassist), Tracy Josemanuel (back vocalist) and Anastasia Pshokina (back up vocalist). Monkey Juice was inspired by the restauranteur Daniel Salem — in 2013, he gathered practically all the current members of the ensemble before the opening of Central Bar and suggested that they could become the number one cover-band in the city. The Odessa Review met with the crew in their native venue to learn what they have achieved in the two years of active work, and to hear about their current projects and future plans.
The Odessa Review (Eugene Chukhriy) We cannot ignore your incredible success in Odessa and beyond — what makes audiences come to your shows again and again? What is your secret?
Bolshedvorskiy: First and foremost – it is our distinctiveness. The makeup of our band and our repertoire make us one of a kind and the audience love that.
Kraevets: People get an incredible emotional charge from our concerts. We give it all at every performance, and that kind of sincerity always attracts people.
Pokaz: Our success is the result of hard work and the professionalism of all our members. Our goal is to create good, quality music, and I think we succeeded at that.
OR: How did you come up with the band name?
Salem: In the early stages of the band's formation, I often watched the guys' emotional rehearsals and I realized, it's really "aping" in the best sense of the word! They are brazenly copying famous hits, but doing it with such talent and soul! Our friend Ilya Pashkov helped us with the logo and we decided that just "Monkeys" was not quite right. I got the idea that "monkeys" who are able to squeeze the "best juices" from the music they perform have to be called Monkey Juice.
OR: What does the Monkey Juice project mean to you?
Kraevets: Our project is my family. I always thought that such different people could not accomplish anything together, but everyone in the group is united through the love of music!
Pshokina: I am usually the lead vocalist, but in Monkey Juice I sing backup and it is a completely different world for me. Thanks to the large number of rehearsals and performances, I've learned a lot, and I can't deny that with time, the family of Monkey Juice is becoming something greater than just a band.
Bolshedvorskiy: I am very grateful to Daniel, who brought us all together. I play with the best musicians in the city, and thanks to this, I am endlessly improving.
Pokaz: For all of us, Monkey Juice is a kind of life school. We enjoy seeing and taking part in each others' growth.
OR: What inspires you to create such varied styles of covers?
Pokaz: The main basis for our sound is a jazz trio — keyboards, bass and drums, but we play completely different styles of music, using jazz harmonies and funk rhythms… We remake everything to fit ourselves and that results in unique covers. The roots of our creativity are in America, probably in the 1970s, artists like Stevie Wonder — timeless classics that everyone loves.
OR: Does Monkey Juice specialize only in covers, or do you have original hits in your repertoire?
Bolshedvorskiy: We often perform our own material and our audience has come to love it as well. For example, our wonderful Nastya writes beautiful lyrics in English.
OR: Do you have experience collaborating with other musicians?
Kurtienko: Of course! There is a project called "Monkey Juice & Friends." A lot of the time it happens spontaneously. When there are musicians we know at the concert, they gladly share the stage with us. Among others, there have been Rozhden, Yulia Nelson and even Jamala.
Bolshedvorskiy: She never misses one of our concerts if she is in town. (Smiles)
Pokaz: I hope that in the near future, Lesha Sviderskiy from the group "Deti Fidelya" will join us briefly and we can throw a "Monkey Juice & Friends" party!
Salem: Collaborations are an interesting measure of the group's development. It started with five members, gradually we were joined by backup singers. Soon, we will welcome trumpet player Miroslav Pyatnikov (formerly with "Deti Fidelya").
OR: Which cities and countries have you visited so far?
Pokaz: Kyiv, Lviv, Dnipro, Kharkiv, Kherson and even Azerbaijan. We also expect to go to Georgia, but for now that's a plan for the future. We're musical hooligans, no one can say where we'll turn up tomorrow!
OR: Does the band have any rituals before you go on stage?
Kraevets: We all kiss each other! (Laughs)
Pokaz: I have a ritual of ruining everyone's mood! Since we are residents of Central Bar, our sense of nervousness before a concert is dulled, and I try to revive it. If everyone's too relaxed, it's no good.
Salem: The girls have their own ritual – to call each other literally ten minutes before the performance and agree on what they will wear. (Laughs)
OR: What was your most unforgettable performance?
Bolshedvorskiy: I remember a show in Azerbaijan. We prepared a very refined jazz program, but it turned out that the public wanted a vocalist with a laptop. (Laughs)
Pokaz: But we managed to convince them. I haven't seen people spend so much time on the dance floor in a while!
Salem: We have to admit though, at the beginning it was hard to get the audience into it, because our opener was a guy who was lip-syncing to recorded pop songs. (Laughs)
OR: Does Monkey Juice plan to release any music? Would it be a collection of your best covers or your original songs?
Pokaz: Thanks to the new law on playing a minimum Ukrainian language music on radio, we have a grand plan — to conquer the English-language space of Ukrainian music. We will use all of our experience and understanding of different music eras, and in the future, release our own record!
Everyone: Wow, that's news. Honestly, we weren't aware of this, it's a surprise for us all!
OR: In your opinion, what is missing in Odessa today?
Kraevets: A level of culture in entertainment. Unfortunately, events often become reduced to banality, everything is simplified. With our art, we are trying to support intelligent and beautiful leisure.
Pokaz: I like to spend the evening without worn-out disco hits. It's nice to find that people like our different, new music, and that they return to hear it again. I'd like to see more people expand their musical horizons.
OR: What would you wish to everyone who reads this article?
Bolshedvorskiy: Love music, ladies and gentlemen!
Kraevets: Be selective with your music choices — music builds the person as an individual. It is possibly the only form of art which can affect the human psyche.
Pokaz: Be honest, and love what you do. That feeling spreads around us, and it is infectious.
Bolshedvorskiy: Catch "the musical virus of Monkey Juice!"