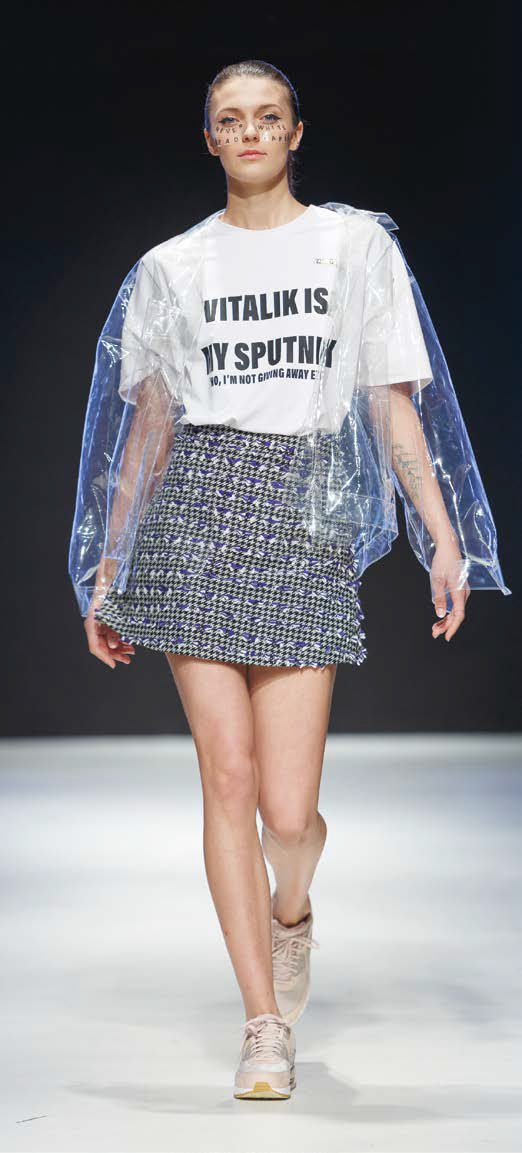 Ukraine may be experiencing another revolution right before our eyes — and it is not what you would expect. The world's first blockchain fashion week just wrapped up in Kyiv, and a new cryptocurrency — the fashion coin — is on the horizon.
Although many people find the idea of blockchain confusing, the idea behind it is fairly simple: the process allows for the creation of decentralized currencies not controlled by any government, organization or individual.
"There is no center that produces it, no bank, no central money creation unit. And that is its advantage: it doesn't depend on Donald Trump, Petro Poroshenko or Vladimir Putin. You don't need a guarantor for it", explains Kazbek Bektursunov, founder and owner of LMG Group, a large Eastern European fashion conglomerate that organizes the Kiev Fashion Days and now runs part of the new brand Blockchain Fashion Week.
"And it's decentralized. Its decentralization is its quality mark".
Bektursunov believes that the marriage of couture and blockchain may be just what the fashion world needs.
"The whole fashion system is in stagnation: they don't know which direction to move in and how to reach a customer who has changed", Bektursunov says. "We think that the fashion coin will solve this problem".
Where has fashion gone wrong?
Bektursunov says that the fashion system that exists today is flawed because it quickly evolved from haute couture to pret-a-porter and, in result, the connection between the designer and the customer got lost.
"Before the Second World War, fashion was couture and had only 2-3 thousand clients. And each designer knew what their client looked like", he says.
This is no longer the case, Bektursunov explains and as a result retailers have lost touch with their creativity — it's just not incentivized. Marketing is the main priority, and designers can't always take creative risks.
So what happens, Bektursunov says, is that the retailers fall. And when they fall, stores close and young designers get even fewer orders. He says that brands like Chanel and Louis Vuitton are immune to this process because they have many shops. But smaller brands like Sonia Rykiel, Kenzo will be going downhill…
"They're very volatile: they may experience ups for some time but then it's down again"
Anna Karenina, the designer behind the brand Anna K and the author behind the idea of the fashion coin, adds that designer clothes also tend to be "very overpriced" for the average girl, whom Karenina targets her collections at, just can't afford it.
"Items produced by designers are being sold with a surcharge. Then this item appears in a shop and, of course, the client buys it for a much higher price. As a result, [the client] doesn't feel any connection with its creator, with the designer".
That's why Bektursunov believes that high fashion needs to become more affordable for everyone. "The average age of a buyer in New York is 56 years old. So fashion is currently not for the young, but for the people who have money. It's nonsensical, but that's how it [currently] works".
How fashion coin could solve these problems
The concept of the fashion coin could go beyond that of merely creating a new currency. Karenina is working on an app that will allow all fashionistas to communicate with each other, as well as with designers.
"Many people who buy designer clothes don't receive love from the brand", she explains. "We're creating a community; I refer to it as one big fashion house. I don't separate the designer from its clients. We share things, we share information, and we talk to each other. You can get personalized clothing items, and you become a part of the designing process".
She says that the idea to create a cryptocurrency designated just for fashion came to her mind around six months ago when she was working on her previous, spring-summer 2018 collection. The collection was dedicated to cryptocurrencies.
"It started off a small project and the more we thought it through and worked on it, the more we understood that it's a superb project that can change the old, traditional and boring fashion industry closed off to [most of] the world".
The fashion coin app that will launch this spring will work just like any other retail platform, except it will provide various options of buying clothes.
"You can buy fashion coins directly on this website… In the beginning, we'll sell them for 1 cent", she says cautiously adding that it's not an established price yet.
But, perhaps more interestingly, people will also be able to earn the fashion coins or, speaking in blockchain terms, to mine them.
"There will be at least three platforms: one for buyers, one for financing and one for bloggers, journalists and influencers who will be able to mine these fashion coins", Bektursunov explains. "But not mining in a mathematical sense".
"Imagine Instagram but instead of likes, you will receive fashion coins for your good photographs. That will be mining".
The option of buying with regular money would still be there but now, Karenina says, "you have the choice to buy clothes in a regular way or in a fashionable way", which will also be much cheaper.
"A year ago you'd be considered fashionable if you had a fashionable dress, handbag or lifestyle, I think that today girls have gotten so smart and independent that you are truly fashionable if you have cryptocurrency: fashionable currency, a fashionable wallet. You're considered super advanced then".
Blockchain as the next big disruptor
Karenina believes that the fashion coin will revolutionize the fashion industry.
"It's all in really early stages now, but I think that as soon as the fashion coin comes out, it will revolutionize the usual ways of buying clothes… It will become fashionable to not just buy a clothing item but to show off the experience of how you bought it."
Bektursunov dismisses the possibility of blockchain not catching on in the fashion world and says that once people try to use the technology, they'll never want to go back to the old way of doing things.
"I remember when 15 years ago fashion brands would say that they don't need the internet, that it's for the young. And now everyone uses the internet because they have no other choice", he says.
"It will be the same with blockchain. The question is just when and who will take it up first".
Maria Romanenko works for Hromadske International.