A profile of Ukraine's most ambitious young writer.
On the surface, Andriy Lyubka is hardly an intimidating presence. With his boyish face and long, sandy hair, he wouldn't seem out of place in a Literature 101 course at the local university. In fact, when Lyubka visited Washington, D.C. recently, "every time he tried to order a glass of wine or a shot of whiskey, he would be asked to show his ID", a travelling companion recalled.
But looks can be deceiving. Today, Lyubka is likely Ukraine's biggest young literary talent, a giant even among the country's most seasoned writers.
Just shy of thirty, the author has already produced four collections of poetry, three books of short fiction and two novels. And he has just returned from a six-week tour of North America under the auspices of the Contemporary Ukrainian Literature Series — a development all the more remarkable as very little of Lyubka's work has been translated into English.
American and Canadian audiences in over a dozen cities warmly received excerpts — both in Ukrainian and English — from the charismatic contemporary writer's hilarious, yet dark novel "Carbide". "The audience at Columbia [University] roared with laughter", said Maria Genkin, a journalist at Snob.ru who is a native of Lviv now living in New York.
And Lyubka's star continues to rise. Soon he will set out for Slovenia to continue his study of the Eastern European region on a prestigious Central European Initiative Fellowship for Writers in Residence. But before departing for Ljubljana, he felt he simply had to visit "the country of Walt Whitman and Allen Ginsburg".
Writing American in Ukrainian
American poets — most notably those of the Beat Generation — have exerted a formidable influence on the contemporary Ukrainian literary scene. Since independence, these nonconformist bards have often been translated and retranslated into Ukrainian. Like many others, Lyubka was not immune to the work of the American literary avant-garde.
"The Beat Generation molded me as a poet", he maintains. Even the title of his essay collection — "Sleeping with Women" — is a reference to the work of the New York School poet Kenneth Koch.
So far, however, the cultural and literary exchange between Ukraine and North America has been fairly lopsided, with Ukraine exporting far fewer writers to the English-speaking world. Lyubka has set a remarkable goal for himself: "to smuggle Ukraine westward", one book at a time.
That is a particularly lofty plan when you consider the present-day reality. Sure, many Ukrainian authors who grew up in the Soviet Union — Andrei Kurkov, Yuriy Andrukhovych, and Serhiy Zhadan, to name a few — have reached a wide English-language audience and established themselves in the global literary scene. But younger writers — people like Victoria Amelina, Kateryna Babkina, Artem Chekh, Oleksiy Chupa, Max Kidruk, and Dmytro Lazutkin — are struggling to garner international acclaim.
These authors' works are ambitious, tackling the complex everyday realities of post-Maidan Ukraine. But their audiences seldom stretch beyond Eastern Europe. Lyubka wants to buck this trend.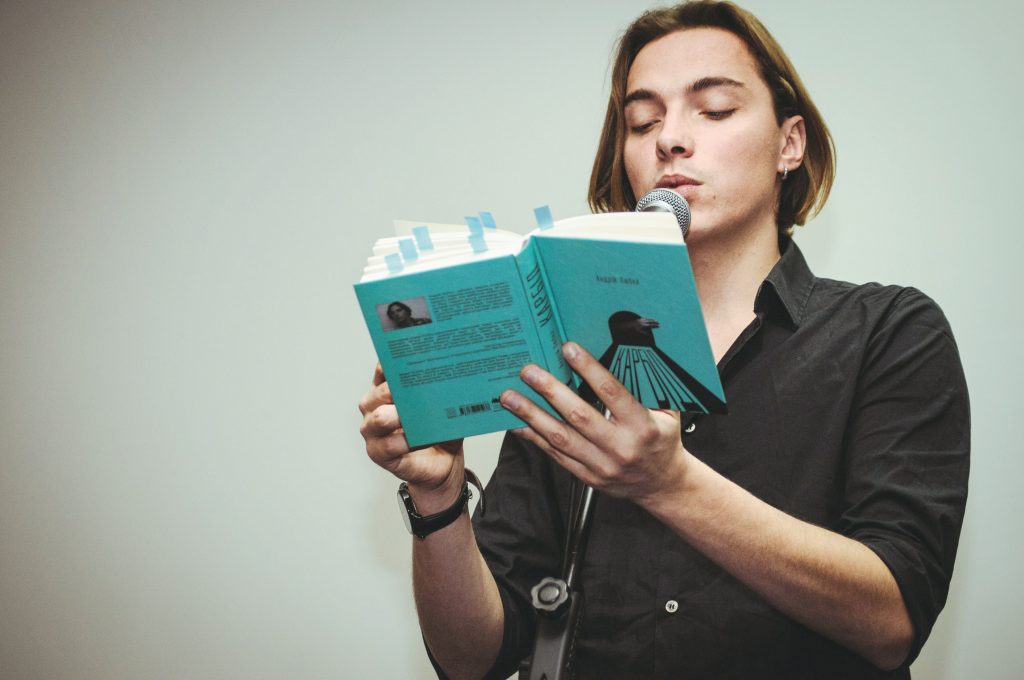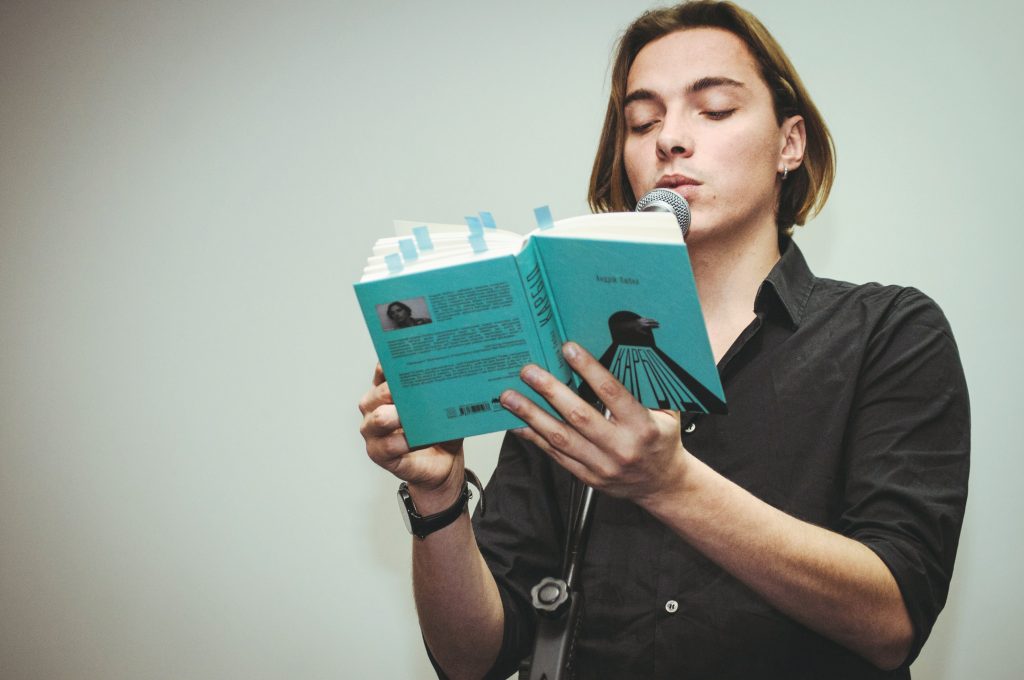 And he may be just the writer to do it. "He comes from the newest generation of Ukrainian writers to have contributed to Ukraine's vibrant post-Soviet literature", says Dr. Mark Andryczyk, Associate Research Scholar at Columbia University's Ukrainian Studies Program, who was instrumental in organizing the North American tour. "Lyubka is a remarkably active member of country's literary scene".
Or as Olena Jennings — a New York-based poet of Ukrainian descent — put it: Andriy Lyubka "has international star power".
Smuggling: A How-To Guide
For the writer himself, smuggling is more than just a metaphor for introducing the West to Ukrainian literature; it is also the subject of his latest novel. In "Carbide", Lyubka presents a compelling story in which a motley cast of characters digs a tunnel under the Ukraine-EU border.
One idealistic school teacher "wants to open the door to Europe for Ukrainians, but most of the characters merely seek to use it as a tunnel for smuggling goods — cigarettes, gas, alcohol, drugs, human organs or illegal immigrants", Lyubka explains. During Lyubka's tour, the Los Angeles crowd recalled similar schemes on the Mexican border, which made the novel, set in Western Ukraine, unquestionably more relatable.
"Lyubka explores the criminal world of Western Ukrainian smugglers with a humorous quality that is reminiscent of [Czech novelist] Karel Čapek and [Soviet satirists Ilya] Ilf and [Yevgeny] Petrov", says journalist Maria Genkin. "Literature of such a fine satirical insight rarely comes from the former Soviet bloc, which seems more keen on exploring the dark spots of the past rather than the idiosyncrasies of today".
Never averse to conducting thorough research to craft an authentic story, Lyubka incorporated his personal experience of living in a border town into the novel. He's been known to make some extra cash transporting various things into the EU — although he insists "literature is my sole profession".
Beyond promoting his work, Lyubka's recent North American tour serves a broader purpose: nudging Ukraine — often politically and culturally isolated — closer to the West and its intellectual discourse. Dora Chomiak, a board member of the Razom for Ukraine non-governmental organization, argues that "Lyubka brings a fresh voice direct from a country that has so much to contribute to the world today, particularly to the understanding of democracy in the United States".
But Lyubka believes Ukraine's political integration with the West must start with culture. "We have to show the world that we have interesting literature, good artists, and cool, top-notch music", he says. "In other words, we have to prove to the West that we're a normal, European country, that we're civilized people".
Lyubka is far from alone in these sentiments. Ukraine and its young writers have demonstrated their determination to leave their mark on the global literary community while still providing critical insights into the Ukrainian consciousness. Chomiak believes "[w]riting of this quality and this broad appeal deserves to be accessible to English-language readers through translation". The rest is up to Western readers and publishers.
Reilly Costigan-Humes lives and works in Moscow and translates literature from Ukrainian and Russian. He has co-translated, with his colleague Isaac Wheeler, Serhiy Zhadan's "Voroshliovgrad" (Deep Vellum, 2016) and "Mesopotamia" (Yale University Press, 2018).