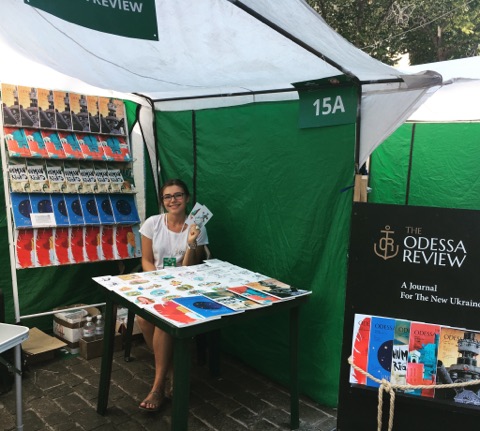 Odessites are well-known book lovers. So it is no surprise that for 21 years, the Green Wave  has been taking place right here in our city, bringing joy to book readers, writers and publishers.  As the 21st Green Wave has adopted the festival format, the 2017 event was quite important not only for the organizers, but for the guests as well.
The book festival changed its structure, expanded frameworks, and packed the program with new directions and topics. Green Wave 2017 consisted of three parts: a book market, event program and  the Korneychukovsky  Children's Literature Festival.   Of course, the festival's expansion attracted more attention from people of various backgrounds and spheres, who were interested in numerous meetings and literature lectures. Green Wave organizers brought authors (Christo and Jeanne Claude, Yulia Verba, Dmitriy Bykov etc.), speakers and intellectuals to Odessa in order to provide the audience with quality time and engagement, also collaborated with several Odessa platforms. City residents and guests could witness the "Shadows of Forgotten Ancestors" exhibition-installation at the Invogue#art gallery, visit the "Creative nonfiction panel discussion and events of similar format at the Terminal42 and 4City or attend lectures at the Impact Hub Odessa. Program of the festival also was hold  at the Odessa State Literature Museum, historical Odessa Passage and Odessa National Scientific Library.
Let's not forget about the importance of the Korneychuikovsk Children's Literature Festival. This is the 5th festival exhibiting various wonderful works for little readers. Kids enjoyed a wide spectrum of activities including meetings with the book authors and poets, in games and creative master classes, and also witnessed incredible plays.
But for many of us, the Green Wave is associated with primarily one thing and that is the Book Market, traditionally located on Deribasovskaya Street. Undeniably, such placement makes even those not so into reading take a look, and maybe reconsider their life principles and buy a book or two more. However, Odessa readers maintain the quality of the Book Market constantly looking for new and interesting material to read. This year's summer heat may have it harder for both participants and audience to enjoy the irreplaceable world of literature at the very center of Odessa. But it certainly made us love the organizers for holding the market in the open  night air under the starry sky.
The 21st Green Wave festival surprised its visitors with the amount of attractions and events made especially and specifically for people who appreciate and love literature. The Organizers once again confirmed that the Green Wave is a family occasion, that can be interesting for everyone: from the youngest to the oldest ages, the event brings together people who seek knowledge and informativeness in any form.
Masha Sotskaya is an Assistant Editor at The Odessa Review.