This is the fourth in a series of dispatches by Maria Romanenko from Kiev Fashion Days. Each day, she will publish an account of the previous evening's events. It is also the second dispatch on Ukrainian Fashion Week, which began on February 3. Stay tuned as Romanenko keeps you updated on the season's premier fashion events in the Ukrainian capital.
February 5 is a sad day: Kiev Fashion Days has come to a conclusion. But despair not: its older rival, Ukrainian Fashion Week, is still in full swing.
Designers like Natalya Grechanaya, Marina Vovk, Anastasiia Ivanova and Nastasia Klimt all presented their fall-winter collections on the last of the Kiev Fashion Days.
Meanwhile brands like A.M.G., Ludmila Kislenko, J.Perekriostova, Dafna May, Larisa Lobanova, MEIZU, Przhonskaya, ANNAMUZA, GUDU, ELENAREVA and Jean Gritsfeldt displayed their collections at the Ukrainian Fashion Week.
Let's take a look at some of the most memorable shows of the day.
ELENAREVA
Elena Reva, who some might also recognize as the wife of prominent Ukrainian footballer Vitaliy Reva, is known for her love of feminine designs and patterns. Her fall-winter 2018-2019 collection followed that pattern, featuring polka dots, checkered designs and flower prints.
Royal blue, pink and black dominated in the collection, which also included unusual cuts and details like ruffled sleeves and collars.
Reva, who founded ELENAREVA in 2012 after she stopped working with Obrani, another designer brand she co-founded, is famous for her collaborations with Ukrainian artists. Most recently she presented a very romantic fashion collaboration with Ukrainian high-street brand MustHave.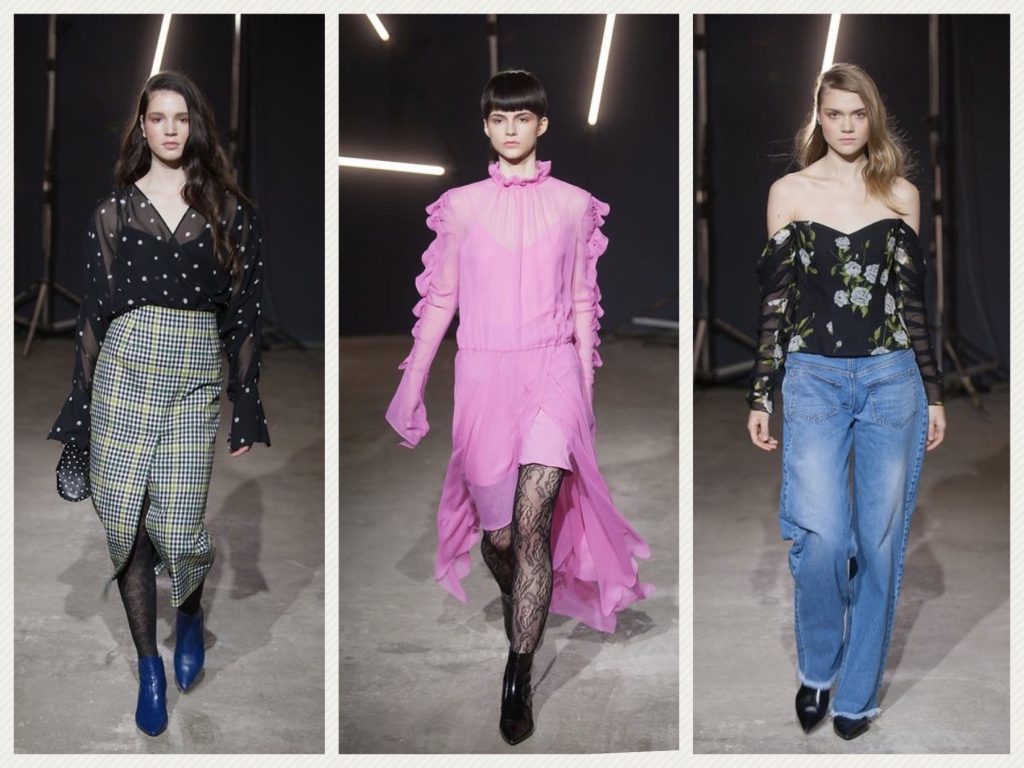 Jean Gritsfeldt
When it comes to fashion, there is no concept Ukrainian designer Jean Gritsfeldt cannot actualize and no idea too crazy for him. A fashion show at a supermarket? Done that. A sporty fashion show in a boxing ring? Check! Maybe you thought hosting a fashion show at an international airport was impossible? Gritsfeldt has have proved you wrong.
This season, the designer's boundless creativity definitely kept flowing. He held his fall-winter 2018-2019 show at an ice skating arena and featured designs akin to haute-couture versions of hockey uniforms and gear.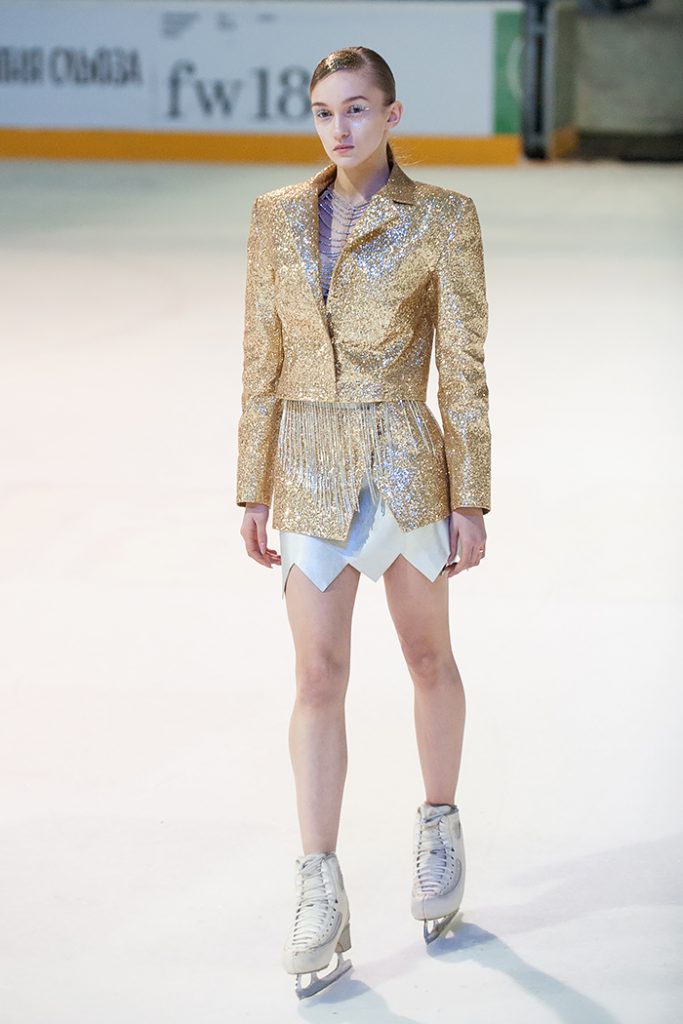 One male model wore a poncho made of hockey fan scarves, while another female model showed off a long pink coat with the kind of stripes usually found on sports uniforms. And, of course, the collection featured a lot of glitter. Judging by the amount of times it appeared in various designers' fall-winter 2018-2019 collections, glitter will be of the biggest trends in a few months.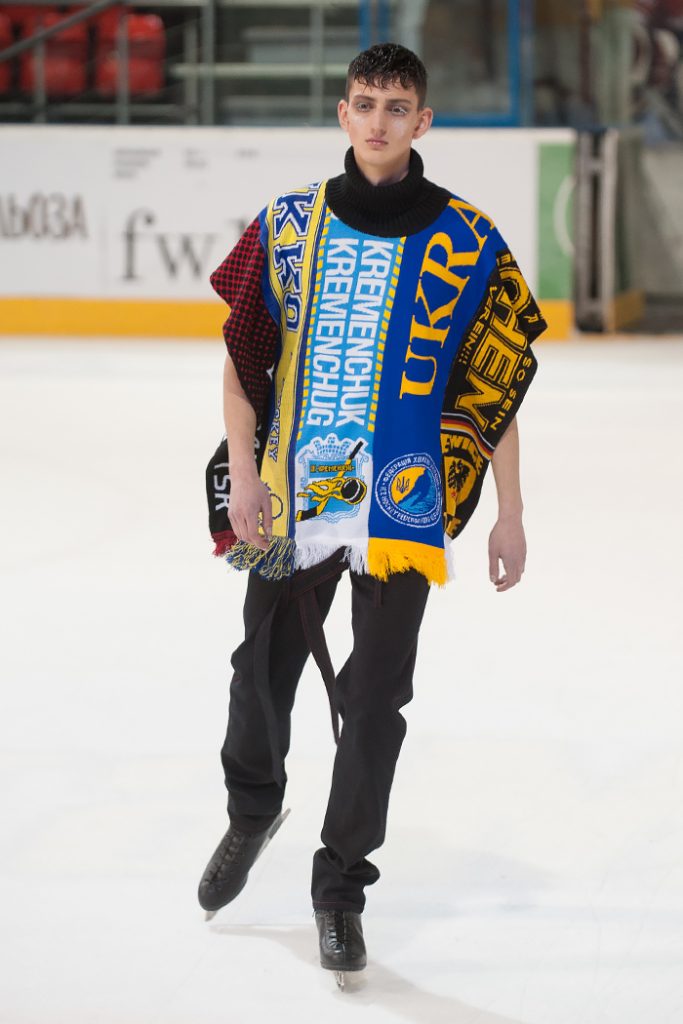 Nastasia Klimt
Another designer who went for an unusual location to present her latest creations was Anastasia Klimenko, founder of brand Nastasia Klimt. She held her fall-winter 2018-2019 show at the Closer nightclub, a place notorious for its huge raves.
The spacious building — a former factory — strangely seemed like the perfect choice to accommodate dozens of Ukrainian fashionistas who came to enjoy the show.    
The Nastasia Klimt fall-winter 2018-2019 collection included many colorful designs, because we all know that wearing black the whole winter is too boring. The designer cleverly coordinated contrasting colors in single items, like a two-color dress in orange and blue and another one in bright pink and yellow.
Besides colors, Reva also combined different fabrics: a sheer silver dress looked surprisingly elegant under a checkered tweed jacket.