Twenty years ago, Sergey Makhno was a graffiti artist. Now, he's one of Ukraine's top architects, a man working to move the country beyond Sovietesque design to something simple, functional and beautiful.
It's 2017, and Kyiv is experiencing a street art boom. Colorful murals — many with deeply symbolic artistic meanings — are popping up around the city, as international street artists flock to the capital. In a few short years, these massive paintings have become part and parcel of the city landscape.
But to Sergey Makhno, they emphasize how Ukraine has changed. "In my day, they used to drag us to the police station and beat us with billy clubs for that", he says.
A Kyiv native, Makhno has been many things in his life: a karate champion, a graffiti artist, an interior designer, an architect and a businessman. But his greatest contribution is likely the vision he brings to his work. He and his studio, Sergey Makhno Architects, are pushing Ukraine beyond the design tropes of the past by sweeping away Soviet austerity and garish post-communist kitsch and replacing them with something natural, simple and international.
One can easily imagine the homes and interiors that Makhno creates might be found in California or Sweden — and many have been built abroad. But they can also be found in Ukraine, inside Kyiv highrises and suburban villages, monuments to a different Ukraine with a different future.
Identities
Pinning down exactly how to categorize Sergey Makhno is a challenge — even for Makhno himself. His work falls into several related but distinct fields. Still, today, he is first and foremost an architect, and only secondarily a designer, artistic individual and, of course, a businessman.
But it wasn't always that way. Born in Kyiv in 1981, Makhno's first passion was karate. From an early age, he trained in the martial art and, at 18 years old, received the rank of "master of sport". But the next year, Makhno discovered something new: graffiti.
"It wasn't just popular and stylish, but truly interesting", he says. "It drew me in and took up all my time".
Through graffiti, Makhno realized that he wanted to be an artist. He abandoned his career as an athlete and resolved to dedicate himself to creative work. His parents pushed him to pursue higher education, so he entered the Kyiv Engineering and Construction Institute (today's Kyiv National University of Construction and Architecture).
After graduating, Makhno realized that he wasn't particularly inspired by the kind of buildings that were being constructed at the time. So, for ten years, he focused on interior design instead. In 2003, he founded his own design studio. Initially, it was just him. But eventually he hired another employee, and then another. Soon, there was a small team, complete with a secretary and a PR director. Today, Makhno employs around 52 people, and for the past five years, he has focused on architecture — "but only projects that interest me", he says.
Meanwhile, his Sergey Makhno Architects has grown into a triple threat, covering architecture, interior design, and project design. And its work has racked up more than 65 awards.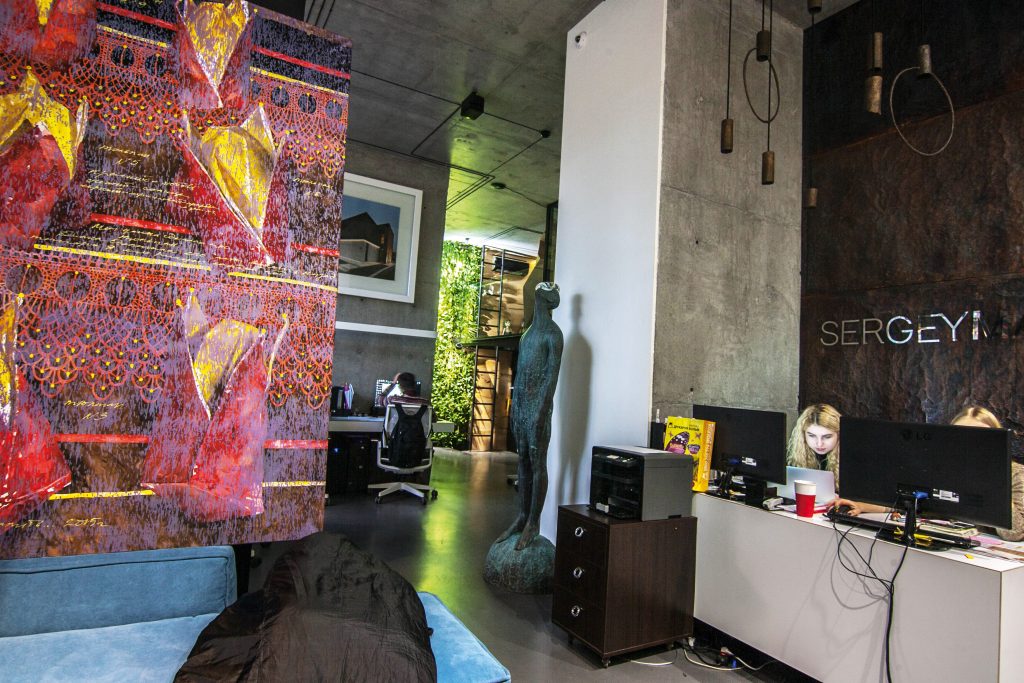 Wabi-Sabi
If you ask Makhno what inspires him, the country of Japan will always be near the top of his list. He struggles to explain exactly why, but suggests it is connected both to the culture and the aesthetics  of  the  country. "I like the cleanliness of their design and the purity of their lines", he says.
Makhno has visited the Land of the Rising Sun multiple times and considers his design work a mixture of modernity, Japanese culture, and Ukrainian culture. But the largest Japanese influence on Makhno's style is philosophical. In both his life and his work, Makhno has embraced the concept of "wabi-sabi", a worldview he characterizes as centered on the ideas of truth in simplicity and beauty in imperfection.
Makhno notes that  Japanese  architectural aesthetics have much in common with Ukrainian ones, albeit not necessarily contemporary ones. The Ukrainian khata  — the traditional village house — was a very well-organized, comfortable place "where people could live correctly", he says. "Everything was designed  and  constructed  in a way that was maximally suitable for life. Maybe it wasn't luxurious and grandiose, but it was a simple life that is also reflected in Japanese architecture".
Perhaps the clearest example  of  wabi-sabi in Ukrainian architecture is the Wabi-Sabi Apartment that Makhno designed for his own family. The hypermodern, two-story penthouse, which has attracted significant attention online, mixes the amenities of the 21st century with Japanese aesthetics and Ukrainian traditions. The walls are finished with clay in a traditional technique used in Ukrainian village homes, and much of the furniture is made from wood, some of which seems only a step or two away from the forest. The Japanese touches are also clearly visible. Some rooms have sculptures of koi fish swimming along the walls, and the rooftop patio features a small and orderly bonsai garden.
The apartment lacks nothing that a modern person would want, yet many of its furnishings and fixtures seem to reference a past era. And it avoids the clutter and excess so often associated with the present day.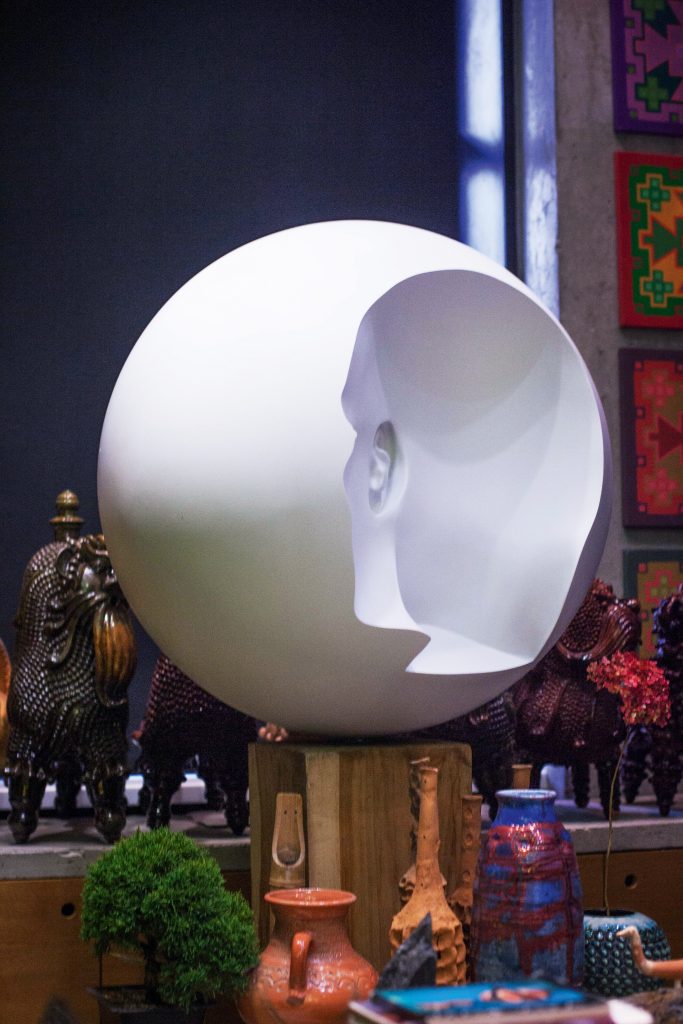 The Simple Future
Wabi-sabi may not be the first thought one has when seeing Sergey Makhno Architects' headquarters. The office is an impressive and award-winning work of interior design itself — but it also houses a large number of employees, tables of awards, and shelves of architecture books in one fairly small space.
But don't let that make you question Makhno's dedication to the philosophy of minimalism. The architect and designer believes that simplicity is Ukraine's future and that tastes are changing. He thinks that the houses and apartments he builds and designs, while still unusual for Ukraine, fit perfectly into Ukrainian cities and towns. The problem is that much architecture over the past two decades has been dominated by bad taste and "zhlobism", a word in Ukrainian and Russian that combines cupidity with tackiness and low-brow sensibilities — i.e. a post-Soviet philistinism.
Since the arrival of capitalism in the countries of the former Soviet Union, many people have carried out "EvroRemont" (Eurorenovation) in their homes and apartments. Despite the name, EvroRemont ironically has little to do with Europe and any contemporary idea of good taste. Its main tropes — stretch ceilings, plastic kitchens, odd color schemes and distinctly unnatural-looking materials — have become a hallmark of the post-Soviet space.
And when particular homeowners have money, the renovation has often manifested itself in garish, nouveau riche displays of wealth and luxury. Such tasteless "zhlobism" gained particular prominence after Ukraine's Euromaidan revolution, when journalists published photos of the baroque mansion of fugitive former Prosecutor General Viktor Pshonka. Besides opulent golden furniture and an extensive collection of jewelry, the mansion also featured portraits of the former law enforcement officer as Julius Caesar and Napoleon.
Thankfully, the era of EvroRemont is going the way of the dinosaurs, Makhno says. As globalization marches on, Ukrainians are realizing that excess is unnecessary. "People are getting smarter, they're developing, they have started to travel more, they're seeing where Europe and the world are going", he says.
That doesn't mean that the Pshonkas of the world will stop building castles for themselves. But more people are realizing that their homes must promote comfort and health. They recognize that it is better to live in a cozy, modern apartment or house where they can relax, than a plastic mansion. And they understand that ecologically clean materials — clay, minimally-processed wood, and metal — are better than synthetic and carcinogenic ones. Perhaps most importantly, they are beginning to realize that their home should fit their lifestyle.
"You can't build a family estate on the 22nd floor of a cement panel high rise", Makhno says with a shrug.
Matthew Kupfer is Senior Editor at The Odessa Review.