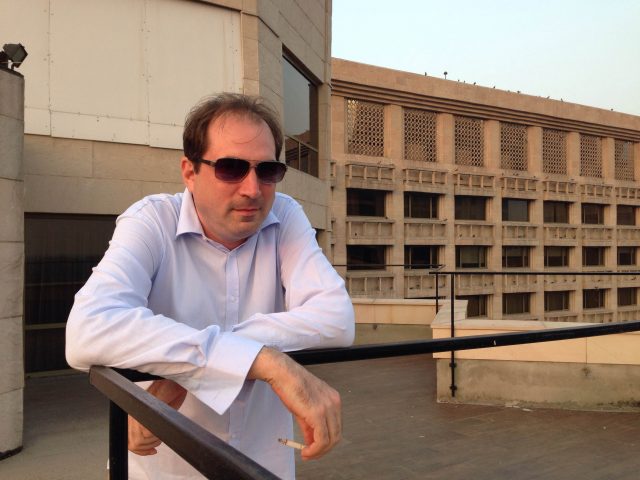 'Stay on the Story' is an apt motto for Coda, a new journalism startup based in Tbilisi and New York City that hopes to reshape the way the media reports the news. Coda, which was founded in early 2016, and is largely focused on Eastern Europe, was conceived as a reaction against the low attention span of the mainstream news media and focuses on new forms of storytelling. Coda Story has garnered critical acclaim for its approach and was also awarded the Innovation Award 2017 by the European Press Prize this year. Earlier this month, the well known American journalist Simon Ostrovsky joined Coda Story as investigations editor.

Journalists tend to cover a story exhaustively when it's hot and at the forefront of public attention, and then quickly jump to the next breaking news story. The public attention span is also equally short, with hurricanes in Texas in the news one day being replaced by a story on North Korea or the ivory trade in China. One only needs to look at the manner in which Ukraine has quickly become a "back burner" issue in contrast to the time during the Maidan Revolution and the war in the Donbass when it was front and center on CNN, BBC and other popular news channels.
Coda's mission statement is a push back against the fickle news media and their quickly shifting focus. Instead, the news startup — which has partnered with the Guardian, EurasiaNet, and the Center for Investigative Reporting — spends years covering the various aspects of an important story. Coda's main offices are in the cobblestoned city of Tbilisi, Georgia, where they have over 10 staff members, and it's also where their co-founder, Natalia Antelava, is based. Coda's first project was exhaustive coverage of the struggles of the LGBTQ community in Russia and the former Soviet Union. That particular story has gained even more traction recently, with reports of repression and killings being perpetrated against the gay community in Chechnya. Coda also covers the trials of transgender individuals elsewhere in the former Soviet Union. A recent Coda video is a homage to a Georgian transgender woman who was brutally murdered in 2014 and whose death was celebrated on social media by many Georgians, who claimed that the killer was 'cleaning the country of its demons'.
Coda also publishes a mini-documentary series about transgender people in Russia called "Transmoskva". Other articles on LGBT stories from the former Soviet Union include one on how Azerbaijan targets its gay community, and also one about the first gay pride parade in Kyiv that went ahead last year despite threats from Ukraine's right-wing groups.
I met Ilan Greenberg, the co-founder and editor-in-chief of Coda, in New York's famous Veselka restaurant (Veselka means rainbow in Ukrainian) and spoke about Coda over frothy Obolon beers. The service was as frosty and rude as it typically is in "old skool" Ukrainian cafes, with the pomaded waitress demanding that we agree to spend at least $5 before sitting down. Every time we waved her over for another beer or appetizer, she frowned and knitted her peroxide brows. With the rise in hipster eateries as well as contemporary standards of service in Ukraine, such Soviet-style service is rare these days. However, it can still be found in the Veselka, which proves my pet theory that immigrants reflect a dated version of their country's culture.
"The LGBTQ story was our first pilot project upon launching Coda in early 2016", says Ilan Greenberg. "This story showed the larger narratives taking place — with the Kremlin promoting conservative values and gearing up for confrontation with the West".
Greenberg is a typically no-nonsense New Yorker who lives and breathes Coda, which he founded with Georgian journalist Natalia Antelava, a former correspondent for BBC World. The two journalists first met while freelancing in Central Asia and remained in contact again while they were in India, where Antelava was working for the BBC and Greenberg was a guest lecturer for an Indian university. It was while they were based in India that they came up with the seeds of Coda. "We had no business doing a media startup", admits Greenberg in retrospect. "We had no business experience and no funding to speak of".
Still, their Eastern European backgrounds quickly attracted interest from NGOs and foundations interested in the region, and they were able to finance the publication with grants from various sources. "Everybody gets paid", says Greenberg. For now, Coda is focused mostly on Eastern Europe. Its other areas of expertise being the "disinformation crisis" and the European Migration Crisis.
In fact, it is the disinformation crisis which has won Coda the most plaudits. Their correspondents in Russia and elsewhere have done some groundbreaking work on the Kremlin's trolls, the so-called "weaponization" of its prime-time television, and also on the manner in which other Eastern Europe nations, such as the Czechs and Slovaks, are tackling the onslaught of 'fake news' emanating from Russia.
The rise of so-called fake news has become a tremendous topic of fascination and is blamed by many in the US for the surprise election of President Donald Trump. Keeping a presence in Eastern Europe gives Coda an edge in investigating incidents of fake news. Coda has correspondents in Russia who are closer to the pulse of the story and speak Russian and thus have greater insight into the machinations of the Kremlin than a typical Western journalist. Coda is also considering launching a Russian-language site to have greater influence on debates in the region. Meanwhile, they have created a dedicated Coda studio that sells animation and design to other media outlets. Coda Studios is already generating some income for the site, outside of its foundation and grant revenues.
In general, Coda's site is impressive for its use of animations, videos and innovative graphics, which are more sophisticated than those of many corporate-owned media sites with thousands of times their budget. However, despite their incredible success over the last two action-packed years, Greenberg is not yet done innovating. He dreams of taking Coda global and talking about issues that have ramifications beyond Eastern Europe, whether it's climate change, artificial intelligence or Chinese influence in Africa.
"We don't view ourselves as an Eastern European publication", he says with emphasis, banging the table and eliciting a frown from the stern waitress. Still, protestations of regionalism aside, Coda has done a lot to shine a light on Eastern European issues — including those facing Ukraine and the toxic effects of Kremlin propaganda on Ukrainian culture — and should be commended for their good work. The Odessa Review, which also shares their belief in East Europe going global, is cheering them on.
Vijai Maheshwari is a writer for Politico Europe and an entrepreneur based between Kiev and New York.