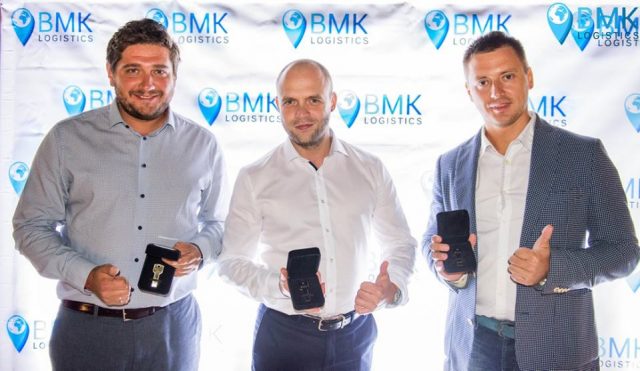 An innovative software in the field of marine logistics and transportation called BMK Logistics was presented in Odessa on September 14th. The program was developed by specialists of Nexweel With its functionality and convenience, the software surpasses other programs on the market and is aimed at increasing the company's competitiveness in the market of logistics services.
The new automation system brings many advantages: It allows you to increase the work volume without increasing the number of employees, provide control and internal processes. It also saves logistics companies finances and working time and improves customer service.
18 people participated in the development of BMK Logistics. It was tested for seven months in cooperation with the logistics company Logik Link Group-LLG.
The guests of the evening were 80 representatives of the largest forwarding and logistics companies of Odessa, as well as representatives of container terminals and shipping lines: TIS, KTO Ukraine, ARKAS, MSC, ZIM. At the event the software was not only presented in a video, people interested had the opportunity to get acquainted with the program and test its functionality.
The evening was solemnly opened by experts in transport infrastructure.
Co-founder of Nexweel and founder of BMK Logistics project, Shatkovsky Arthur: "BMK Logistics was originally developed entirely based on the needs of freight forwarding and logistics companies, learning from their experience and knowledge, starting its professional way from carrier to head of the company. This is not a redesigned solution, but a product that takes into account the importance of both: design and structure."
Deputy Minister of Infrastructure of Ukraine 2015-2016, Vaskov Yuriy Yurievich: "By taking part in the launch of many systems, I want to point out that BMK Logistics significantly minimizes corruption within the transport infrastructure."
Commercial Director of "PPL 33-35", Andrei Vladimirovich Shevchuk: "The program is linked to the information system of the port community and information security has been taken into account. This system allows you to send documents and outfits to the ISPS with one click, as well as to get the necessary data out of the ISPS."
Sahautdinov Ruslan Ildarovich: "Everyday I see problems associated with poor communication between the participants of the transport process, whether it's ship owner, charterer, cargo owner, freight forwarder or controlling authorities. Information is somewhere lost on the way or not fully transmitted. Thanks to the system, not only the communication but also the quality of the company's work in general has improved."
Co-founder of Logical Link Group, Zyuzin Valentin Vladimirovich: "Our company tested the BMK Logistics program for seven months. We see how forwarding experience and IT education allowed developers to create a high-quality product, the benefits of which consist in saving money and working time."
On September 14th, the first premiere of the BMK Logistics program took place. The goal of the developers is to improve the work with both large and small cargoes, to simplify the process of rail transport for clients and to issue an accounting module.