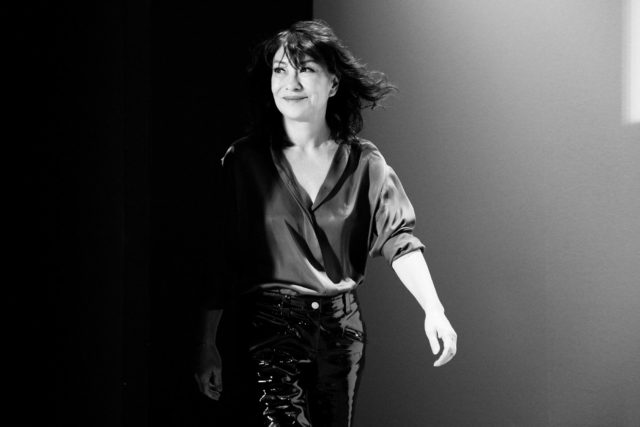 The Barbara Bui boutique on Ekaterininska street in Odessa has been a staple of the city's fashion scene for years. The French designer's raw yet graceful designs come out of a desire to create a balance between feminine and masculine ideals. A closer look at the exceptional design house's history and takes a closer look at her inspirations.
The French designer Barbara Bui's sharp and sleek designs have created some powerful looks for women ever since she opened her first eponymous boutique in 1987. At that time, it was still rare in the fashion world to name one's boutique for oneself. At the time she explained that this opening related to her accounting for her customer's nuanced tastes: "I always wanted to be close to the woman I was clothing, without necessarily passing through intermediary buyers, to retain a coherent discourse and complicity with her." This symbiotic relationship is what has guaranteed the success that the brand has experienced over its 30-year history. Over the years, the Barbara Bui fashion house has gone on to open flagship stores in some of the most prestigious neighborhoods in the world: Avenue Montaigne and Rue Du Faubourg St Honoré in Paris, Soho in New York and Rodeo Drive in Los Angeles.
Barbara Bui began her career in Paris after quickly transitioning to fashion from studying literature at the Sorbonne. She explains that the evolution as having gone from "wanting to write with words to wanting to write more directly with shapes, colors and lines". This new inspiration brought forward pieces that were mainly leather and suede, these were all limited edition pieces sought out by fashion enthusiasts. These custom-made and unique pieces, made in small editions for her studio-boutique transformed the shopping experience, transferring it into a much more personal and high-end one. Bui has said that "this love for leather and skin pervades all my collections and has become a signature style that my customers like to see season after season".
In 1987, Bui had her first runway show at Paris Fashion Week. The fashion world and the fashion press were riveted by her glossy designs. The rest of the story runs very much like many other success stories in fashion: new stores, an increasing range of styles, and many important clients – which most recently included the actress Charlize Theron and pop singer Beyoncé.
Hers was a success story predicated on the strength of the design's representation of a balance between strength and sensitivity, and energy combined with femininity. Her design's core theme of duality might also be taken from Bui's mixed family: she has a French mother and Vietnamese father. Wherever the influence comes from, the clothes speak for themselves. There are the oversized colorful fur jackets giving once feminine shoulders a sharp and shapely cut. The dark smoldering tuxedo jackets that act as dresses. There is the preponderance of cut-outs on dresses and the intricate embroidery that she applied to high heels. Bui's designs' contrast does not fail in representing her creative intentions.
Many of the accessories are made of refined and rare materials including python, silk, suede and patent leather. These include bags, bracelets and belts. Many people of the fashion world have grown particularly fond of Bui's shoe designs which feature leather embellished with metal studs of various shapes. Her popular rockabilly oxford shoes also come in different styles and have been seen on many celebrities recently.
The balance between the values of masculinity and femininity has always been a theme throughout the ages. The designs of Barbara Bui deal head on with this balance, questioning what actually constitutes feminine or masculine qualities. Or perhaps these qualities are really one and the same? Of course, many designers deal with this subject, yet Barbara Bui works with it in a more sophisticated and elegant fashion. Visit the Barbara Bui boutique store in Odessa at Ekaterininska, 39.