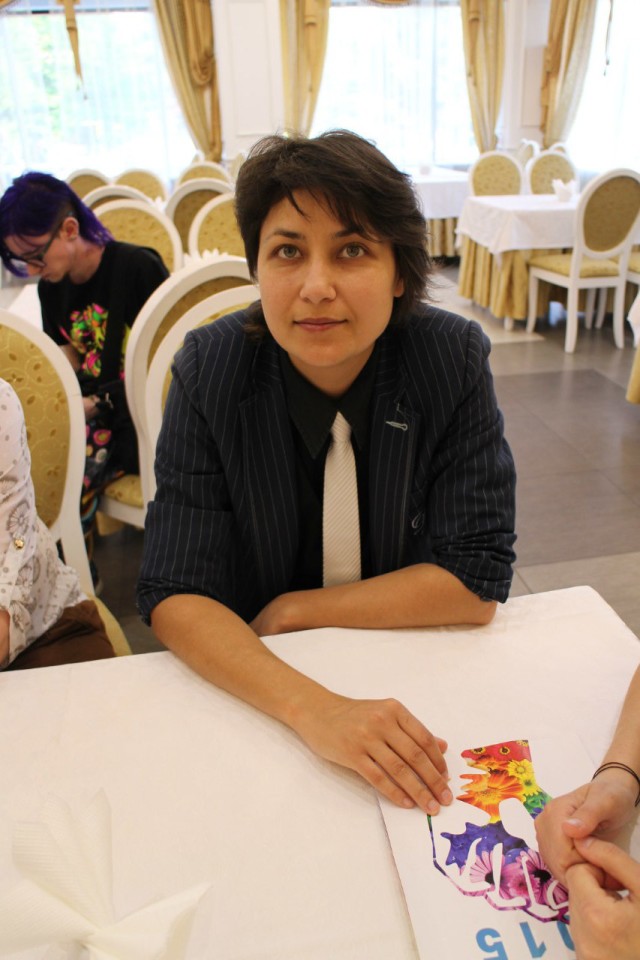 According to the Human Rights Watch report of 2016, homophobia and intolerance towards the LGBT community are still widespread throughout Ukraine. Gay people are often attacked physically and undergo diverse forms of social opprobrium and harassment. Thus, launching and supporting projects to advocate for their rights and to raise the social level of tolerance has never been as important as it is now to help make Ukraine into a harmonious and equitable society.
It is not easy to find Queer Home Odessa, the local LGBT community center. Hiding behind plain doors is a cozy place where young people can finally feel secure and at home. Today, Queer Home Odessa is a unique place for the community to gather, learn and entertain in groups as well as to get help and friendly support. There are plenty of side projects launched out of its base, which include the first Ukrainian LGBT-choir, "QWERTY Queer," socially conscious  theaters, comic studios, various art, dance and language classes, a psychological support group and much more. It also retains a lawyer to support and advise. The Odessa Review's Yevgeniya Seleznyova made a trip there to speak with founder Anna Leonova.
The Odessa Review (Yevgeniya Seleznyova): So, let's start from the beginning — how and when was Queer Home Odessa set up? 
Anna Leonova (AL): Queer Home Odessa is a part of the "Queer Home" community centers network which was launched by Gay Alliance Ukraine (GAU) in 2013. The basic idea was to create a volunteer movement, which was very innovative for Ukraine at that moment. Not many people believed that it was going to be a success. Anyway, in 2013-2014 four community centers were launched: in Odessa, Kyiv, Zhytomir and Kriviy Rig. Queer Home Odessa first opened its doors on April 12th of 2014.
OR: What is the main purpose of Queer Home Odessa? 
AL: Both then and now it has mainly been a space which allows for people with initiative to flourish and realize their own projects. It is a training, cultural and entertainment base not only for LGBT people, but also for our friendly supporters as well as those who have an active civic stance, standing for equality in rights and duties.
OR: Is there a human rights component in the community center's activity? 
AL: Yes, and that is a big component of Queer Home Odessa. We thought it would happen at best in three or four years, but actually, it took only half a year for our visitors to pick up the idea of self-sustained fighting for the changes that we want, and speaking up about what we don't like and can never accept.
So for the local LGBT community, Queer Home became first and foremost a civic activism and human rights projects foundation. We started with some open flash-mobs which involved the press, afterwards there were photo-exhibitions, art and educational projects. In 2015 we began talking about holding the first Odessa Pride on the Queer Home base.
As Queer Home is connected to GAU, we should mention some GAU projects — like the emergency helpline, partly volunteer run, as well as the Hate Crime Monitoring and Prevention project. This includes a coordinator who helps in resolving some legal technicalities, and a group of volunteers who support victims of homophobic attacks. They help bring the victim to the police or hospital. Generally, they do all that is necessary for a person not to feel alone and abandoned in the face of a problem.
OR: Which challenges have you faced while creating Queer Home and organizing Odessa Pride? 
AL: Unfortunately we still have a very strange way of communication between LGBT organizations: sometimes this takes the form of "this is my territory and I was the first to be here, so leave now." In the beginning we faced strong resistance from the other organizations existing at the time. There was some talk that Queer Home was going to shut down in a few months. A year later it became clear that we would only grow bigger — and even worse things started happening. We were experiencing trouble with the police and the right-wing groups while launching a pride movement. Suddenly we were slandered by our own "allies," dismissing us with wild rumors that we were not from the community at all, or that we have some mysterious grant to work out immediately. Sadly, those tensions severely worsened the situation and after all even endangered the health and life of the organizing committee members.
OR: Which problems does the Ukrainian LGBT community most frequently deal with?
AL: First of all, the stereotypes and misunderstanding by ordinary people is the core issue. When it comes to human rights, there is this widespread misconception that LGBT people are demanding some sort of exclusive privileges. Another delusion is in thinking that we are only interested in perverted sexual practices.
From my experience, aggression and misunderstanding are reduced when you succeed in explaining that basic rights and social protections are available to every Ukrainian citizen. Incomprehension about the origins and nature of homosexuality may persist, but it becomes easier to understand what we are talking about when we speak of rights. And it all becomes easier when you have a common civic position.
OR: So, is LGBT acceptance in Ukraine mainly a disunity question for now? 
AL: Yes, disunity and lack of awareness is the problem. Most of the schools and universities still give Soviet era answers to questions about sexual orientation. I think if we keep working hard, knowing what we are working for and with our goals in sight, in about 5 or 6 years  popular attitudes will begin to change and Ukraine may repeat the positive experience of the Czech Republic — which is now one of the most tolerant countries among post-Soviet states. I'm sure we have all the opportunities that we need now, we just need to make regular and direct efforts and things will be fine.
OR: Have you ever faced the necessity to defend an individual person's rights? 
AL: We've had some appeals mainly connected with the police being unwilling to register and investigate physical attacks that took place against gay men. Writing letters and applying to the other law enforcement agencies usually helps. If it doesn't work, we launch pickets and invite television, and that's also a positive way out. Some cases have been dragging on for more than a year. Each time we see the signs of the investigation stalling, we begin writing letters again and bothering officials, and the process soon restarts. We have had some requests from lesbian girls as well. The most prominent case was one where an activist student had been excluded from the university because of a serious conflict of opinion between her teachers and class mates.
I must say, most of these situations can be solved unless they are silenced. But there's another important factor — it's a person's psychological readiness to get involved in a struggle. It's always easier to help someone else than it is to accept that you yourself are a victim of injustice. Many choose to step aside and remain silent.
OR: Who supports Queer Home? 
AL: As a GAU project, Queer Home is a non-profit organization, provided for by donors and grant funds. First there was the Sida organization (Swedish), and later we won a grant from the Danish Ministry of Foreign Affairs. The second Odessa Pride was held with help of the Arcus Foundation (USA) and ILGA Europe — a coalition of European LGBT organizations. GAU is a very transparent organization so you can find all the financial reports on our website.
OR: What do you think is the most important thing that would make our city more harmonious and tolerant? 
AL: Odessa is a wonderfully unique region, not only for Ukraine, but also for the whole of Eastern Europe. It is a city with the capacity to become an economic, cultural and political leader. If Odessites keep being open-hearted as they are, in the end, we may become a society that is helpful and friendly to everyone. When love and social support reign in the city — it's a guarantee of future prosperity!
Yevgeniya Seleznyova is a journalist living in Odessa.